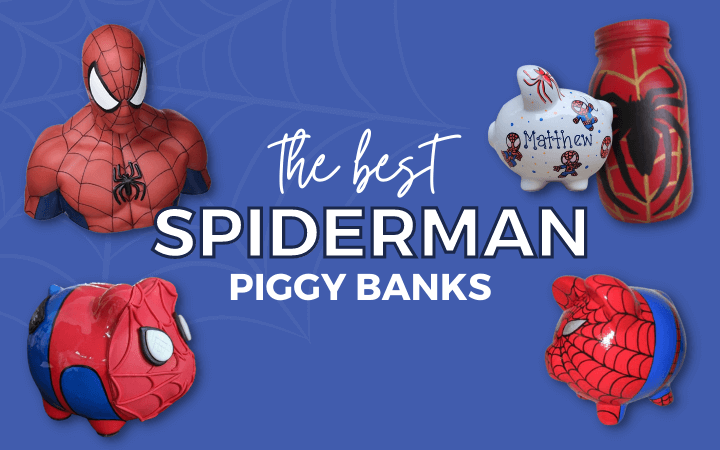 We will receive a commission if you make a purchase through our affiliate link at no extra cost to you. Please read our disclosure policy for more information.
Spiderman fans of all ages are always looking for new and innovative additions to their collections.
One often overlooked area of collectibles is in the piggy bank industry. Both functional and fun, piggy banks can be a useful tool for teaching young children and adults on how to make a budget and save money. These Spiderman piggy banks, coin banks, and money boxes can be an incredible asset for those that are young at heart.
Best Spider Man Piggy Bank
Whatever brings you into the Spider-verse, here are some amazing collectible Spiderman piggy banks and DIY projects that can both enhance your Marvel collection and be used to help your young one, including yourself, save for the rainy days.
By the way, here are more piggy bank ideas for you.
Whether this is for yourself or as a gift, we hope you'll find the perfect Spiderman savings bank from this list. We also have more fun and cool piggy bank ideas for you to browse through here:
1. PVC Full Body Spiderman Piggy Bank
This adorable Spiderman bank is ready to cast a web and catch all the extra coins laying around your house. Lightweight and durable, this collectible is a fun addition to any Marvel collection.
2. Plastic Spiderman Coin Bank
For the ultimate Spiderman fan, this full-bust, super-sized plastic Spiderman piggy bank is a perfect way to say, "I love Spiderman" and put back a little savings at the same time.
3. Spiderman Head Piggy Bank
For the more Spidey fan, this Jay Franco Marvel Spiderman Ceramic bank matches clever décor with savvy savings. Great for kids or adults, this bank is very easy to use and lightweight. Kids will love helping their friendly neighborhood Spiderman battle crime by dropping in their coins.
4. Spiderman Piggy Tin Bank
Featuring three different Spiderman designs, this coin bank set is an absolute must for fans of all ages to have in their collection. Fully functional as a savings bank, yet a great addition to any fan's Marvel collection, these 6-inch tins show Spidey in action as he battles the forces of evil. Reminiscent of the Spiderman from the original comic book series, this piggy bank is a must-buy.
5. Bobble Head Spiderman Tin Can Money Jar
Bobble head meets coin collector with this adorable Spiderman bank. Savers can slide their money in through a slot at the back and cash out through a stopper in the bottom of the tin. Cleverly decorated with the face and insignia of Spiderman, this bank is cute, playful, and very functional.
6. Spider-man Core Bust Bank
Classic Spiderman at his best, this full-bust bank takes you back to the original Spiderman series. Made of Roto Plastic with a slit in the back to drop in the coins, this bank brings the strength of Spidey home to watch over your savings strategy.
7. Personalized Spider Pig Money Bank with Your Name

With this adorable Spidey pig savings fund, your kids will feel the joy and excitement of counting their pennies, nickels, and dimes. The personalized piggy bank also comes with a sheet of stickers for your kids to label their name on it!
8. Paint Your Own Piggy Bank Spiderman Designs
A unique piggy bank with Spiderman designs, this personalized bank makes a great gift for any young saver. Handmade to order, this large, 7-inch by 8-inch bank comes in a variety of colors. Painted and designed with your loved one in mind, each custom bank is hand crafted to your specifications. To be sure, this is a gift that will be treasured.
9. Handmade Rhinestone Spiderman Money Box
Spiderman not only helps save your change, but it is made of bling in this handmade design. This piggy bank stands 23-centimeters tall and is covered with stunning, color-coordinated rhinestones. Great for a collectible, a fun family gift, or use a decoration for the ultimate Spiderman fan.
10. Spider Pig Piggy Bank
The piggy bank takes on a new persona with this adorable Spider Pig Piggy Bank. Handcrafted using high-quality ceramic and decorated with acrylic paint, resin, and cold porcelain accessories, this bank is a great tool to help save money and perfect for helping create great memories. This is almost the perfect piggy bank for kids with Spiderman on it.
11. DIY Spiderman Savings Coin Jar
Do you have an Amazing Spiderman fan in your life and you want use their love of Spidey to teach them how to save without breaking the bank? Here is a clever DIY Spiderman piggy bank idea. All you need is a plastic bottle, a few craft supplies, and a superhero logo printout and you are just minutes away from creating your own Amazing Spiderman coin jar.
Tutorial by Little Crafties:
12. DIY Hand Painted Spiderman Mason Jar Bank
Whether you want to create a bank that give Spiderman a gentle nod or want to go all out into the Spider-verse, there are plenty of creative ways to help your Spiderman fan save. Using a mason jar and a few craft supplies and tracing templates, these DIY Spiderman Piggy Banks are fun to create and fun to use.
13. Paint Your Own Ceramic Spiderman Piggy Bank
For a fun craft project for your Spiderman fan, these paint your own Spiderman piggy banks are fun to create and you can personalize them. All you need is a ceramic piggy bank, acrylic paint, a few markers, and a creative eye. Your young saver will have fun creating their own version of Spiderman and will cherish the memory forever.
14. 1978 Collectors Plastic Spiderman Piggy Bank
A collectible in it's own right, this Spiderman piggy bank is the perfect addition to any avid Spiderman or Marvel collection. In near-new condition, this never used bank has been cherished and preserved since its date of purchase in the 1970s. From the classic design and the detailed contours of the construction, this bank is the perfect gift for the ultimate collector.
15. Black Venom Coin Bank
In addition to Spiderman, you might even want to include this Venom piggy bank in your shopping list!
Better yet, you could even purchase both a Spiderman piggy bank from this list along side with this awesome Venom money box. It also makes a great birthday cake topper if you're looking to gift this for a boy's birthday. Just take a look at how great this Venom piggy bank turned out on the cake for nicoliolio who purchased this on Amazon according to the review section.
More Piggy Bank Ideas:
Want more inspiring ideas?
We've got a ton of cool piggy banks that'll help you save more and live better!
This is a personal finance blog helping you to find the most optimal ways to budget, spend less, save money, and make extra money. For more personal finance and money tips, be sure to follow Finsavvy Panda here on Pinterest!