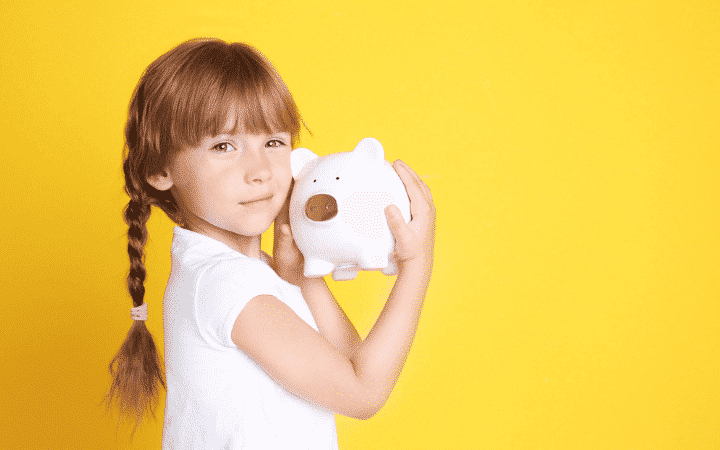 We will receive a commission if you make a purchase through our affiliate link at no extra cost to you. Please read our disclosure policy for more information.
It's no surprise that kids aren't born with the desire to save money. All they want to do is play and eat all day.
However, that shouldn't stop you from teaching them the importance of saving, budgeting, and spending wisely at an early age.
No, it's never too early to teach your child to save money – the earlier the better! They need to be taught that saving money is important, and as parents, you can help them avoid bad money habits by educating and helping them sock away a portion of their savings.
You may even consider a few easy chores for kids to earn some money so they can form good habits over time.
20 Cute and Cool Piggy Bank for Kids
The first step to saving money is to have a safe place to put the money, so give the gift that keeps giving – a cute piggy bank that is fun and appealing!
As your child methodically learns how to put money into their first coin bank, they are learning how to save money. Your child will be developing the habit of saving as well as a sense of personal accomplishment.
If you can get your children into the routine of saving money now, they'll be able to continue this habit for the rest of their lives allowing them to build wealth and reach financial independence at an earlier age.
Without further ado, here are 20 cute piggy banks for kids that'll inspire them to save money at a very young age! You'll be impressed by how much your kid can save with the help of a large piggy bank!
Want more fun, playful and cool more piggy bank ideas for kids, girls, and even adults? We've got more unique ones for you here! These piggy bank ideas will sure help you and your kids start saving furiously:
1. Personalized Spiderman Piggy Bank for Kids
This traditional piggy bank is disguised as Spiderman. Superhero fans will enjoy filling the Spiderman pig with their treasures. Show your child that saving money for the future is a heroic act.
We also highly recommend picking up one of these popular Spiderman piggy coin banks for yourself or that Spidey fan in your life.
2. Unbreakable Plastic Piggy Banks for Kids
Younger children will delight in this piggy bank set that they can play with. The durable plastic makes the bank safe and strong. Children can keep their coins close to them as they carry this coin bank around the house. This piggy bank will make a great gift for preschoolers.
3. Cool, Cute, and Fun Stealing Coin Piggy Bank for Kids
Perfect piggy bank gift for the girl, this playful kitty stealing coin box keeps your coins safe after swiping your coin off the bamboo plate.
The cat will say "thank you" as it deposits your coin safely below. Bring a bit of playfulness to your saving routine by letting this cat keep your coins safe. You can pick her up from Amazon here.
4. Cool Electronic Panda Piggy Bank for Boys and Girls
This unique ATM piggy bank authenticates your bills as it stores them. Teach the art of depositing money to save it. Your child will begin to understand the mechanics of depositing money as well as withdrawing it from the electronic ATM with a passcode.
5. Cute and Girly Unicorn Piggy Bank for Kids
A majestic ceramic unicorn is the perfect unicorn gift idea for any princess, or even a young lady, to store her money. Show the princess in your life that saving is a royal act that ensures a wealthy future.
We also have more unicorn piggy bank ideas here for you!
6. Lucky Cat Piggy Bank for Young Kids, Teens, and Adults
No one can pass by a lucky cat coin bank that screams the words, "lucky" and "wealth", and that's why we have more Hello Kitty Lucky Cat Piggy Banks for you to consider.
The Lucky Waving Cat is a symbol of wealth and happiness. This friendly cat will put a smile on your face as you deposit your coins inside. Do not just leave your future to luck. Take hold of your future by saving your money in this coin bank to secure your wealth and happiness.
7. Pretty Pink Unbreakable Elephant Piggy Bank for Girls
Give this pretty pink elephant as a gift at the next girl baby shower you attend. Any of these irresistibly cute elephant piggy banks will match any girl's nursery décor.
8. Cute Dinosaur Piggy Bank for Boys
This ceramic dinosaur piggy bank would be a cute and practical decoration piece in any boy's nursery.
Again, it is never too early to start teaching kids to save, so go ahead and pick up one of these best dinosaur coin banks for your kids today.
9. Fun Create Your Own DIY Piggy Bank
This arts and craft project becomes a money saving keepsake once it is painted. Show your child how to be creative as they save money. Your child will be excited to save money in a piggy bank that he/she designed.
10. Homemade DIY Superhero Mason Jar Piggy Bank
Another creative way to make your own piggy bank is by using items you might have around your home such as a mason jar. Make it a game to have your child look for coins to fill the mason jar. You can also explore a list of more unique homemade DIY piggy bank ideas.
11. Unique and Educational Moon Jar Piggy Bank
Teach your child to spend, save, and share with this coin bank for kids. Clearly label each canister so that your child knows exactly how the money will be used. Your child will enjoy learning fiscal responsibility with this educational money jar. Your child will love the fact that some money gets to be spent and some of the money gets to be saved.
12. Fisher Price Talking and Sing-Along Piggy Bank for Kids
Give your toddler an early start with this piggy bank by Fisher Price. Plastic coins are provided with this cute pig bank. The bright colors and music will prepare your child to deposit money for safe keeping. Teach your child to enjoy saving now.
13. Unbreakable Disney Toy Story Hamm Piggy Bank for Kids
Hamm, the beloved Toy Story character, makes a great gift as a real piggy bank. He is a plastic pig with a happy little grin. Your child will happily store money in this Hamm piggy bank. You can buy him from Amazon here.
14. Fun, Cool, and Cute Half Clear Piggy Bank
Watch your money grow as you deposit it inside this clear coin bank. In addition to seeing your coins inside, the piggy bank counts and records how much money you are putting into the bank. This piggy bank is fun for any age. Get him from Amazon here.
15. Unique and One-of-a-Kind Minecraft Piggy Bank
Minecraft lovers will enjoy storing coins in this coin bank that looks like it walked right out of the game. Help your child build wealth with this 3D pixelated pig. Pick him up from Amazon here.
16. Cute Disney Minnie Mouse Piggy Bank
Minnie Mouse fans and little girls alike will treasure this sweet coin bank. At an early age, children already understand the importance of money. Once your child drops money into Minnie Mouse, your child will be able to carry the treasured money around safely in this cute plastic Minnie piggy bank.
17. Digital Counter Piggy Bank that Counts Your Money
Adults wanting to save money will enjoy this digital coin bank as a gift. The clear pig counts your coins as you drop them through the slot. Just check the LCD screen to see how much money you have saved! Set a goal now, insert your coins and watch your money grow! Get him over here from Amazon.
18. Large Electronic Piggy Bank with Password Lock for Boys
Wow the boy in your life with this excavator money bank for kids. The construction enthusiast will look forward to placing coins and bills in this bank. The fingerprint lock will ensure your boy that only he can withdrawal the money. Buy it from Amazon here.
19. Digital Owl Coin Bank for Kids
This wise owl knows how important it is to save money. Reinforce the importance of saving by giving this coin bank to the owl enthusiast in your life. Snatch this lil' guy from Amazon here.
20. DIY Piggy Bank Money Storage Box
Let your creativity loose and design your own coin bank. You will begin saving money right away. Immediately put your money into the box you created instead of spending money buying a new piggy bank. A DIY piggy bank is a smart way to start saving money.
Wrap Up on the Best Piggy Banks for Kids (Personalized, Fun, Cool, Unique, etc.)
We always recommend you to help young children form good money habits and start saving at an early age. It's never too early, or young, to invest in a cute piggy bank that'll inspire kids to start saving! You may even want to consider opening a bank account for them in the future.
Remember that financial literacy taught at an early age is a smart and clever thing to do!
We really hope you enjoyed our listicle of the best piggy banks for kids to invest in. They also make the perfect unique gift for that special child in your life! Each and every one of these coin banks will motivate and encourage kids and young teens to think about their future.
Before you leave this blog, make sure to share this page with your friends – they will adore these ideas! 🙂
If you're hunting for more cash related gift ideas or general budget-friendly gifts, we have a list of the best and most practical budget-friendly gift guides here for you!
This is a personal finance blog helping you to find the most optimal ways to budget, spend less, save money, and make extra money. For more personal finance and money tips, be sure to follow Finsavvy Panda here on Pinterest!