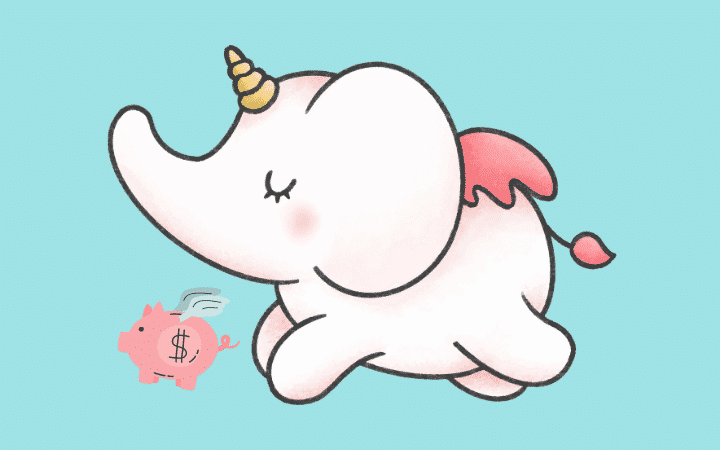 We will receive a commission if you make a purchase through our affiliate link at no extra cost to you. Please read our disclosure policy for more information.
Before we help you shop around for an elegant elephant piggy bank, either for yourself or your lovely kids, we want to first emphasis the importance of saving money — after all, we are a personal finance blog dedicated to give you our best tips on how to save, budget, and earn extra money!
When you save money, it helps you feel more financially secure and resilient. Not only will saving money in the form of cash help you avoid bad financial habits, but it will also help you cope with unexpected emergencies such as a sudden job loss or financial crisis.
If you include a savings plan with these smart budgeting tips along side with a fun adult piggy bank as part of your monthly or weekly budget, you'll meet your desired savings goals.
As the famous billionaire investor, Warren Buffett says, "Do not save what is left after spending, but spend what is left after saving."
We also recommend reading more amazing witty financial quotes by Warren Buffett that'll inspire you to save and earn more, so you can finally achieve financial security and independence.
Now that you know the importance of saving, let's help you find that perfect elephant coin bank which are elephantastic and will help you kickstart your savings plan!
Best Elephant Piggy Bank Ideas
Many cultures value piggy banks to meet savings goals. The Asians think of them as good luck charms and Europeans view them as a harbinger of wealth.
While this may seem strange, a piggy bank is actually a great way to painlessly save. It's a wonderful vehicle to train children, but it's also a useful tool for adults.
After all, everyone has loose change. A piggy bank is a great way to store these small sums and help them to grow into a useful amount. Plus, a piggy bank can be an attractive and fun repository to keep your space or wallet free of clutter.
Of course, a piggy bank doesn't have to be a pig – one great option is an elephant!
This is very appealing to many people as they find these intelligent, caring, and socially wise creatures to be majestic.
Many cultures also consider them to be symbols of fortune, strength, health, and happiness. These make them an ideal choice for a piggy bank you can proudly display.
Here is a list of wonderful options that also make great gifts to encourage savings and bring a smile to the recipient's face:
1. Tiffany and Co. White Elephant Piggy Bank
This classic and artistic version makes a great gift. Your recipient will know you have a refined taste due to the brand name, which references cultural icon Audrey Hepburn. This white elephant piggy bank would be ideal for a young lady.
2. Large Personalized White Elephant Piggy Bank
What child wouldn't want their name emblazoned on the side of their first elephant coin bank? For your precocious little one being introduced to saving coins, the large font text and colorful decorations will be a huge hit.
3. Large Gray Indian Elephant Piggy Bank
With its transparent interior, realistically formed facial features and glossy metallic sheen, this elephant bank can proudly take pride of place in your elegant parlor or home office. It makes a thoughtful gift for a well-travelled adult.
4. Pink Elephant with Bow
This adorable pink elephant piggy bank with its melting gaze, soft expression, and sweet red bow and heart will appeal to any little princess. She will coo with delight and be gently encouraged to put her pennies in her pretty new bank. You can buy this item here from Amazon.
5. Pink and White Elephant Ceramic Décor by Precious Moments
A whimsical take on an old-style circus elephant, this prim white and pink bank will appeal to all ages. It is reminiscent of a Disney film, making it nostalgic for older folks as well as the young. You can buy her here on Amazon.
6. White Geometric Elephant Coin Bank for Adults
The strong, clean lines of this pachyderm have a sophisticated, origami style. The golden tusks just add to the bold appeal as does its confident, striding pose. A great choice for the elegant man in your life.
7. Cute Gray Elephant Saving Money Bank
Children will love the textures and patterns on this whimsical, admittedly cute baby elephant. They will enjoy the tactile sensation of stroking it, which will act as an inducement to interact with it and save.
8. Cute Baby Figure Elephant Piggy Bank
This beautiful representation of a baby elephant would appeal not only to youngsters but also to older folks with grandchildren. It can provide an appealing mantlepiece decoration as well as an organized place to store loose change. You can pick her up over here from Amazon.
9. Gray Elephant Piggy Bank
Whimsical and soft, this little guy would be appropriate for the guys in your life with its neutral colors and upraised trunk.
10. Dumbo Silver Elephant Coin Bank by Precious Moments
While this little guy is adorable, it would be best given to an adult, particularly someone who loved the Disney movie. The elegant silver finish and lovely craftsmanship will make it a great addition to a display space.
11. White and Baby Blue Elephant Bank
If you have a tiny tot who needs his first bank, this is an excellent choice! The textural pattern will invite him to touch while the color scheme will provide visual appeal. The little crown on its head is icing on the cake.
12. Blue Elephant Money Bank with Cell Phone Holder
What a convenient and thoughtful gift for the teen or pre-teen in your life! Not only does it provide a whimsically artsy appearance and a convenient space to save his or her allowance, it also carries a cell phone, making it super functional. You can buy this product from Amazon here.
13. Elephant Mug for Cash and Loose Change
Perfect for your college student. Placed on the dresser of his or her dorm room, it's roomy enough for spare dollars as well as loose change or even pens and keys. In a pinch, it can even be used for a cup of coffee during a late-night study session. You might want to gift two here!
14. Ceramic Purple Elephant Stitched Money Bank
Crafted in a pastel lavender shade, this little fellow will thrive in many a home. Its gentle demeanor is perfect for children and its simple but well-stitched appearance will remind them of their favorite stuffed animal.
15. Gold Balloon Elephant Piggy Bank
This proud pachyderm will appeal to the adults in your life. It's perfect for an executive desk or a well-appointed library or media room. Plus, the gold exterior is a harbinger for the wealth it will accumulate! Buy this product here from Amazon.
16. Silver Balloon Elephant Piggy Bank
Less ostentatious and more elegant than its golden counterpart, the silver version here shares the appealing nature of the balloon animal motif while providing an equally exquisite look.
17. Gray Elephant Plush Toy
Perhaps the most perfect gift for the youngsters in your life, this combines the best features of a plush, super soft and cuddly toy with the usefulness of a savings tool. It could also be a great gift to a new college student to help fight homesickness.
18. Cute Elephant Pair for Couples
Why have just one elephant when you can have two as charming as these? If you have got two children, you can provide them each with their own. These well-detailed elephants sport a sunny disposition to bring a smile to little faces.
19. Musical Electronic Bank for Kids
With all its bells and whistles, this modern variation of a child's bank will make saving super fun. Your child can learn to manage money and handle a key pad while listening to music. We also have more variations of the best electronic piggy banks for bills for you.
20. My First Bank Elephant Coin Jar for Baby
This sweet little creature is perfect for your sweet baby. The dimensions of its face, ears, trunk, and legs are designed to be easy for a small child to touch.
More Piggy Bank Ideas For You!
We hope you enjoyed this list of the best vintage elephant piggy banks. We also have more fun and cool piggy bank ideas for you to browse through here:
This is a personal finance blog helping you to find the most optimal ways to budget, spend less, save money, and make extra money. For more personal finance and money tips, be sure to follow Finsavvy Panda here on Pinterest!