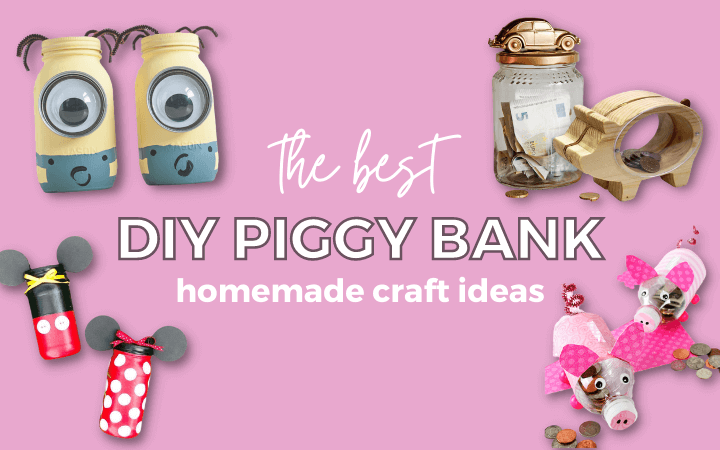 We will receive a commission if you make a purchase through our affiliate link at no extra cost to you. Please read our disclosure policy for more information.
Big savings often start off with small plans. Pinching pennies is an old expression, but it still makes sense – no pun intended. Every penny you save is a penny you've earned, so kick start your savings plan and consider the investment opportunities presented by one of these creative DIY homemade piggy bank ideas.
Our ancestors understood the value of saving money and making money. More than 600 years ago, it was common practice to keep monetary assets at home. There were no banks, so people kept their funds secure in clay pots.
These original containers were made of orange pygg clay. The naming convention and shape evolved over the centuries, and today, piggy banks still play a role in financial planning. They teach kids to save, turn coins under cushions into cash and reinforce good budget habits.
Homemade DIY Piggy Banks for Kids, Teens, and Adults
Saving money is an important part of meeting financial goals. It's fun for adults and kids to save with a large ceramic piggy bank. But if you're really creative and frugal, it can be fun too with any of these piggy bank craft ideas.
Make one for yourself, build a piggy bank with the kids, or purchase a coin box for someone who shares your passion for stashing cash – these make one of the best money cash gifts when you're looking for a unique and creative way to give money on a special occasion like birthdays, graduations, job promotions, and winter holidays. Just fill up the piggy bank with some coins and bills to surprise the recipient!
From wooden material to mason jars and plastic bottles, we've got many Pinterest-friendly piggy bank ideas that are pin-worthy for your Pinterest collection. Now, let's get crafty and help you tackle many unique handmade DIY coin banks this weekend!
1. Superhero Mason Jar Piggy Bank for Boys
Superheroes are super role models for young boys, especially when you attempt to make one of these heroic DIY Spiderman money coin banks. Mason jars easily transform into coin banks that make money management more appealing. The superhuman jars also look very cool in kids' rooms.
2. Minion Coin Bank Mason Jar Idea
Let the Minions help introduce your younger set to saving money. The popular characters make great DIY piggy banks for kids. All you need are two Mason jars, a few craft supplies and slotted lids.
3. Kids Airplane Piggy Bank
Young imaginations take flight as they stash coins in an airplane piggy bank. Kids learn how to save spare change that usually flies out of their pockets. The plastic bottle airplane bank does double duty as a fun toy.
4. Wooden Piggy Bank
There's nothing like tradition to foster good financial habits. It helps to have a clear view of how well you're doing. A see-through wooden piggy bank covers both points with a classic profile.
5. Wooden Dinosaur Piggy Bank
Saving money is smart, and it's cool too when you do it with dinosaur coin banks. Let their prehistoric strength stimulate your sense of fiscal responsibility. Let them serve as reminders that smart budget management is ageless.
6. Disney Mickey and Minnie Coin Bank Mason Jar
Put your crafty talents to work with a couple of mason jars, and ring up savings with Mickey and Minnie Mouse piggy banks. Put the extra cash to use as spending money for your next family vacation.
7. Easy To Make Money Bank Cereal Box
The best financial planning always includes cost-saving strategies. This cereal box DIY piggy bank for kids is an affordable example of how much you can do with inexpensive materials. Easy assembly is a nice bonus.
8. DIY Ceramic Unicorn Piggy Bank
Unicorns are perfect birthday presents for little girls. They're also perfect piggy banks, especially when the recipient gets to design it herself. She creates rainbows and learns the basics of savings, all with one fun project.
We also have the best unicorn coin banks that will help kids appreciate the art of saving!
9. Cute Starbucks Cup Piggy Bank
Stay in control of your budget for gourmet coffee with an empty cup from Starbucks. Build on that base with a few crafty touches, and let loose change take the bite out of your next refill.
Now, if you want to get serious about saving money on those delicious drinks from your favorite two-tailed siren mermaid chain, then consider these Starbucks hacks on how to get free drinks!
10. DIY Letter Piggy Bank
Personalize a child's saving strategies with a personal initial piggy bank. This clever idea keeps the kids interested in saving money. It's also a great way to spend time together.
11. Make Your Own Homemade Minion Piggy Bank
Go big with a Minion bank for big kids. The number of coins this DIY piggy bank can hold is sure to impress older Minion fans by generating impressive returns.
12. Wood Work Fish Piggy Bank with Fishing Theme
A little time invested in wood working pays off when you craft an original piece of art that doubles as a coin bank. Who can resist the lure of a simple saving plan disguised as a fish?
13. DIY Recyclable Water Bottle Piggy Bank
It's good to be frugal. It's even better to combine that trait with an eco-friendly project. Teach the kids both concepts by retrieving plastic bottles from the recycling bin and turning them into playful piggy banks.
14. Creative Travel Fund Savings DIY Piggy Bank
Make it easier to save for tickets to paradise with DIY piggy banks for adults. Glass jars topped with vacation icons turn traveling fantasies into vacation realities. It's motivating to watch your funds grow on a favorite shelf.
15. Ikea Hack Piggy Bank Frame
Keeping a close eye on your savings couldn't be easier when you hang it on the wall. Turning a picture frame into a piggy bank is a thrifty way to watch your funds grow and add a unique touch to interior decor.
16. Rainbow Mason Jar Coin Bank
Not all rainbows lead to pots of gold. Some adorn pretty DIY piggy banks for girls with bright colors that inspire personal savings accounts. Help from leprechauns or unicorns isn't required.
17. Coke Bottle Piggy Bank
Traditionalists appreciate DIY coin banks that stay true to the iconic piggy bank of their youth. Kids love them too. The affordable classics are easy to assemble, and they encourage good saving habits.
18. Tissue Box DIY Piggy Coin Bank
When it teaches the kids fiscal responsibility, a small savings account is nothing to sneeze at. A tissue box piggy bank helps youngsters learn the importance of saving money today for fun tomorrow.
19. Mason Jar Car Piggy Bank
It takes patience to save for a big purchase. You probably can't stash enough cash in a mason jar to buy a new car. You can stay motivated by topping a DIY piggy bank with a replica of your dream wheels.
20. Shadow Box Coin Bank
Be prepared for rainy days by starting a savings account inside your home. Every time this shadow box bank fills up, deposit the cash at your financial institution. It's an easy strategy for personal savings.
Summary of Creative Homemade Piggy Banks
We hope you are inspired to get creative with these personalized DIY handmade piggy banks!
Not only will they help you achieve your personal and family saving goals, but they also make the perfect frugal and budget-friendly gift idea!
Before you leave this blog, make sure to share this page with your friends – they will adore these ideas! 🙂
We have more fun and cool piggy bank ideas for you to browse through here:
This is a personal finance blog helping you to find the most optimal ways to budget, spend less, save money, and make extra money. For more personal finance and money tips, be sure to follow Finsavvy Panda here on Pinterest!