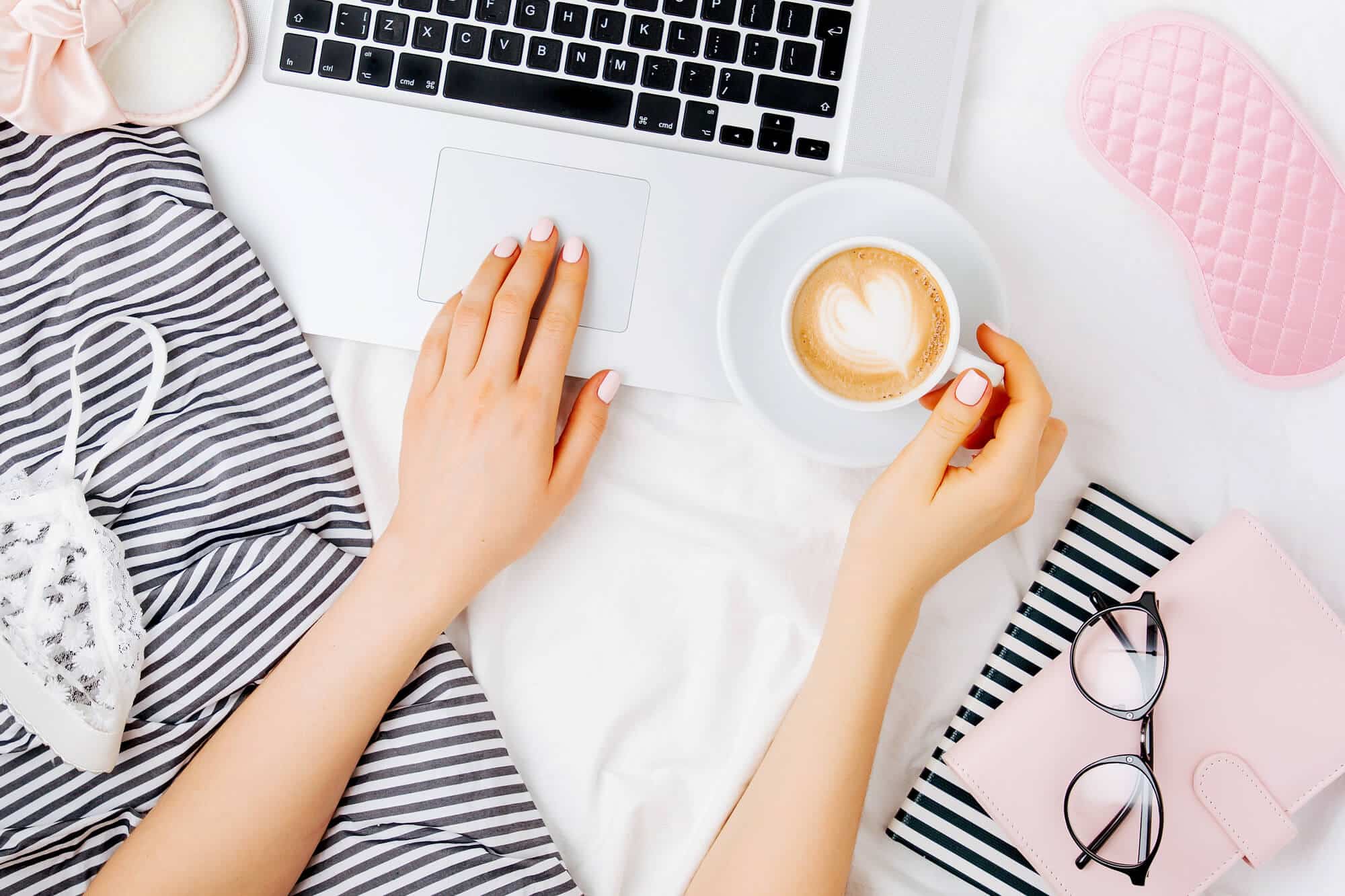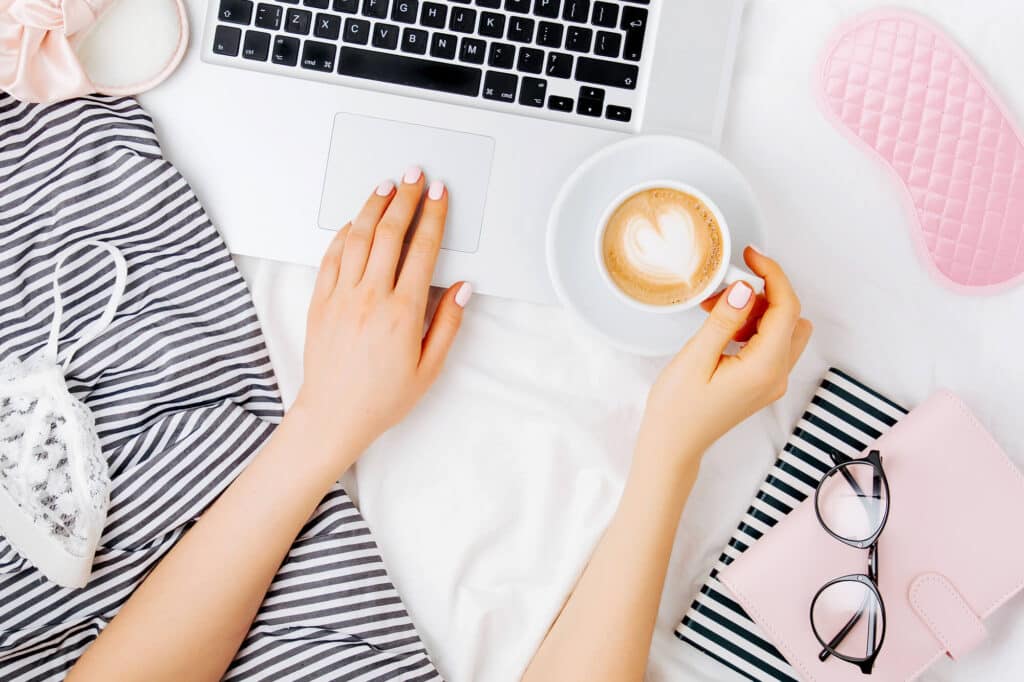 We will receive a commission if you make a purchase through our affiliate link at no extra cost to you. Please read our disclosure policy for more information.
For several years of blogging and using Pinterest to earn a full time income online, I've been asked repetitively over and over again the same questions almost every day by new and experienced bloggers regarding how to get traffic from Pinterest:
"How can I use Pinterest to drive traffic back to my website?"
"How can I use Pinterest traffic to monetize my blog?"
It absolutely boggles my mind that I never actually wrote a post on how to get traffic, or increase your traffic, by using the Pinterest platform as a blogger. It could have been my lack of confidence in my earlier years of blogging along with my anxiety and feeling of imposter syndrome, but I managed to slowly get over those feelings when… 1) I finally realized that life is too short to worry about what other people will think about my content and 2) when I acknowledged that I was actually learning and gaining more experience as a full-time blogger and content creator.
So, the great thing is I'm finally going to help you by covering the topic of Pinterest traffic here today!
In fact, I poured a lot of time and created this FREE 7-Day e-mail course over here to teach you how you can skyrocket your Pinterest traffic in the next 7 days! I also show you how I went from 0 to over 100,000 monthly pageviews. I was able to do this with two blogs, and I am working my way to getting accepted into Mediavine again with a third blog!
By the way, feel free to leave or drop any comments and/or questions you have about getting Pinterest traffic to your blog or website. I'll be sure to answer you!
PIN (OR BOOKMARK) THIS PAGE: I'll be updating this post so make sure to pin this image HERE and save it to your Pinterest board so you don't lose this page. Trust me, you'll want to bookmark this valuable information that will show you how to increase your Pinterest traffic!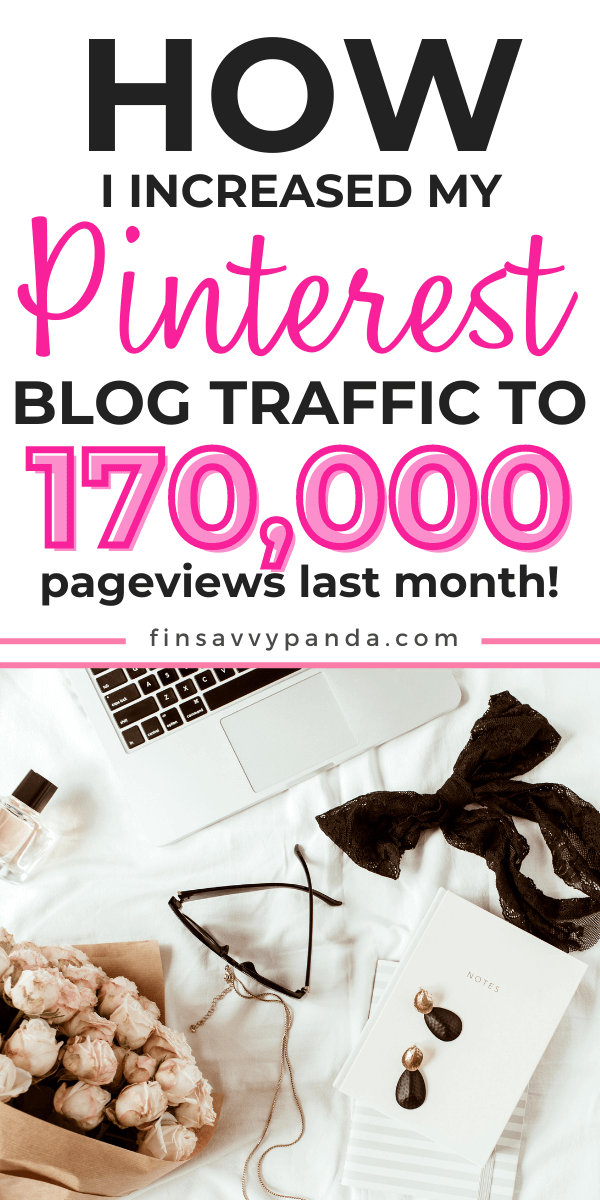 Before I get into the details, let me provide you with my background of who I am and how I've been using Pinterest as my main source to drive traffic.
If you've been following me and my blogging journey on Finsavvy Panda, you'll be familiar with my previous blog income reports. When I first started that blog income report series for Finsavvy Panda, I was a total beginner and had no clue how to get traffic or monetize my first blog. I was just a REALLY naive and clueless, yet extremely excited new blogger learning and testing new things on the fly.
Through hard work, a ton of learning, making lots of silly mistakes, and a handful of stubbornness, I went from:
I was beyond terrified making this decision, but I used my heart (not rational brain) along with my gut feeling and took the chance to quit my job I hated so much at a bank by the end of 2018 when I was earning what most people would consider a full-time income blogging for the month.
I didn't have a crystal ball to predict what was coming next in the months ahead…
Monetize With Pinterest Traffic and Earn Over Six Figures Per Year
I was very focused on this passionate blogging project of mine and to my surprise, I hit my personal and huge milestone of earning a full-time blogger salary of $10,000 per month within 18 months of my online journey in April 2019 (115,477 pageviews).
From that point on, I was consistently getting over 100,000 monthly traffic from Pinterest and earning over $10,000 in net profit every month, so that's when I considered myself as a "full-time Pinterest blogger" and never looked back. This was, of course, mostly thanks to Pinterest traffic!
Here I am, still alive after several years (I feel so blessed, praying and thanking God every single day) and earning a very healthy online income month after month; though I can honestly tell you for a fact that no one blogger can ever predict their traffic or earnings for the next month, or what will happen in the future, regardless of how dreamy blog income reports may look.
I admit I still get terrified about the idea of waking up and losing all my traffic and income overnight. That hasn't happened yet but knock on wood! ✊ 🪵
That is why I decided to diversify my online income by starting my second blog in the last quarter of 2019 (purchased a new hosting plan and got a free domain name with Bluehost in August 2019), which got accepted into Mediavine in mid-January 2020 and started earning an income from Pinterest traffic.
It's a lifestyle blog, which is totally different from this blog about personal finance, saving, budgeting, and earning extra money.
My second blog is truly a blessing in disguise and I am really thankful that God has guided me towards this direction and blessed me with so many great things! ❤️
After my last monthly blog income reports of earning over $20,000 per month between September 2020 and March 2021, I stopped publishing them and for good reasons, which I won't go over in details here.
You can check out my last report to learn more about my blogging lessons and mistakes learned. These are things I really wish I knew earlier.
UPDATE: Over the years, I recieved a lot of e-mails from bloggers asking me to create an in-depth Pinterest guide for them. I am excited to say that I finally launched this extremely comprehensive Pinterest guide for bloggers called The Golden Compass To Pinterest Traffic here. It teaches you everything you need to know about Pinterest and how you can use it to skyrocket your pageviews. Throughout the Pinterest curriculum, I give you the exact steps I took to get from 0 to over 100,000 monthly pageviews! These are the things I would do all over again if I were to start a new blog from scratch and use Pinterest. In fact, I have a second blog and that got accepted in Mediavine too! I'm on my way to getting into Mediavine with a third blog! If you want to get started on Pinterest and increase your traffic, I highly recommend learning more about my Pinterest Traffic course here.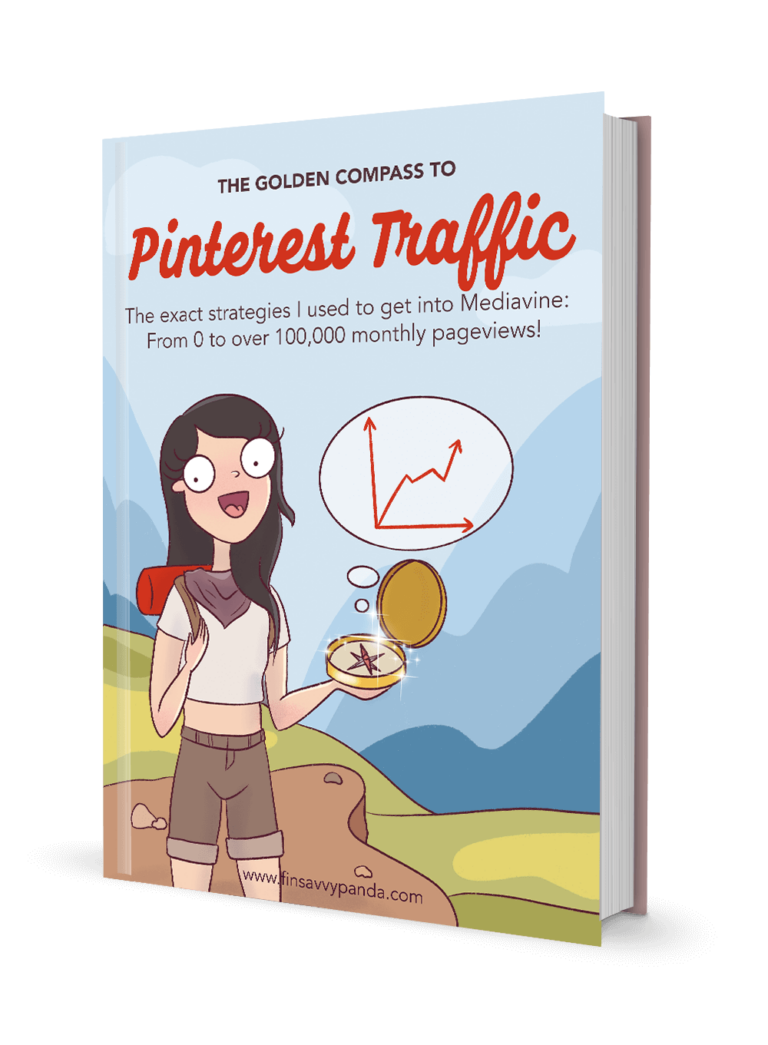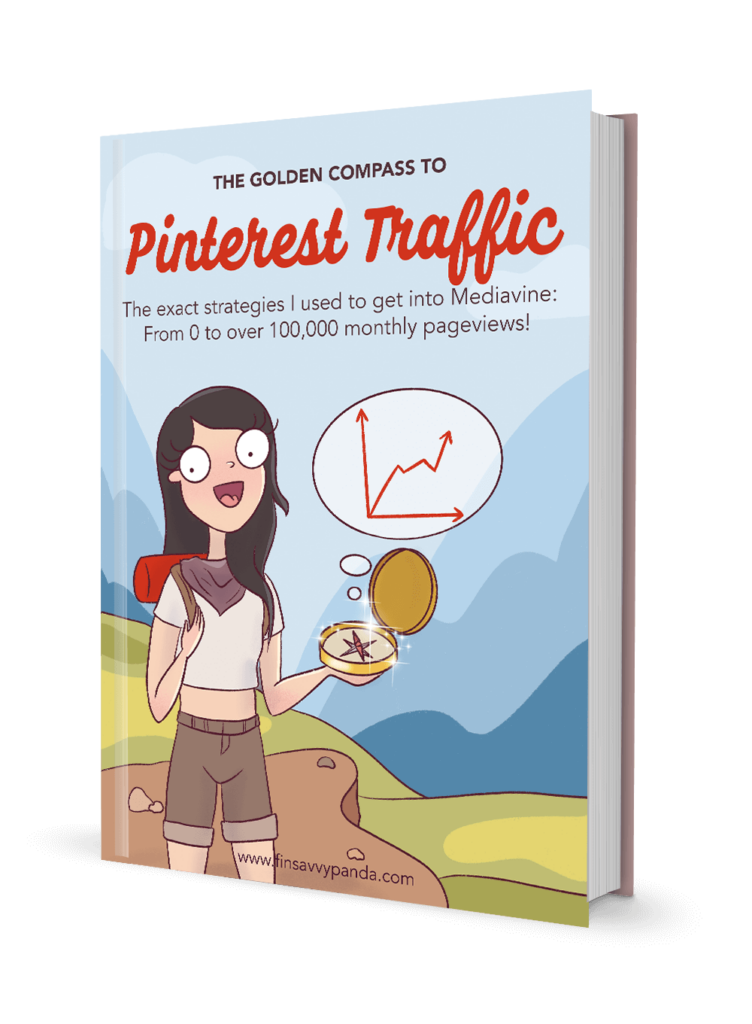 Can you still get traffic from Pinterest?
Before I go into details about how you can get free traffic from Pinterest (I'm talking about real, organic traffic, not stuff you pay for with Pinterest ads), I just want to make it clear that yes, you absolutely can still get traffic from Pinterest and attract people to visit your site.
I've been using Pinterest for my blog and business for over 5 years, and I wouldn't be where I am today without it. I'm here to show you that you can really make a living online!
How To Get Traffic Using Pinterest and Monetize Your Blog
In this post, I'm going to be focusing on my lifestyle blog (not this blog you're reading here), and how I use Pinterest to get traffic and earn an income with display ads. Below is an example of what I earned on March 1st, 2022 from my lifestyle blog alone with Mediavine ads – $10,159.58. It does NOT include any earnings from the Finsavvy Panda blog since I have stopped publishing blog income reports for it. I also get separate payments to another account for Finsavvy Panda.

This remains as an anonymous blog and I won't disclose the name of my second blog, and I have my reasons not to, but I will provide you with my screenshots of my traffic numbers.
I also have a separate post about starting and making money with an anonymous blog along with why I no longer blog anonymously on this blog you're reading here now.
At the time of writing this, my monthly traffic was 177,338 in the month of February 2022 with the majority of it coming from Pinterest source:

This is the traffic over the last four-month period. 800,245 pageviews in the span of 4 months:

10 Pinterest Traffic Tips
Now that you know a little bit about me and my traffic stats, I'm going to give you some tips and pointers on how you can get traffic on Pinterest so you can start monetizing your blog.
1. Create a Pinterest Business account
If you are totally new to Pinterest, the first step is to create a Pinterest business account. Yes, it's free!
If you have a personal Pinterest account, I highly recommend converting it to a business account, or creating a brand new business account that links to your domain name from scratch.
I have more details on how you can create and get started with a Pinterest business account for bloggers.
By the way, it's important to include relevant keywords in your business profile, which gives Pinners a quick description of what you blog about. I discuss more about Pinterest keywords in a bit.
2. Claim Your Website on Pinterest
As soon as you create your Pinterest business account and filled out your profile, make sure you claim your website with these steps.
3. Do Pinterest Keyword Research
Before you do anything, the first thing you need to become familiar with is something called "Pinterest keyword research."
You will apply this to your profile, Pinterest boards, Pin titles, and Pin descriptions, which I mention more about later on.
Your keyword research will depend on what niche you're in and what you blog about. Here are 100+ popular blog post ideas you can blog about for many different niches.
What is Pinterest Keyword Research?
Taking one step back, we need to understand what keyword research is and why it is important when it comes to getting Pinterest traffic. Simply put, keyword research is understanding the terms and phrases (also known as "keywords") that users are searching for on Pinterest to solve their problems.
For example, a reader might have a problem figuring out what to eat for dinner tonight. To solve his or her problem, this reader may go onto Pinterest to search for "dinner recipe ideas".
Another example is a reader may be searching for the phrases or keywords like "bathroom renovation on a budget" because they are in the stage of looking for ideas on how they can renovate their bathroom without having to spend too much money.
The purpose of keyword research is to essentially understand what your audience wants to find so you can provide them with a solution.
Searching for Pinterest Keywords Example
Let's walk through an example to help you understand better. You can actually apply this concept to any niche you blog about.
Pinterest is a popular place for people to look for food, crafts, and seasonal content.
So, let's say for example, you may want to create a seasonal blog post and write about the best St. Patrick's Day Desserts.
The first thing you would do is type in the phrase or keyword, "st. Patrick's day desserts" on the search bar and see what other long-tail keywords show up.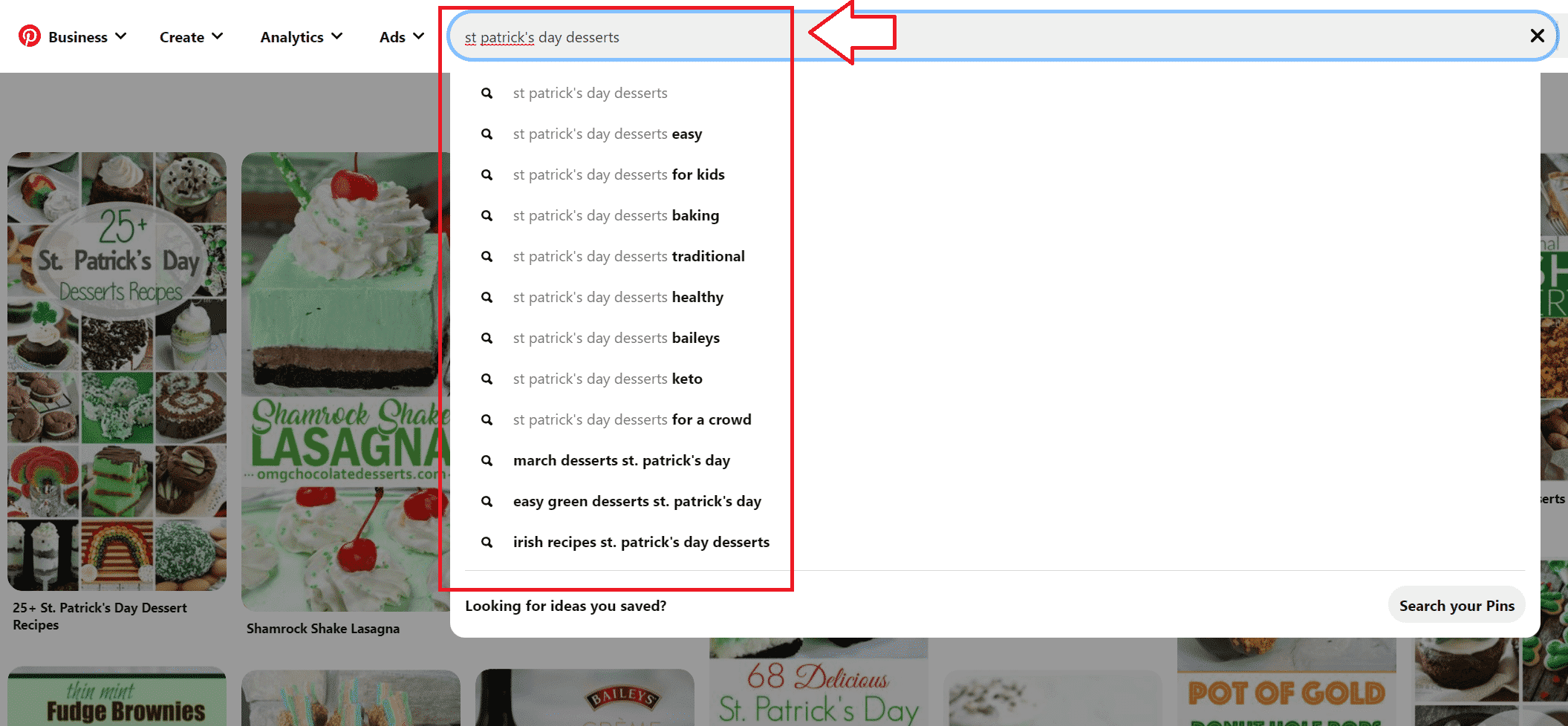 In this case, you'll see keywords like:
Easy St. Patrick's Day Desserts
Healthy St. Patrick's Day Desserts
Patrick's Day Desserts for Kids
Traditional St. Patrick's Day Desserts
These additional keywords also give you an idea of what other posts you can write about that are related to St. Patrick's Day Desserts. So, you can have a few blog posts about different variations of St. Patrick's Day Desserts based on the keywords you see on the search drop-down.
I also go into detail about Pinterest SEO and keyword research in The Golden Compass To Pinterest Traffic to help you strategically plan your content on Pinterest, so you can attract the right audience and gain quality traffic in your niche!
Next, we're going to apply your Pinterest Keyword Research to your boards, Pin titles, and descriptions in the next few points.
4. Create Personal Pinterest Boards and Fill Them With Keywords
When you have a brand new Pinterest account, I recommend creating at least 10 Pinterest boards for now. Create 5 on your first day followed by another 5 on your second or third day.
However, don't make new boards too often now since you're still new.
Slowly create boards throughout your blogging journey until you have between 30 to 50 personal boards by your 3rd to 6th month. You could even have 100 boards! It really doesn't matter how many boards you have TBH.
The more boards you have, the more you can Pin a variety of your content to different boards without appearing "spammy" on the platform.
You're good to go as long as your boards are relevant enough for you to rotate your Pins and content to each board without excessively Pinning to them.
As you're creating your Pinterest boards, it's very important to include board descriptions with relevant keywords that describe what that specific board is about as mentioned earlier.
Going back to the example about St. Patrick's Day desserts, suppose you plan to write many posts about seasonal dessert ideas, or even timeless desserts, in the near future.
In this case, you may want to create a few to several boards called something like:
Dessert Ideas
Seasonal Desserts
Patrick's Day Celebration
On each board, you may even want to write a short description and sprinkle in keywords that are relevant to that board. That way, this teaches Pinterest what your board is about, so it knows how to distribute your Pins properly to the right audience and may even end up showing your Pin on their organic top searches over time. This is what you want. You want Pinterest to display your Pin near the top when Pinners are searching for specific keywords.
In the "Dessert Ideas" board, you can enter a quick blurb like how I did in one of my dessert boards for my lifestyle blog: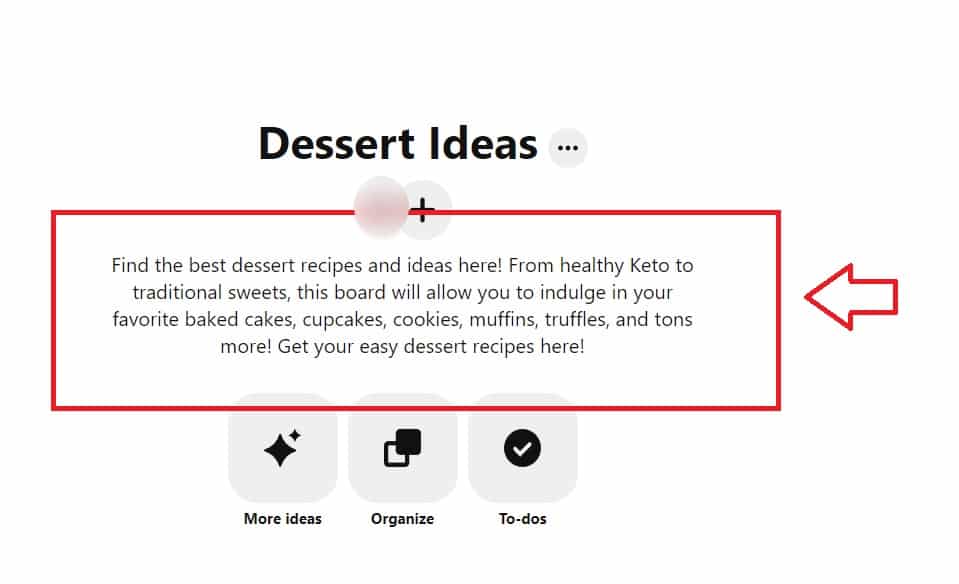 "Find the best dessert recipes and ideas here. From healthy Keto to traditional sweets, this board will allow you to indulge in your favorite baked cakes, cupcakes, cookies, muffins, truffles, and tons more! Get your easy dessert recipes here!"
As you can see, I tried to make the description in my "Dessert Ideas" board sound as human as possible by including keywords like:
Best dessert recipes and ideas
Healthy Keto
Traditional sweets
Baked cakes, cupcakes, cookies, muffins, truffles, etc.
Easy dessert recipes
Again, you can also create other boards like "Seasonal Desserts" and "St. Patrick's Day Celebration" so you can share your post about desserts, or other St. Patrick's Day events (doesn't have to be related to desserts in this specific case) for that season, in those different boards that are related to the topic.
In other words, you'll want to strategically create board names that will allow you to share the same blog post in multiple boards. By doing this, your content can potentially reach more people.
5. Optional: Join Group Boards
In addition to creating your own personal Pinterest boards, which is a must, you can also join group boards. Joining group boards is optional.
The effectiveness of Pinterest group boards has gone down a lot over the years. They used to be a really easy way to drive traffic back to your blog when you collaborate with other bloggers in your niche, but this strategy may no longer apply today.
However, I still see many experienced and established bloggers Pin to group boards. My VA helps me do it here and there too.
Once in a while, I do get a few Pins that pick up from group boards when I look at my Pinterest analytics, so it could still help on an occasion.
With that said, I wouldn't invest too much time in them especially if you're an experienced blogger.
I still believe group boards can be helpful for brand new bloggers who have less than 200 followers on Pinterest. It actually did help me get traffic when I created my second blog with no followers whatsoever. That still remains an anonymous blog, so I did not leverage my existing Pinterest account from Finsavvy Panda. Instead, I relied on a few high-quality group boards, which I tested and monitored my traffic in real-time during that period.
If you're a new blogger, you can read more about what are Pinterest group boards and how to join.
You can also use Tailwind Communities, a somewhat similar concept of group boards in terms of collaboration, which I mention later in this article.

If you're not on Tailwind yet, then you'll want to read about how to use Tailwind scheduler to increase your Pinterest traffic.
6. Make Eye-catching Pins and Optimize Them
Make different Pin designs and see which one works best for you. It's different for every blog and there's no single answer to this.
I personally use Canva Pro to create all of my Pins for both my blogs. You can also learn more about my Pin Savvy Templates plus e-book bundle special here which has helped me drive consistent traffic to my blogs, earning me over six figures in annual net income.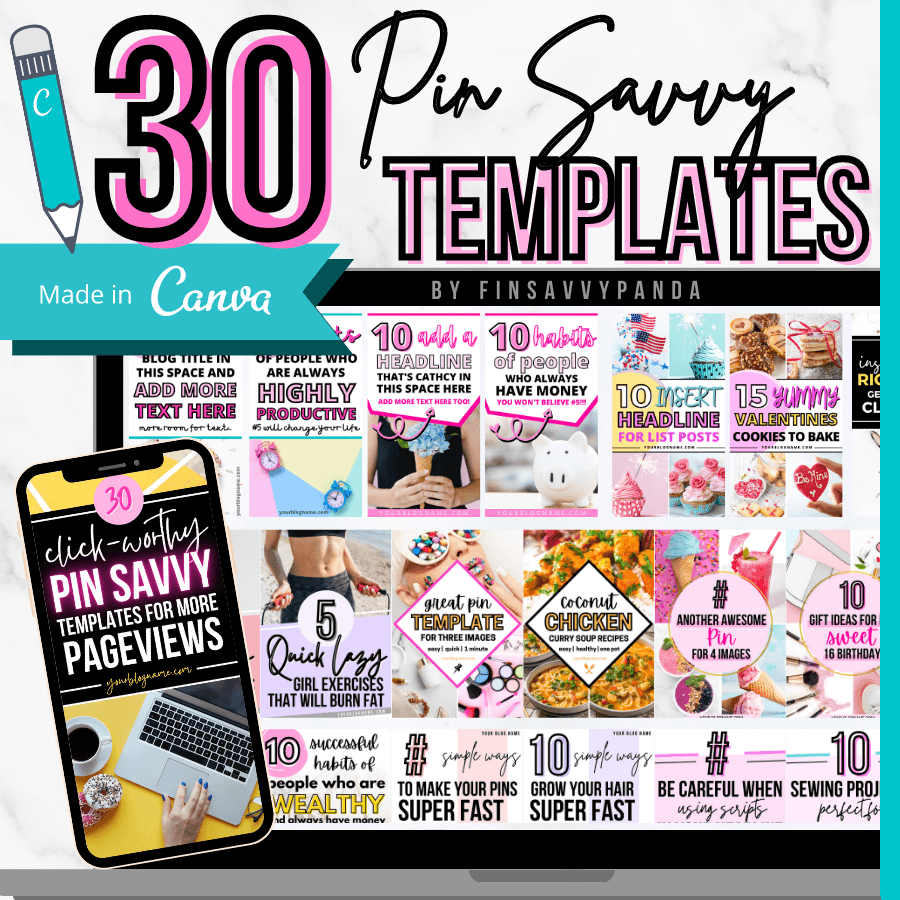 As mentioned earlier, my lifestyle blog brought in over 800,000 pageviews in the last 4 months and those are the templates I use to save hundreds and thousands of hours from making pins, and yet they are generating a majority of my traffic today!
In this Pin Savvy Templates bundle, I also include a section on the best Pin title hacks to help you increase clicks and engagement on your pins.
When you create and save your Pins to a board, make sure the titles and descriptions are keyword targeted. For example, this is a Pin from Finsavvy Panda that currently shows up on the Pinterest search when you type in "how to become a millionaire":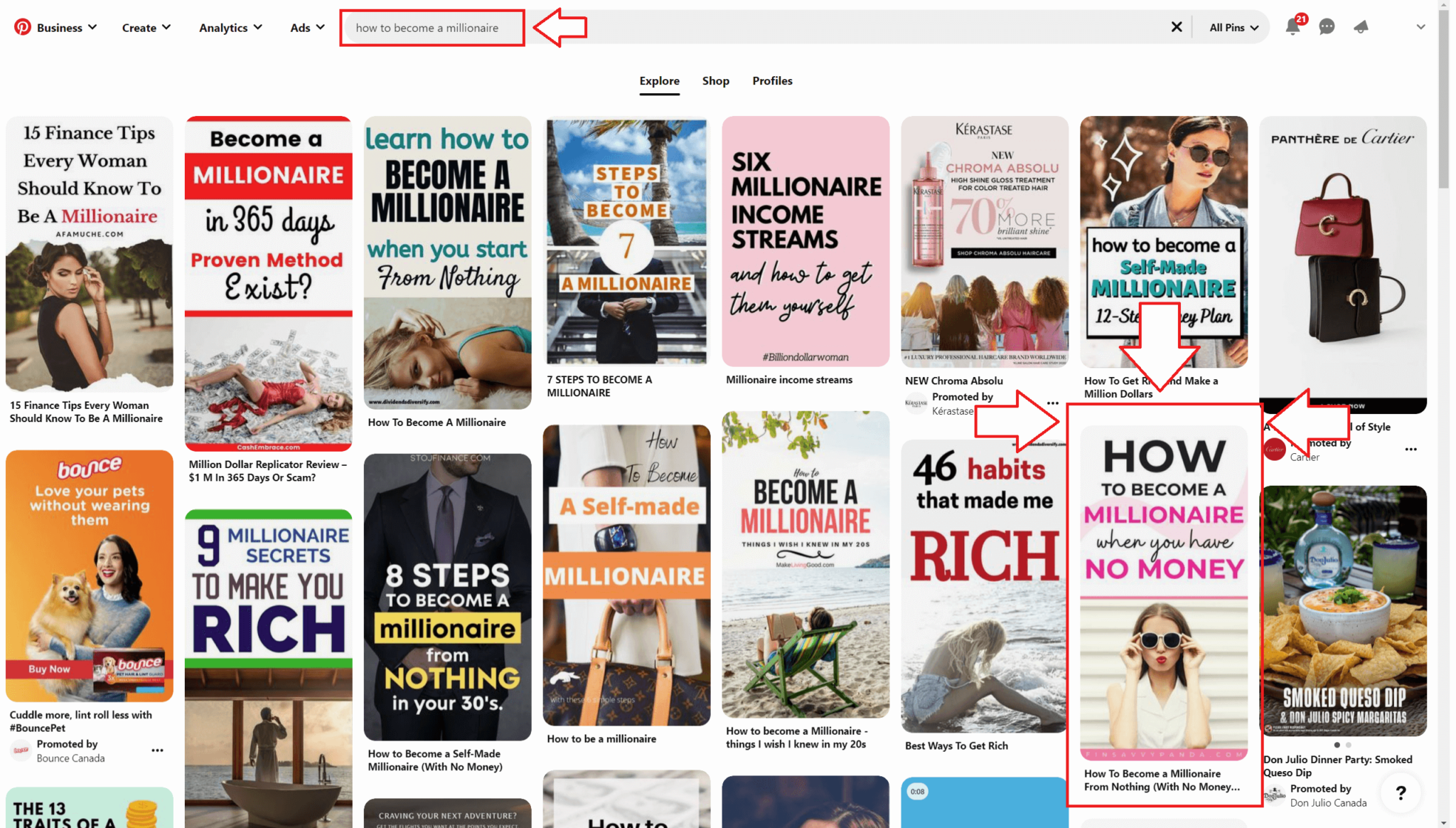 I have to admit this is not my best Pin design and it's unfortunate you don't get to choose what Pinterest distributes or shows its users on their searches or feed. I will just have to run through this Pin example.
You will notice how I used the keyword or phrase "how to become a millionaire" in my Pin title, description, and the Pin design itself for one of my blog posts on Finsavvy Panda.
I also sprinkled a couple of other keyword variations in my description like "become a self-made millionaire fast" so I can rank for different phrases or long-tail keywords. Technically I could have slipped other phrases into the description to rank for other long-tail keywords like "become a millionaire in your 20s and 30s" or "how to build wealth in your 20s and 30s".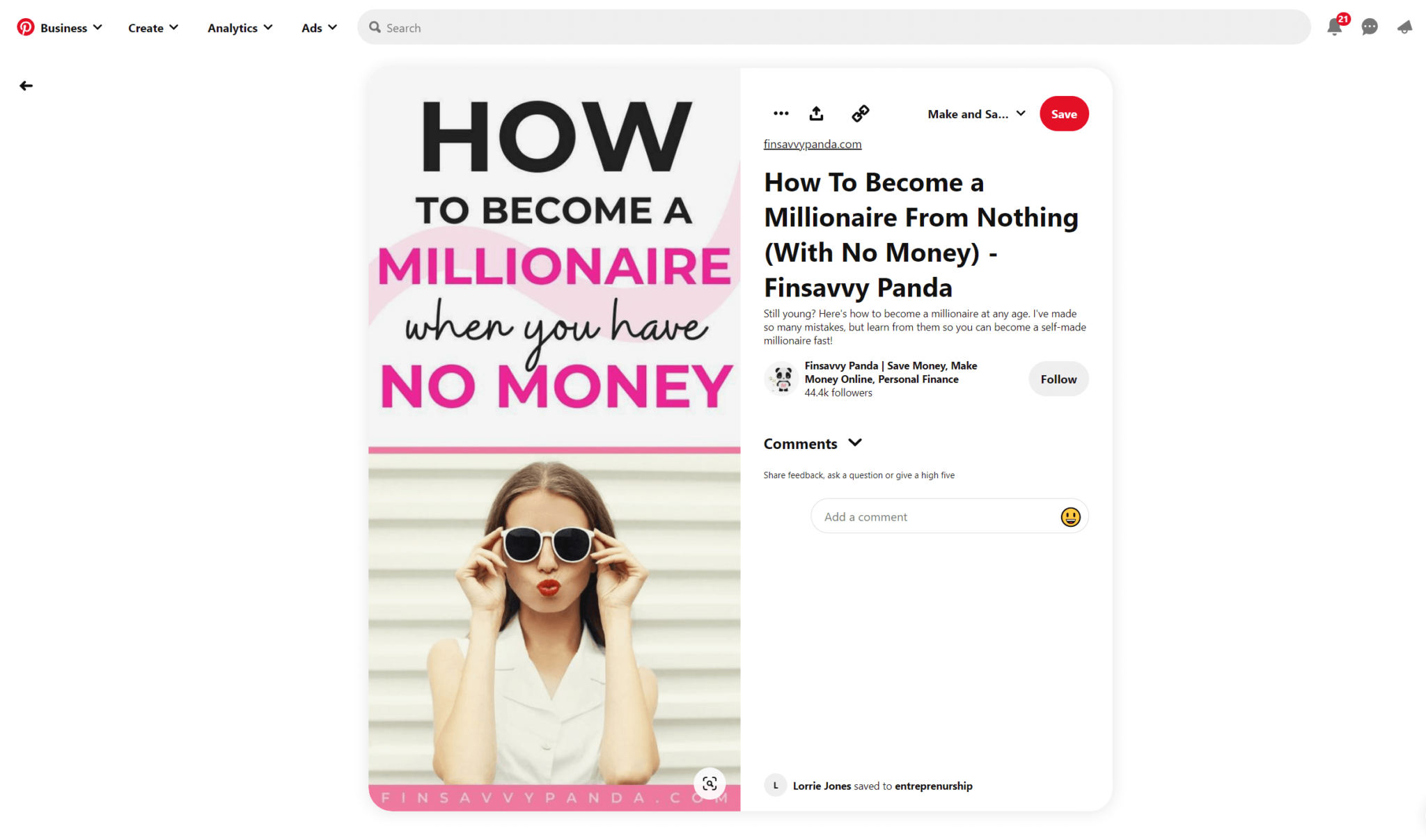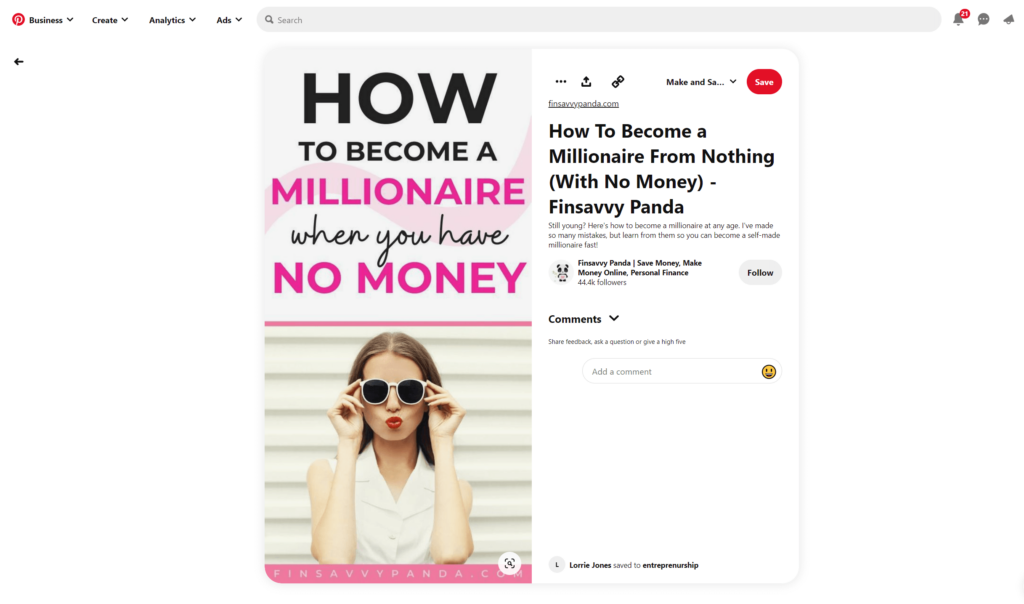 I recommend coming up with different variations of descriptions that target different search phrases and trying other different things when you're playing with your Pin design and doing Pinterest keyword research.
7. Pin on Pinterest
Once you've created your Pins, it's time to Pin them out to your boards, or group boards, so you can start getting traffic to your blog.
Now, just because you pinned or saved your Pin onto a board, it does not mean you'll suddenly get explosive traffic overnight. This is not something that's quick and instant, so please keep in mind that this will take time. The key to getting traffic on Pinterest is creating new content and Pinning consistently.
Here is a post on how to Pin on Pinterest.
I get many questions about my Pinning strategy, so I am thinking long and hard about whether I should create a product where I will reveal my time-saving system along with my secret Pinning strategy. It will take a lot of time and effort to create this, so it's something I need to sleep on.
I also answer a few of your most commonly asked questions about how to get traffic on Pinterest near the end of this article, so I recommend checking that out.
8. Check Your Pinterest Analytics
As you consistently pin more over time, you'll notice that traffic starts coming in. Once that happens, pay attention to both your Google and Pinterest Analytics to see what is driving it.
Go to "Overview" under the "Analytics" tab of your homepage to view your Pinterest analytics.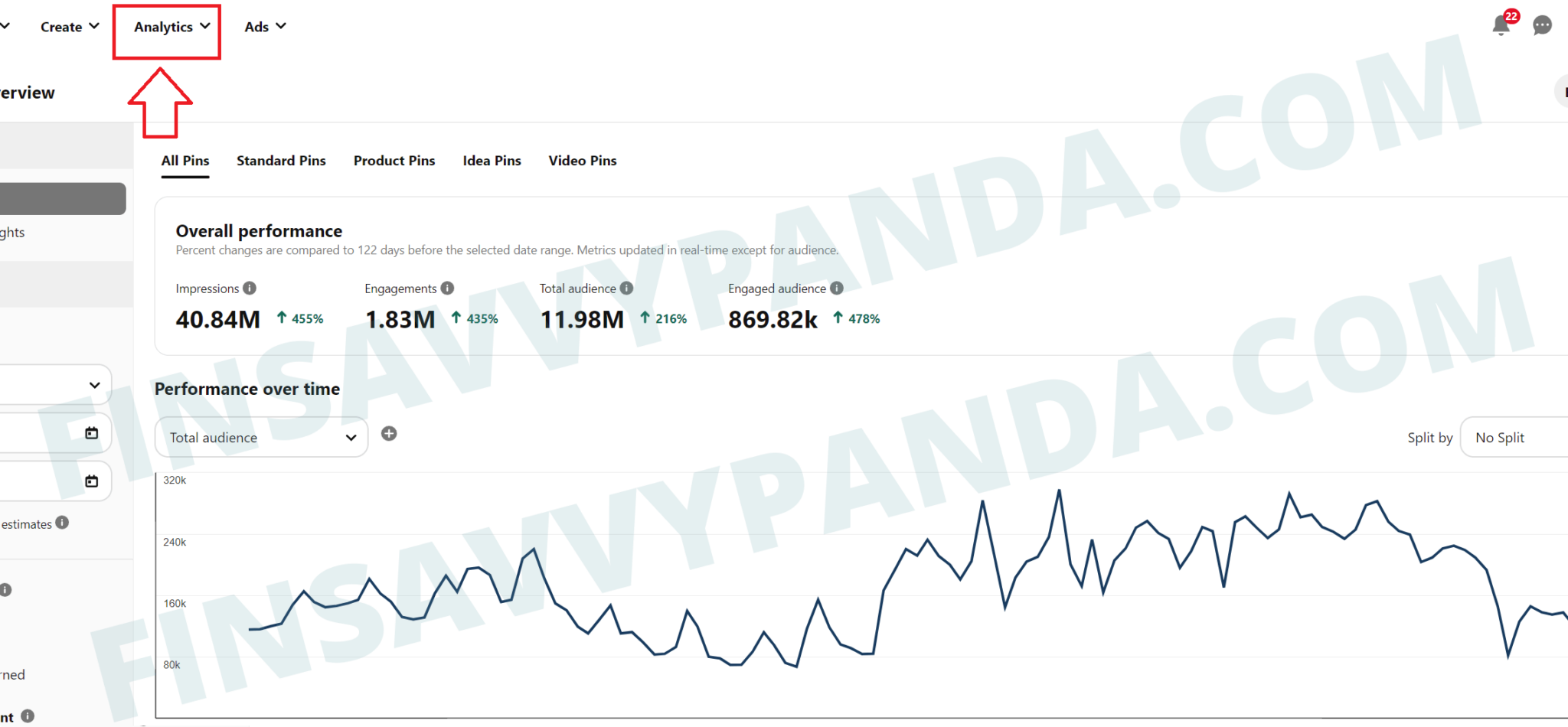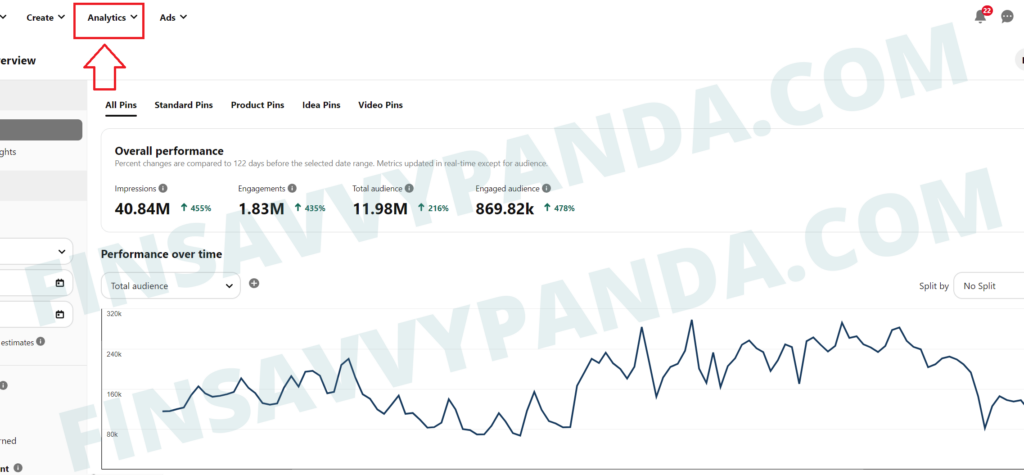 9. Create Similar (Not The Same) Content Based on your Pinterest Analytics
Carrying forward from my last point about Pinterest Analytics, you'll see your top performing Pins along with your boards.
Use this information to your advantage to create more content that is similar to your top performers.
For example, let's go back to the blog post about St. Patrick's Day's dessert ideas.
If this is one of your top performing Pins for the season, you may want to create another blog post about St. Patrick's Day's desserts for kids, and/or a separate blog post about healthy St. Patrick's Day's deserts. I know this is an example of a seasonal blog post, but you can apply this same strategy to your evergreen timeless posts.
For instance, if your top blog post is about the best frugal living tips, you may want to consider creating other articles about cheap living hacks, or living on one-income tips. You get the idea!
10. Join Tailwind Communities
Last but not least, I highly recommend joining Tailwind Communities and investing in a membership. I elaborate more about Tailwind Communities in my separate post about how to use Tailwind for Pinterest traffic.
You can think of Tailwind Communities as a place where bloggers from all sorts of niches collaborate with each other by sharing each other's Pins.
The more your Pins get shared, the higher the chances of increasing your Pinterest traffic. Of course, that's assuming you've nailed other factors like Pinterest keyword research, optimizing your profile, boards, Pins, and descriptions.
There are a lot of factors that will influence the amount of traffic you get on Pinterest, and one thing I don't recommend ignoring is learning how to use Tailwind Communities to your advantage.
I also have a gift for you – here's a Tailwind trial for you along with a free $15 credit when you use my link here.
FAQs about How to use Pinterest for blog traffic
Here's a section on the most common questions I get asked about Pinterest traffic. I thought I'd answer them here to make it easier for all of my readers and followers who are interested in using Pinterest to drive traffic to their blogs and websites. I'll keep adding more questions to this section over time when I make updates to this post.
Don't forget to join my FREE 7-day e-mail course, How To Skyrocket Your Pinterest Traffic in the next 7 Days!
1. How long does it take to get traffic from Pinterest?
I have to admit it was easier to get Pinterest traffic several years ago compared to today. However, that should not discourage you from using Pinterest to your advantage. It is still possible to drive lots of traffic to your blog with this platform especially when you blog about Pinterest-friendly topics like crafts, food, beauty, fashion, DIY projects, décor, and many more!
When your Pinterest account is new, it can take up to 6 months before you see any real traction, and that is assuming you are consistently publishing new blog posts and Pinning your content to the right and relevant boards.
In the beginning, Pinterest doesn't know what your blog or website is about. On top of that, they don't know if they can trust you when you are new. This is why it's so important to show the Pinterest platform that you're a serious blogger and that you're here to create new content and Pins for their users on a consistent basis. Once you're able to generate a good amount of traffic and you continue to pump out fresh content, Pinterest will keep rewarding you in the long run.
I also have a separate full blog post on how long it takes to get traffic from Pinterest, which I know you'll find helpful! 🙂
2. What is most searched for on Pinterest?
According to Pinterest Trends, the most searched-for topics are typically related to lifestyle, food, DIY crafts, and so forth.
I'm going to share some of my personal Pinterest stats to illustrate this point.




You'll see here that trends in lifestyle and DIY projects have a much wider potential reach – between 13.3m to 16.5m. Conversely, trends in financial planning and careers aren't as pronounced – they range from 1.3m to 5.3m.
Given these figures, it's not surprising that my lifestyle blog gets more traffic than my personal finance blog, simply because the potential audience size for the former is significantly larger.
Here are some of the other categories that are highly and most searched for on Pinterest (I see these categories get more traction on my other blog and it's what I focus on in The Golden Compass To Pinterest Traffic):
Fashion
Food and drinks
Beauty
Home decor
Travel
3. What is the meaning of outbound clicks on Pinterest?
Many people often wonder how to get or increase clicks on Pinterest, and they are continuously wondering about the "outbound clicks" meaning on Pinterest.
Before I answer that, it's important to note that having a high number of impressions on your Pins doesn't always result in a high click-through rate. In simpler terms, just because your Pins are seen by many people doesn't guarantee high traffic or clicks.
While higher impressions from Pinterest are beneficial, the real challenge lies in converting those impressions into actual clicks. To drive traffic to your blog post or page, it's essential to strategize and optimize for click-throughs.
So, if you want to drive more traffic from Pinterest, you should pay attention to your "outbound clicks," which represent the number of clicks leading to your website or post.
Let's take a look at a few situations using the Pinterest statistics from my test account over the past 30 days.
Take a look at this specific Pin, which has an impressive 546.34k impressions but only 544 outbound clicks. This results in a meager 0.1% click-through rate, indicating poor performance.
In my comprehensive guide, "The Golden Compass To Pinterest Traffic," I reveal Pin types to avoid due to their high impressions but low click rates. This is an area where self-proclaimed Pinterest "gurus" often mislead, emphasizing high Pin impressions without delivering actual traffic. It's crucial to be cautious of such misinformation. Conversely, I also disclose the Pin types that yield high click-through rates.
In another example, a Pin received 284.96k impressions and boasted a 3.5% click-through rate, resulting in 9.93k outbound clicks.

Lastly, one Pin managed to generate 7.93k outbound clicks within the last 30 days, despite having an impression count of 177.3k. This indicates a noteworthy 4.5% click-through rate.

As you can see, impressions may appear promising, but they don't always translate into traffic. The crucial factor lies in outbound clicks, which directly lead to website visits. Focusing your strategy to increase your outbound clicks is key to getting more clicks and traffic on Pinterest.
4. How many pins should I pin per day on Pinterest?
According to Tailwind, the most successful accounts publish 15 to 25 pins per day on average.
There's no set rule for this but I personally don't pin more than 10 a day including other people's pins. Sometimes I even pin only 5. On top of that, this may change depending on the progress of your blog.
I see that people pin between 3 to 20 per day including other bloggers' pins (anything over 15 is excessive in my honest opinion) and that depends on number of posts they have, how passive their traffic currently is, whether they have a bunch of new blog posts, and whether they have contributors sharing their pins on Tailwind.
I do recommend beginners to pump out more content at the beginning and make many new Pins for them and try to collaborate with others on Tailwind Communities. After all, sharing is caring and it will help everyone with traffic in the long term!
5. How do you get popular on Pinterest?
Many people have asked how they can gain popularity on Pinterest, often under the assumption that greater popularity leads directly to earning more money online through Pinterest. This, however, is a misconception.
When you aim to become "popular", it might be helpful to reframe your goal. What you're likely seeking is an increase in viewer engagement with your profile, and ultimately, your blog and posts.
So, to answer the question simply, the key to enhancing your Pinterest presence (or becoming "popular" or "liked", if that's your preferred terminology) lies in the consistent and continuous creation of engaging content for Pinterest users. This could mean publishing fresh content or creating new Pins for users to enjoy. In simpler terms, you can't let your account go stale, sitting for a long period of time without adding any new content.
6. How do I get my Pins noticed on Pinterest?
The best way to get noticed on Pinterest is by coming up with a strategy that will make your Pins' way up to the organic searches. That includes learning how to optimize your profile, boards, Pin title, and descriptions by applying Pinterest keyword research, which I mentioned earlier in this article, and you can refer back to that section. This is only half the battle.
The next half is to make sure your Pin design stands out by using the right colors, fonts, images, and titles relevant to your brand and audience. Most importantly, you need to make sure your titles are click-worthy.
7. How many blog posts should I have before I start using Pinterest?
There is no right or wrong answer to this.
Me personally, I would prefer to immediately start using Pinterest even when I have only 1-3 blog posts.
If you are a beginner, I would say having at least 5 to 10 blog posts would be a good amount to start.
From there, you can start creating and publishing more articles and add them to your archive. Of course, the more blog posts you have the better because Pinterest loves it when you have a lot of content to share with their users. But don't overwhelm yourself by mindlessly creating content.
Remember this: quality is better than quantity. Work at your pace and define what is comfortable for you. Once you become more experienced over time, it will become a little easier and you'll be able to figure out and create a content creation and pinning system that works best for you.
8. Should you delete underperforming pins to boost traffic?
I will be answering this based on my personal experience. I'm not here to say whether deleting or not deleting a pin is right or wrong. Your results may differ from mine due to many factors.
No, I don't recommend deleting underperforming pins on Pinterest to boost traffic. I've done it many times in the past and noticed almost no difference.
In fact, there were several times when my traffic dropped immediately after deleting a bunch of pins in the span of a week – and I tested this on three of my Pinterest accounts!
While it may seem counterintuitive, leaving these pins on Pinterest may not improve your overall performance at present. But you'll never know when that old pin just decides to take off and shine!
For example, since I stopped deleting pins, I had many instances where my very old and underperforming pins decided to pick up out of the blue. They've magically become one of my top-performing pins that reached out to more people and ultimately brought in consistent pageviews day after day, month after month, and year after year.
So here's how I see it.
Having a mix of content that performs well, as well as some that don't perform as well at first, helps establish variety in your feed and keeps things interesting for users.
You should instead focus on creating high-quality content and optimizing your pins going forward for better performance.
Additionally, you can take a look at your Pinterest analytics to see which are your top pins and mimic the design and strategy behind them. By taking this approach, you'll be able to keep a variety of content up while focusing more resources on what works best.
Ultimately, it's important to be strategic and intentional when it comes to managing your Pinterest profile and deleting underperforming pins is seldom the best solution.
All in all, while there may be cases where removing an underperforming pin could help boost traffic (I'm not saying that this won't work), it's generally not recommended due to the potential negative implications this could have on your profile.
In other words, keeping the old pins won't hurt, but removing them may do more harm than good.
9. How can I get more traffic and Pinterest followers to make money?
I frequently get questions about how to increase traffic. Moreover, people from all corners of the world – including North America, Europe, Australia, Asia, South America, and Africa – ask me about monetizing their Pinterest presence based on their traffic, posts, and follower count.
Just the other day, for instance, I received an email from a reader asking this:
Hi! my name is Aisha. I have used Pinterest for about 3 years. Last year, I started publishing my posts actively, and right now, I have 1350 followers on Pinterest.

Just like you, I want to make money on Pinterest. I don't live in the U.S. or Canada but I live in Europe, is it possible to earn money on Pinterest here? If so, how can I do this?
Here's what I usually say:
You can get visitors from Pinterest and earn money online no matter where you're from – whether it's the U.S., Canada, Europe, Asia, or Australia. You can't make money on Pinterest just by posting images or pins unless you have a solid affiliate marketing strategy without a blog. However, my advice is to start a blog, get people to visit it, and make money by displaying ads. Once you have a lot of visitors, you can join ad groups like Mediavine or Raptive.
Once you manage to join either Mediavine or Raptive, it indicates you have a significant amount of traffic. At this point, I'd recommend using affiliate marketing on your blog rather than directly on your pin images. In my honest opinion, this approach is more purposeful and effective than posting images that directly link to affiliate links.
I wouldn't worry too much about how many followers you have on Pinterest. Having a lot of followers doesn't always mean you'll get a ton of visitors or make more money, but it can help when you increase your numbers.
For more information, I encourage you to check out my articles on how to make money using Pinterest and another one for bloggers using Pinterest.
Conclusion on How To Drive Pinterest Traffic To Your Blog
I hope you found this article helpful and insightful. Let me know in the comments below if you have any questions about using Pinterest to drive traffic to your blog. I'll be more than happy to answer you! 🙂