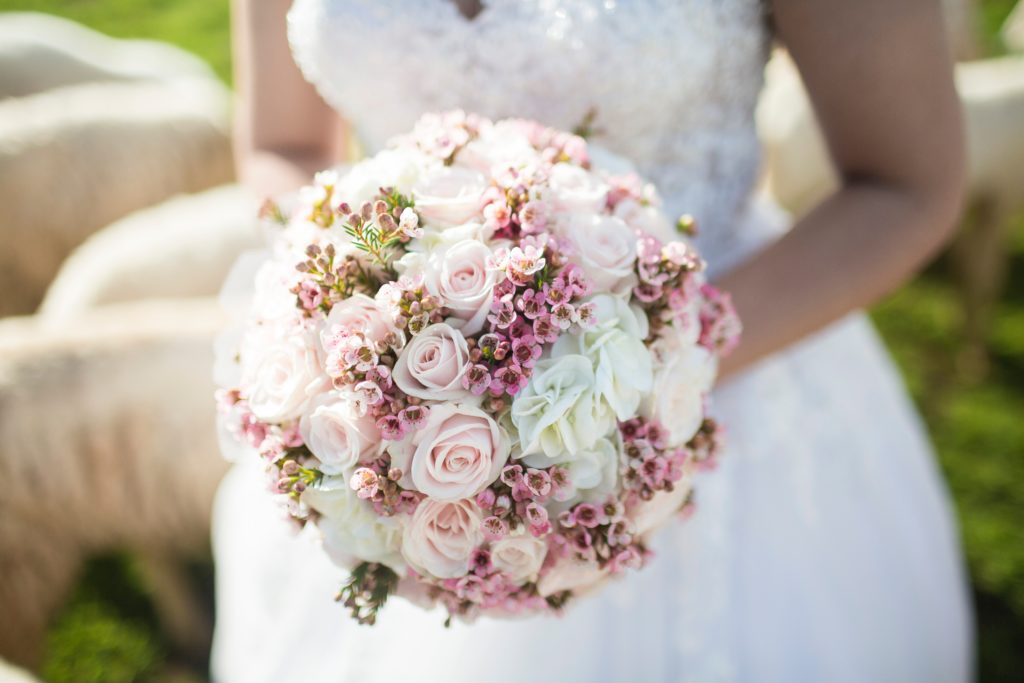 We will receive a commission if you make a purchase through our affiliate link at no extra cost to you. Please read our disclosure policy for more information.
It's wedding season! And what better way to start off your new life together than by NOT going into massive debt?
I get it, weddings are once-in-a-lifetime, extravagant occasions, and you certainly want it to live up to your childhood expectations. That said, you don't have to break the bank (or your future financial situation) to achieve this.
A few pointers in the right direction can save you hundreds, if not thousands in your wedding planning budget. Here are just a few ideas that'll help you trim off excess wedding spending, while still having a day you'll never forget!
PIN THIS: I'll be updating this post so make sure to pin this image here and save it to your Pinterest "Wedding" board. That way you'll be able to come back to this page and learn how to throw a wedding on a budget. This page will have everything you'll want to know about cheap weddings!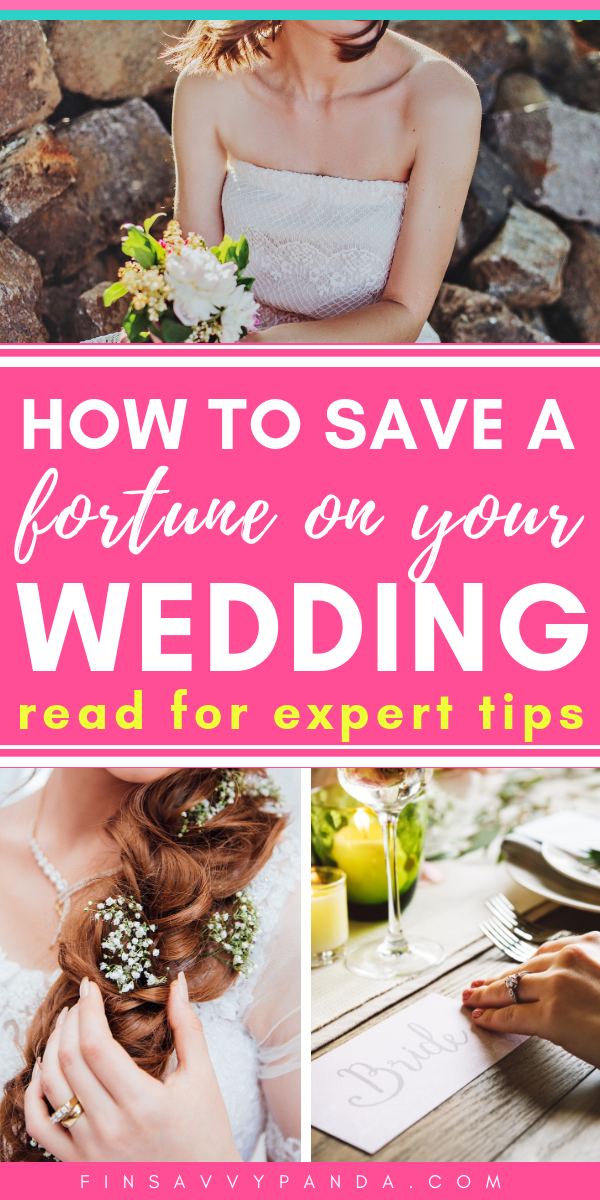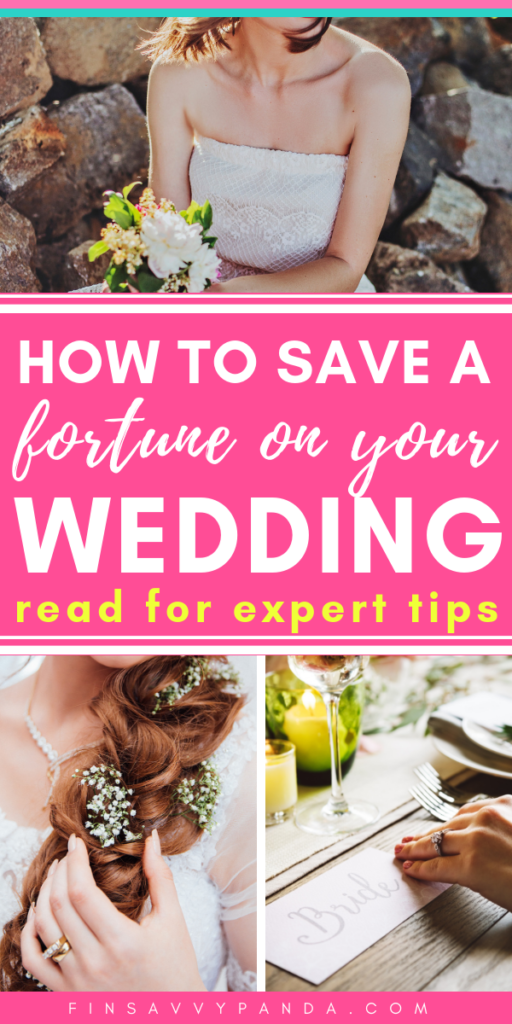 How To Budget For a Wedding
Congratulations on your upcoming wedding!
As you step into the world of wedding planning, careful budgeting is essential.
Calculate your total available funds, taking into account both family gifts and personal savings. From choosing the perfect venue to attending to the minor details, it's important to list every expense.
Thoughtfully allocate funds across these categories, prioritizing what matters most, and always keeping a contingency for unexpected surprises.
By staying informed about local market rates and skillfully negotiating with vendors, you can optimize costs. With your budget thoughtfully planned, your special day will unfold beautifully, allowing you to focus solely on the love and joy of the occasion.
Here are my tips on how to throw a cheap wedding but still make it a memorable day!
1. Stick to the wedding budget
Creating a solid budget plan right from the start is essential because it's no secret that weddings are expensive.
According to a recent study by Brides, the average cost of a wedding in the U.S. is $26,522 and accommodates 135 guests. Whoa – that's a lot of change! Especially if you're one of nearly half of Americans who finance their wedding themselves. Much of this can be attributed to a common problem many of us face: overspending. So common in fact, that one in three couples exceed their wedding day budget!
You can avoid this pitfall by being a bit more realistic with your financial situation throughout the process of wedding planning; cutting out any unnecessary expenditures, and establishing a budget based on what you can comfortably afford.
To do this, gather you and your partner's savings, as well as any additional financial support from family members you might have been fortunate enough to receive and put it into a separate savings account for your wedding.
How much should I put into my wedding savings?
Finding ways to save money every month can help you create a wedding fund without scrambling at the last minute.
If you're looking for tips on saving money, learn how to save $10,000 in a year. Proactive savings today can lead to a stress-free celebration tomorrow!
Ideally, you should be setting aside 10% of your income each month, leading up to the wedding. Some mobile bank companies automate your savings every time you get paid, ensuring you're consistently adding to your fund.
Once your account has been established, create a detailed spreadsheet for your budget based on what you currently, and will have by the time of the wedding, and maintain it throughout the wedding planning process.
You should designate 15% of your total budget to cover any miscellaneous expenses that you didn't initially foresee to ensure you don't go over budget. Any remaining resources in your budget post-wedding is just money back in your pocket!
Your budget will also give you an idea as to the number of guests you can afford to invite. Ensuring your guests are well fed can cost anywhere between $30 – $100 a plate!
💡Pro tip: Many caterers offer children's meals at half price. When you're giving a headcount of the number of guests who will be attending, be sure to let your caterer know how many of your guests will be children.
2. Set the right wedding date
Your wedding venue is one of the most, if not the most expensive item on your list. So choosing the right venue, at the right time, can save you serious amounts of cash (and planning stress), as well as make room for other items on your budget!
You may hear the term "wedding season" a lot, but might not be so sure when it is. For most of the U.S., wedding season is typical during the later spring months until early fall. This is primarily because temperatures are quite moderate around these times, but it can vary depending on where you're living.
Venues are at their busiest during June and September, so you'll want to avoid setting your wedding date at some point within those months if your goal is to save money. You'll also be able to pick a more suitable day and time, due to the fact that you won't be competing with as many couples all trying to get hitched at the same time!
Which season is most affordable for a wedding?
Winter is a far more affordable time to set your wedding date (excluding December, as this is a popular time for corporate holiday parties). Just think how catchy "winter is coming" will look on your invitations! If you're living in a hotter climate, summer months, like July and August, are typically considered off-peak. In which case, you might want to consider booking a venue then and choosing one where most festivities can be held inside.
💡Pro tip: If you have your heart set on a specific venue and you're still quite a ways away from booking, subscribe to your favorite vendor's newsletters and/or follow them on social media. You might just come across a promotion and land yourself a great deal!
Amazon's Wedding Registry:
Did you know that Amazon has its own online wedding registry?
YES!
You can make it SO easy for your guests to shop all in one spot. Amazon even allows you to add other items from other websites into your Amazon Wedding Registry when you install their Universal Registry Button. Another benefit of their online wedding registry is that Amazon Prime members
can get a 20% discount on any item that is left on their wish list after their wedding. For non-prime members, that's 10% off. So what that means is, you are offered a discount even if someone doesn't buy that programmable coffee maker you wanted! 🙂
Here's one more thing you might want to know — Amazon offers you FREE bonus gifts when your guests buy registry items from select brands.
3. Be mindful of which wedding vendors you choose
A successful wedding takes an assortment of vendors – some necessary, some not. The trick is to determine which vendors you absolutely can't live without, and which would be nice additions if your budget allows.
Prioritize: What are your wedding essentials?
Consider a few wedding essentials. A great venue, catered food, bar service, and professional entertainment are common components of an unforgettable wedding. Meanwhile, wedding favors, invitations, decor, and the wedding cake may be areas where you can scale back.
Think about it, while the internet can be a great place for wedding planning inspiration, how much has looking at pictures on Pinterest influenced your wedding day preferences, and catapulted your expenses as a consequence?
There are, after all, cheaper alternatives to setting up an event that'll make your guests want to snapchat away! Don't believe me? Just search "DIY wedding decor ideas" online. If you don't mind putting a little work in, you can save hundreds and even thousands on these extra accessories that add up fast!
💡Pro tip: In some cases, you can skip out on the costs of a vendor entirely by employing the help of a close friend or family member with a particular area of expertise.
Have a close friend or family member who's good with a camera? Hire them as your photographer!
Know anyone in graphic design or has a knack for artistry? Hire them to create digital invitations or stationery!
Not only will you be cutting costs on your wedding, but they will feel honored you acknowledge their talents!
4. Boost your wedding budget with side hustles
When planning an affordable wedding, every dollar counts.
One of the most proactive steps you can take is to bolster your wedding fund with extra earnings or side hustles. This doesn't mean working around the clock but finding small, flexible opportunities tailored to your skills and schedule.
Whether it's freelance writing, blogging, selling handmade crafts, tutoring, or pet-sitting, these ventures can add up.
In a year, even a weekly $50 gig can amount to over $2,500!
For couples on a budget, these additional funds can be the difference between cutting corners and having that special touch you've dreamed of.
The numbers don't lie and every bit you earn brings you closer to the wedding of your dreams without the financial strain.
To get started, check out how I made extra money with these side hustles. In fact, they're the very ones that helped me earn over $1,000,000 throughout the years, outside of my day job!
With this extra money earned, my husband and I were able to get married and travel the world.
5. Put more money back into your wallet for your wedding fund!
If you follow my blog, you'll know that I'm all about finding ways to save money and make money to reach financial freedom!
Below are a few of my favorite sites and resources that may help you save money! They are all 100% FREE to use!
Swagbucks allows you to earn cash and FREE gift cards just by surfing the web (like how you search for things on Google), watching videos, playing games, and completing easy surveys. Check out the gift cards they offer here. My fiance and I have redeemed many $50 to $100 Starbucks gift cards which helped us save money and reduce our spending!
🌟 You can get your FREE $5 bonus here when you sign up through my link.
Rakuten: You get FREE cash just for shopping at over 2,000 of your favorite stores. This includes Walmart, Macy's, Apple, Kohl's, Target, eBay, and so many more! I use Rakuten to save over a few hundred dollars just for shopping for the things I normally buy. To learn more, read my full review and tutorial on how to use Rakuten here. You won't be disappointed with Rakuten!
🌟 Sign up here to get a FREE $10 welcome bonus after making your first $25 purchase through Rakuten.

If you live in Canada, use this link to sign up for your FREE $5 bonus.
Survey Junkie: I personally use this free resource to earn extra cash by answering simple surveys online. This can help you save money or pay some of your monthly bills because you can redeem cash or FREE gift cards (your choice). They are rated 8.7/10 which is one of the highest on TrustPilot reviews.
🌟 You can sign up for Survey Junkie for FREE here and start earning FREE gift cards or cash each month!
Enjoyed this post? Don't forget to share it and follow me on Pinterest! 🙂