This post may contain affiliate links. Please read our disclosure policy for more information.
Since starting this blog, I haven't written a post about saving money.  But one of my readers is excited to read more about this topic.  Because we're off to a new start for 2018, I know that saving (and spending) money tips will benefit a lot of people like you!
By the way, my "spending money" tips are really to help save you money as well. 😉
Whether you're saving for a vacation, an emergency fund, or a down payment for your home, there are SO many ways you can achieve your goals! And yes, it's okay to save and splurge on the things you love (as long as you can afford it).
Related content:
– How To Save Money on a Low Income (or One Income)
– How We Went From Almost $100,000 Debt To Over $750,000 Savings in 7 Years
– How To Trick Yourself into Saving More Money [$1,000 Monthly Savings Challenge Included]
– 5 Crazy Reasons Why Starting a Blog Will Whip You Into Financial Shape
Now let's take a look at how you can start saving and spending the sexy way!
(This post may contain affiliate links. Please read our disclosure for more information.)
1) Cut the Things You Hate
You don't have to deprive yourself while saving money to reach your desired goals. As Ramit Sethi would say, start off by cutting the things you hate. This includes:
– Bank fees
– ATM fees
– Overdraft fees
– Late fees (start automating your bills)
– Car insurance (negotiate)
– Home insurance (negotiate)
– Cell phone and cable costs (again, negotiate)
– Underused subscriptions
– Mutual fund fees from the evil mutual fund lady (thanks, GYM, for this term. I mention this again below, haha.)
Speaking of underused subscriptions, review your past statements to see what's being charged. That could be magazines, Amazon's shipping service, Linkedin, other online services, and much more. You can also use Trim, an app system that helps you save money.
In the end, why would you be paying for the things you hate?? That ain't sexy at all!
Your best friend, Trim, will help you save money!
This awesome and cool robot is your new personal finance assistant!  He will keep track of your finances and help you save money. For example, Trim will negotiate your cell phone, Internet, and cable bills. It will even cancel the ones that you don't need! Pretty cool, huh?? Trim has saved their users over $1,000,000 in the last month. You can start saving money with Trim by signing up here for FREE! 
There's no reason why you wouldn't want this FREE personal finance assistant!
2. Save money by earning FREE gift cards!
Some people will tell you to cut those daily lattes from Starbucks to save money, but I'm not going to tell you to do that!
In addition to trimming your monthly expenses, you can save money by earning these free gift cards to the stores you love!
I've reduced my spending significantly because I use Swagbucks to earn FREE Starbucks gift cards. Yes, you can earn free gift cards just by surfing the web, playing games, watching videos, shopping online, and completing easy surveys! These are just the things you normally do so take advantage of this free resource!
Aside from the Amazon and Starbucks gift cards, Swagbucks also offers gift cards to your other favorite stores such as Macy's, Walmart, Target, and more! Check them out here.
In fact, you can grab your $5 welcome bonus just by signing up here. Swagbucks is a 100% FREE resource and it literally takes less than 5 seconds to sign up (see my screenshot below).
I've been using Swagbucks since 2009 and I highly recommend them to anyone who wants to earn free gift cards.
Swagbucks is 100% legitimate and has paid out their members $288,312,447 to date!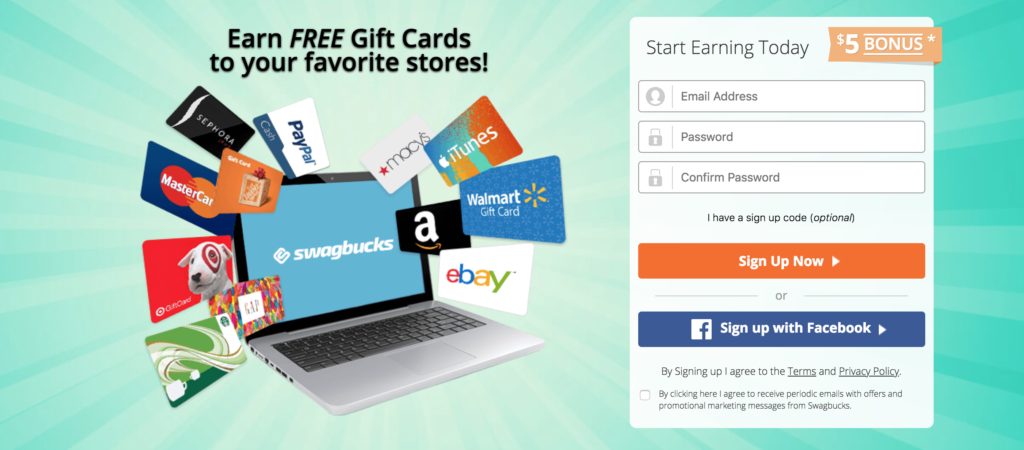 3) Start Early
If you wanna become at least a millionaire, you gotta start saving and investing early.
This sounds so cliche, but I cannot emphasize how important it is to start NOW. Even if you're in your 40s, it's not too late!
Leo from I Saved 5K talks about the easiest way to effortlessly boost your retirement savings by $100,000. Imagine the sexy things you can do during your retirement (i.e nice vacation, drink 'n relax at the cottage, etc.). I can tell you that poppin' a can of cat food during retirement because you didn't start early ain't one of them!
And while you're at it, learn a bit about DIY investing. Gen Y Money (GYM) encourages you to DIY because it's really not that scary and I completely agree with her! Over the years, you will save so much in fees from the evil mutual fund lady.
If you're interested in creating a passive income machine with dividends, Tom at Dividends Diversify wrote out six simple steps that will teach you how.
4) Create a Well-Organized Financial Freedom Binder
As y'all know, we were inspired by Gail Vaz-Oxlade's money makeover shows and that's how we learned about her clever budget strategy. Having that said, we followed her savings strategy and it worked wonders for us! To help you master your savings, we created our version of her fail-proof budget plan just for you! Yes, it's 100% free!
In this budget kit, we included a monthly budget tool that keeps track of all your income sources plus expenses. With income in the picture, it's easy to see how much you can allocate to both your fixed and variable expenses. To make your life easier, I also included a section where you can record your monthly investment contributions. This separate "investments" section will come in handy when you read about my third step below.
Aside from the budget tool, we also made these pretty weekly printables that will keep your budget and savings on track. These free printables were made to give you instant results to boost your confidence in your financial journey.
This budget kit is only exclusive to my subscribers, so grab your FREE copy here!
For more details about this budget kit, visit my post, The Free Budget Kit you Need To Conquer Your Finances.
5) Refurbish Old Furniture
We live and see our homes every single day, so we may as well make the most out of it and live as comfortably as we can.
I know you get all excited about seeing HGTV's designs and think it's not affordable. But honestly, you can spice up your place and make it look sexy for less. Not only will you add value to your space, you will enjoy it as well!
I personally enjoy finding people's old solid wood furniture and refurbishing it to the style that I love. There may be an upfront cost of buying paint, paint brushes, sandpaper, and tools, but with many pieces that you fix, you can save a ton of money. We all know how expensive nice furniture can cost, right? And at the same time, when you buy cheap furniture, they don't last very long. That's why the best value is hunting for quality pre-loved furniture and redesigning it yourself.
Not to mention, if you work on a project and fall in love with fixer-uppers, you can start refurbishing furniture to make extra money as well!
I started flipping furniture last year and I was earning an extra $300 to $500 per month. I did this as a hobby during my spare time on weekends for fun. The most important part is having fun and acquiring new skills.
To help you out, I have a few posts related to making and saving money with old furniture. And to be completely honest, I wouldn't even consider myself as handy! On a scale from 1 to 10, I'm like negative, haha. Seriously!
Related posts:
– How To Glam Up Furniture to Save Money (or to Earn More)
– Landlording: How I Saved and Made Money Replacing My Tenant's Old Cabinet
Want to start owning beautiful furniture without breaking the bank?
Here are some money-saving products I recommend to bring any furniture back to life!
Click on the product to shop and start saving thousands of dollars (or even making money) on your furniture finds.
1) This is the exact same Purdy paint brush set
I have and you will need a couple of these angled brushes to paint the tiny edges of your furniture. Purdy paint brushes
are high quality and very affordable too. This is what you NEED to get a nice finishing. Do not, and I repeat, DO NOT invest in poor quality paint brushes. The type of paint brush you use makes a world of a difference and I can assure you that you will thank yourself for listening to this advice!
I recommend this value pack of 3
over a single brush
because there will come a time where you wish you had more than one paintbrush. Don't make the same mistake I did.
2) I'm a huge fan of these timeless ceramic pumpkin knobs
! When you buy 8 pieces, it works out to be roughly $2 to $3 per knob, which is totally worth the investment to make your furniture look expensive without breaking the bank. They also look gorgeous on kitchen cabinets and/or bathroom vanities. Honestly, this simple swap will definitely change the look of your home decor!
For my Canadian readers, you'll notice that those pumpkin knobs aren't available to us (boo!), so you can shop this product
that's almost identical. It's the same ones I've used for my furniture flips to earn extra money and my buyers love them! For such a low price, you can use them to spice up your furniture or kitchen cabinets, which saves you a heckuva money from buying new! The only downfall is I waited one month for them to ship, but the good thing is I was in no rush to use them.
Click on the pumpkin knobs to see how gorgeous they actually look on furniture:
3) These gorgeous crystal knobs
will bring class to any chest drawer or cabinet. They are very shiny in real life and my friends actually thought I spent a fortune on them, but nope! When you buy the 25 value pack, it works out to be about $1 per knob! What an inexpensive way to add value, huh?
6) Know the Difference Between Needs vs. the Two Different Types of Wants
Once you have your Financial Freedom Binder organized, it's time to evaluate your needs and the two different types of wants.
The first type of "wants" are the things we love and worth spending on. Secondly, there are also "wants" we end up regretting and not worth a single penny!
Generally, there are people who become millionaires because they are hoarder-savers (not so sexy, huh?). But there are also millionaires who are smart-savers. The latter type knows not to deprive himself!
Although both types know the difference between a want vs. a need, the sexy 'n smart savers will still leave room for the things they love by prioritizing.
After all, we live to eat; not eat to live.
So, it's okay to set aside some "fun" money for the things you love to splurge on as long as you save a reasonable amount for both your needs and future.
Overall, the order should look something like this: Basic needs > wants that we love > wants that we end up regretting
A) Basic needs are necessities for survival such as basic shelter, food, medical care, clothes, etc.
B) Wants that you love are things that add joy and value to your life above and beyond the basic needs.
These things vary based on your preference. This may include a luxury vacation, a nice dinner with your hubby, a renovated home, or that sexy gadget you love so much! iPhone X, anyone?
On top of that, this category also includes charity and donations to the causes you support. I mean, there's no way you can donate if your basic needs aren't met.
Choose only a few that you can afford and are most important to you. If they're all important to you and you can truly afford it, then sure, why not?
On the other hand, if you absolutely love something, but cannot afford it, then it's time to find ways to earn more money! Eden from Mint Notion has a post that shows you how to do that!
C) Wants that you end up regretting are the things you should avoid buying even if you can afford them!
These are things you buy and feel "meh" about a day or two later.
This includes "cute" things that we buy impulsively when we're checking out at the aisle, or when we see something that's "on sale" (my next point).
This category also includes things that we buy (and cannot afford) just to impress others. Don't go there, honey!
7) Don't Be an Impulse Buyer
Is that Hello Kitty limited edition makeup set from Sephora really a "meh" want or an "I-absolutely-love-it" want?
What about that pair of red high heels that's 70% off?
Put yourself on a 1 to 2 weeks ban from the product to see if you're still thinking about it. I bet you'll forget after 24 hours. Out of sight, out of mind! 😉
BUT if you are thinking about it to the point where you can't sleep at night, then it must mean you really love it.
So, go ahead and treat yourself as long as you know you will enjoy it. Most importantly, make sure your Financial Freedom Binder (point #3) tells you that it's within your budget!
8) Build an Excellent Credit Score
This is one of the most overlooked and underrated points. Until today, it still boggles my mind when people are caught up with coupon savings more than their credit scores. Don't get me wrong, coupons are great and I love them.
Instead, we should focus our energy on the big wins that yield greater returns.
Believe it or not, having an excellent credit score can save you thousands of dollars over the years. This is no surprise. The higher your score, the less interest you pay.
For your reference, I attached this Forbes article by Rob Berger, How A Good Credit Score Can Save You $83,770. Berger calculates and explains the total costs of what you pay when you have a good vs. bad credit score.
To get started, you can check your credit score here. It's 100% free and it won't impact your credit at all, so you have nothing to lose but everything to gain!
If you're Canadian and want to learn more about credit scores in Canada, I recommend reading these posts by Enoch from Savvy New Canadians:
How Your Canadian Credit Score is Calculated
Four Ways To Get Your Credit Score For Free in Canada
Ten Ways To Improve Your Credit Score (this applies to non-Canadians as well).
Take a few moments to go through these articles. I'm really hoping it will motivate you to build a stronger credit score. Overall, a millionaire knows how to build and maintain an excellent credit score over the course of his life.
9) Learn How To Travel Hack
Is it time to plan a nice vacation this year?
I personally don't know anything about travel hacking. But if it's something that interests you, there are many resources online that will teach you how to save money on travels. For instance, Gen Y Money's post talks about how she travel-hacked to go to Honolulu, Hawaii. Overall, she only paid $277 CAD for 2 Flights, 3 Days Rental Car, and Airport Transportation!
Learning how to travel hack can save you a lot of money on your next vacation. But most of the time, the catch is you're required to open a new credit card in order to reap the huge travel rewards.
Overall, double check to see how that will impact your credit score, especially if you plan to buy a house, rental property, or car in the near future.
10) Invest in Yourself
This includes reading, learning and exploring. As you all know, Benjamin Franklin once said: "Investment in knowledge pays the best interest."
Although I've only started taking my finances more seriously since October 2016, I can attest here that reading books and blogs improved my finances significantly. My numbers are lookin' a whole lot sexier than before! There's a lot more for me to learn, and I'm never going to stop learning!
This is also something I recommend you to spend money on. If there's a course (not necessarily formal education) that can improve you as a person or your skills, it's definitely worth paying for.
Related: This Investment is Better Than Bitcoin
For example, this article talks about how Warren Buffett had a fear for public speaking. To solve this problem, he took a course at Dale Carnegie to acquire this skill. The article says:
Billionaire investor Warren Buffett says the very best investment you can make is one that "you can't beat," can't be taxed and not even inflation can take away from you… Buffett tells Forbes that you can exponentially increase your potential "by simply being able to communicate better" and "enhancing your talents."
That is, you might be more eligible for more senior positions that require you to deal with important stakeholders. You may also become skilled at networking with others. These are opportunities that can help you earn more which makes it easier for you to save more.
This effect may not show immediately in your savings accounts, but you will start seeing results in the long-term. Also, notice that millionaires and billionaires focus on long-term results.
If you ever want to read more about self-development, Mr. and Mrs. Defined Sight (DS) offers a lot of great posts in this area. To get you started here's one about how Mrs. DS joined Toastmasters. It's a step she took to develop herself both individually and professionally so that she can reach financial independence sooner.
11) Upcycle or Repurpose Old Stuff
Like old furniture, why toss it when you can still repurpose or refurbish it? Not only is it environment-friendly, it's also wallet-friendly. 🙂
When Warren Buffet had his first child, he upcycled one of his old dresser drawers into a bassinet. Doesn't that sound like fun?
Okay, maybe I wouldn't do that. Instead, I'd probably want to repurpose it to one of these pet beds (awww, look at how cute that is!).
Either way, you can upcycle almost anything and save a ton of money. Like refurbished furniture, you can also earn more money by selling your unique pieces online.
Here are some inspirational ideas for you to get you saving and having tons of fun! After all, girls (and guys) just wanna have fun, right? Fun is always sexy! 😉
– Serena's upcycled section @ Thrift Diving (I love her refurbished furniture ideas as well!)
– 36 Best Repurposed Old Ladder Ideas for Fans of Upcycling @ Home BNC
– DIY Mason Jar Shelf @ The DIY Playbook
– Industrial Farmhouse Laundry Hangups You'll Want @ Home Talk
– DIY Pallet Coffee Cup Holder @ One Little Bird (how sexy and cool lookin' is that??)
12) Buy Quality and Timeless Clothing
I personally love brand name designer items that are timeless. I'm not a shopaholic or spendthrift, but I do appreciate the fine quality and services they provide.
Although I blog about money and building net worth, I'm not afraid to admit that I enjoy luxuries.
I am willing to pay a premium for them because of the following reasons:
– I'm all about quality over quantity
– I love timeless items
– the price may increase over time
– it actually saves me money in the long run
– last but not least, I love them!
For example, I still have my same Canada Goose jacket from 2008. Until today, it's still very warm.
Send Your Canada Goose Jacket Back!
For those who don't know, you can return your jacket back to Canada Goose if you find that it's not as warm or dying on you.
They will either fix it or exchange a brand new one at no cost to you. Of course, they won't do anything if it's normal wear and tear. The company also says that if the exact style is not available for replacement, a product of equal value and similar style will be provided to the customer.
I actually know a few people who returned their old jacket for a brand new one (that's how I found out about this warranty). I am thinking of doing this next year because my jacket is about 10 years old now!
Here is Canada Goose's warranty information.
You can start off by sending an email to customer service at [email protected] Apparently, they will email you back and ask for pictures of your jacket, so you can go from there. If they don't respond, you can contact them at their toll-free number: 1-888-276-6297.
I have to say that the process isn't as easy as it sounds because you must follow their instructions very carefully. They will also mail you a box and label for you to put your jacket in.
But overall, if they are willing to provide a brand new jacket that costs about $795-$1,500 today (retail price was about $400-$700 back in 2008), I think this "hassle" is worth saving the money!
13) Buy Quality and Timeless Handbags (ONLY if you love and appreciate them)
A few years ago, I also bought a second-hand vintage 2.55 medium classic flap Chanel bag for $3,000 CAD after taxes. A brand new one today goes for about $6,300 CAD ($7,119 after taxes). I absolutely love this bag and plan to keep it forever! I also prefer it over some of the other handbags that I impulsively bought in the past (stupid me)!
For those who don't know, this article talks about how the Chanel 2.55 classic flap bag beat S&P 500 returns over the last 6 years from 2015. Not that it matters if you buy it for consumption. But it's nice to know that you have the option to sell at a high value (especially when you take good care of it). 😉
Now, I'm not here to say that you should go ahead and start splurging on luxuries to save money. It's just something that I do (and only buy a few of) because it helps me save money compared to when I buy quantity.
For example, how many Coach and Kate Spade bags did I end up donating or selling (at a loss) within less than two years (because I didn't love them)? BTW, nothing was wrong with them. They were really pretty bags and great quality too, but I just never used them! They were just bags that I liked and thought were cute. Again, stupid me!
The truth is, I only ended up keeping and using the ones I really love. For example, I kept using my same LV Neverfull bag from 2011, which BTW I plan to keep and use forever. Surprisingly, it's still in very good condition! And yes, this bag went from $700 CAD to $1,610 CAD before taxes today (and they now include a small removable zippered clutch inside).
Overall, my whole point here is to say that quality beats quantity. You don't have to buy a Canada Goose Jacket or any luxury handbags if you don't like that stuff.
This concept can apply to anything from basic clothes and shoes to the material you use for home improvements.
I found a quote that Scott McGillivray said in his book, "How To Add Value To Your Home," that goes something along the lines:
Only rich people can afford to buy cheap stuff because they have the money to keep replacing it over and over again.
14) Use Coupons (Bill Gate's story about Warren Buffett)
I know this point is so cheesy, and I mentioned earlier that I'm not an extreme couponer. But I like to mention this here because it gives me the opportunity to talk about how Warren Buffett used a McDonald's coupon to treat Bill and Melinda Gates.
How lame am I?
Not to mention, my fiance and I love using McDonald's coupons on their breakfast items. That's our go-to splurge after having too many weeks or months of healthy food, haha!
Anyway, if a billionaire like Warren Buffett isn't embarrassed to use coupons, then why are you?
According to this article, Bill Gates said:
"Remember the laugh we had when we traveled together to Hong Kong and decided to get lunch at McDonald's? You offered to pay, dug into your pocket, and pulled out … coupons!"
If you have a coupon in front of you that saves you a few dollars, why not use it? As Roy Miller, from David Chilton's The Wealthy Barber, would say "A dollar saved is two dollars earned!"
Here are a few apps and coupons that my fiance and I like to use when they are on the way.
This rewards and surveys program is relatively newer and it's only available in Canada. It's similar to Checkout 51 that you get cash back on groceries. Unlike Checkout 51, it gives you cash back for shopping and eating at restaurants. On top of that, you make money by answering very short surveys, watching videos, writing reviews, and engaging with brands on social media. Sign up for Caddle here.
Every Thursday, Checkout 51 will renew their list of cash-back items. You get cash back by purchasing items mentioned on the list and uploading your receipt through the app. Once you submit your receipt, wait for a few days for them to approve it. When your Checkout 51 account reaches a minimum $20, you can request them to mail you a check. Cash the check into your bank account and you've just earned yourself some extra money! Yes, it's really that simple.
Sign up to Checkout 51 here and start earning cash back on your purchases!
15) Google Search for Coupon Codes
Before buying something online, I always spare five minutes to google search for coupon codes to try my luck at the checkout. I don't find success all the time, but when I do, the source is usually from retailmenot.com or retailmenot.ca.
For example, if I'm ordering something from Lowe's, I would type into google search "Lowe's coupon code."
When it does work, I usually save an extra 10% that's not directly offered from the website of the company I'm buying from.
I've also had success stacking two coupon codes directly from the website and one from retailmenot.ca. But I believe some companies have gotten smarter with this, so they may have stopped it. In the end, it doesn't hurt to test your luck, haha!
16) Track Your Net Worth
If you haven't started tracking your net worth, I highly recommend you to do it.
This may sound crazy, but you will become addicted once you start tracking it. That's a good addiction (better than a shopping addiction) because the numbers will motivate you to take action. Whether it's saving more money or finding other ways to earn more, you will do whatever it takes to increase your net worth.
Even if you're in debt, I still encourage you to start because it is so rewarding seeing your negative balance move towards zero. From there, you can start saving and investing to increase your number.
At the moment, I'm using a basic and not-so-sexy template to track our net worth. But when I have time, I would like to revamp it and share it with you. For now, you can calculate your net worth by following this guide at Schwab MoneyWise.
Over to you
We all have our ways of saving and spending, so not everyone will agree with all my points above. I can already feel that many PF bloggers are against some of my views.
In fact, some of you may think my tips are ridiculous but that's okay. I rather stay true to myself than to pretend to be somebody I'm not.
I'm sharing my experience and hoping that you will gain at least one insight from this post.
So, in what ways do you save money? What are you saving for? How do you spend your money? Feel free to provide your ideas and/or comments!
Did you enjoy this post? If so, don't forget to share the love on Pinterest! 🙂
Resources that will help you in your financial journey
Below are my top recommendations for saving money, making money, building wealth, achieving financial independence, and more!
Trim: This cute little robot is your personal finance assistant and his mission is to whip your butt into financial shape. Trim is a FREE app that will help you save money by scanning your accounts and cutting your unnecessary expenses. He will also help you negotiate your cable, Internet, and cell phone bills. Pretty sweet, huh? Overall, Trim has helped their users save over $1,000,000 over the last month with their day-to-day finances.
Credit Sesame: So many people underestimate the power of their credit score. But did you know that you can save thousands of dollars by having an excellent credit score? The higher your score, the less interest you pay. As a start, you can check your credit score for FREE at Credit Sesame. This won't impact your credit score at all and plus, it's crucial to know where you stand! The sooner you start, the sooner you can improve your score and save thousands of dollars! Hint: having an excellent credit score can save you WAY more (over thousands $$) than clipping coupons.
Personal Capital: This is one of the best and FREE resources that will help you track your finances. By putting your accounts together, you can track your savings, investments, cash flows, and your net worth. Personal Capital can also inform you when your bills are due. With that said, this free app allows you to track and view all your finances in one place.
$5 Meal Plan: This is a weekly meal plan service that aims to make your life easy by helping you save time and money. For only $5 a month, you will receive a delicious meal plan that costs less than $2 per meal. On top of that, they offer special meal plans such as the Paleo diet and vegetarian option. Not sure if this is right for you? To make sure you're fully satisfied, they offer a free 14-day trial absolutely risk-free. If you decide that this isn't for you, simply cancel it with no questions asked.
Swagbucks: This 100% free resource allows you to earn FREE gift cards by simply completing surveys, shopping online, watching videos, playing games, and surfing the web. Here are some of the gift cards they offer: Starbucks (my favorite), Amazon, Indigo, Groupon, Bath & Body Works, Cineplex, and many more! My fiance and I have redeemed many $50 to $100 Starbucks gift cards without having to pay for our favorite lattes. Sign up for Swagbucks and receive your $5 welcome bonus here.
More $avvy Reads for You!
Want more $avvy tips for help?
Here are more money tips and motivational reads for you:
– Two Secrets to Crushing Your Financial Goals: Solid Advice from Warren Buffett
– 5 Amazing Money Tips From a Billionaire
– This Investment Beats Bitcoin
– This Quote Will Make You Uber Rich!
– You Can Live Like This Billionaire: Here's How!
– 10 Ways To Develop a Rich Mindset: #10 is Seriously Mind-Blowing!
– 15 Financial Goals That You MUST Achieve: What's YOUR Score?
If you like what you read, go ahead and share the love! Don't forget to subscribe (at the yellow bar on top) for more weekly money tips and inspiration! I promise that I do not spam. I also do not share anyone's information.