This post may contain affiliate links. Please read our disclosure policy for more information.
Have you ever wondered how much money you could make?
Would you have imagined yourself making more than your current salary? No?
Well, I'm here to tell you that it's possible!
My friend, your earning potential is unlimited! Technically, anyone can amass a fortune of wealth, but the problem is they don't.
Why?
Because most people's minds are instilled with fear. As a result of fear, they start protecting themselves by preserving and believing that everything is limited and scarce.
Having that said, it's not surprising that humans generally believe that what they have is as good as it gets, so they settle and never aim for more.
I'll admit that was me over a year ago, and that's where my roadblock was.
But to remove these barriers, I started to change my views and beliefs about myself and money. For one, I started to believe in my skills and abilities to earn more. Along with that, I also started to view money as an abundant resource, and not scarce!
The most critical part here is changing your mindset. Once that changes, your actions will start to follow.
What I mean by "action" is you will start looking for opportunities to earn more because you believe in it!
Whether it's side gigs, opening your own business, or investing in stocks and real estate, the earning potential is endless.
But in today's post, I'll be focusing mainly on side gigs.
So, start changing your mindset because you are worth more than what you make at your day job!
It doesn't matter if you're earning a minimum wage at McDonald's, or a project manager making over $200,000 per year. You have the potential to earn more!
With that said, are you ready to get your hustle on?
I'm sure you're bound to find something that suits you! Again, believe that you can do it…
Because you can!
Related content:
– 10 Things We've Done To Make Extra Money — #5 Will Blow Your Mind Away!
– 20 Secrets To Becoming Rich in Your 20s That Nobody Tells You — #18 is a Game Changer!
– How To Easily Flip Furniture For Extra Money (Even When You're Not Handy)
This post may contain affiliate links. Please read our disclosure for more information.
1) Buy low, sell high.
If you enjoy scavenger hunting at home for your garage sale, you might enjoy it outside as well.
For example, if you're interested in vintage finds, you can stop by your local thrift shop or someone else's garage sale to find valuable items for low to sell high.
Or, if you're a fashionista and love to shop for clothes at rock bottom prices, consider reselling your great finds for a profit. For example, I've seen a few desperate sellers who wanted a quick sale, so I took advantage of this opportunity.
Based on this fun experiment, here are some examples of what I bought (or picked up for free from Kijiji's free section) and sold for a profit:
| | | | | |
| --- | --- | --- | --- | --- |
| Item | Qty | Buy | Sold | Profit |
| Blouses | 10 | $0 – free | $10 each | ($10×10)-$0=$100 |
| Aldo high heels | 1 | $0 – free | $45 | $45-$0=$45 |
| Nike Soccer Cleats | 1 | $0 – free | $30 | $30-$0=$30 |
| Juicy Couture Hoodie | 5 | $10 each | $35 each | ($35×5)-($10×5)=$125 |
| Aritzia jacket | 1 | $10 each | $50 | $50-$10=$40 |
To be honest with you, I wasn't expecting to flip clothing for a profit. It only came to be because I stumbled upon a few finds when I was looking for furniture to refurbish.
Anyway, you can give this a try if shopping and reselling is your thing!
2) Furniture makeover and design
Buy it. Fix it. LOVE IT (Yes, I love it)! Sell it.
By now, you probably know that I love decor and furniture makeovers!
This is totally fun if you love designing and can spot diamonds in a rough. Not only that, but it's also a creative way to make some extra cash.
Related: How To Flip Furniture for Extra Cash (Even if You're Not Handy)
To illustrate a few examples, here are some of my first DIY attempts that I flipped. Take a look at the before and after results, which sold in less than two weeks!
You can also read how I saved and made extra cash when I replaced one of my tenant's bathroom cabinets.
Coffee table:
Cost=$10
Sold price=$135
Profit=$125
Two side tables:
Cost=$0 (free)
Sold price=$150
Profit=$150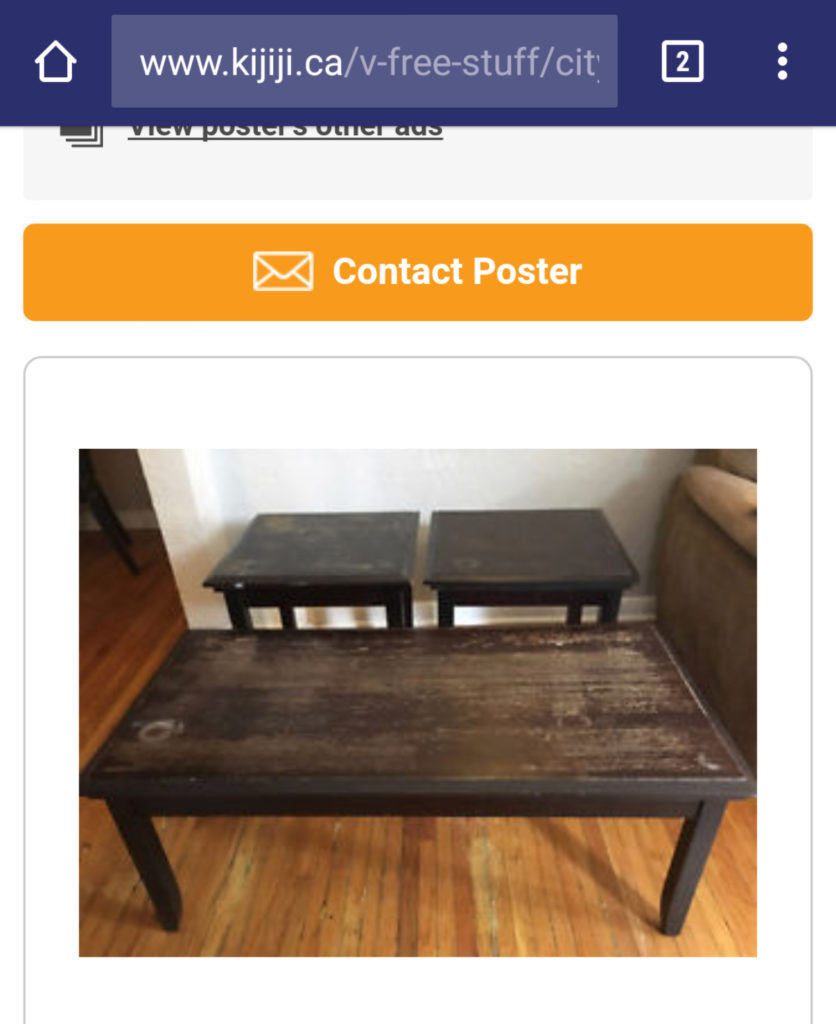 I know that I'm not a pro at this. But again, you don't have to be. As long as you're improving and learning from your mistakes, that's all that matters!
One of my IG friends, livingfrugallyfun, mentioned that she was inspired by my furniture gig when she first read my blog. As a result, she made resolutions to start this hobby. From what I've seen, she's done an amazing job with her furniture hustle. And honestly, nothing makes me happier than to see her grow and progress. Follow her @ livingfrugallyfun on IG for some frugal 'n fun inspiration!
In the end, you can only get better at what you're doing if you keep doing it over and over again!
So, if you're genuinely interested in flipping or making furniture, you can benefit from all of these three things:
– Learn and develop
– Have fun and relieve some stress
– Make some extra money!
3) Write about the things you absolutely love!
Do you have a passion for a specific topic? If so, you can start expressing yourself and helping others through a blog. For example, you can write about food, diet, finance, real estate, DIY, cars, self-help, etc. There are a lot of topics you can write about.
Once you figure out what you love talking about, you'll have to figure out your niche. Once you've established a niche and readers, you can start making money. This includes earning through affiliate links, ads, recommending products that you love, as well as providing your own products.
If you can make an impact and solve people's problem by expressing yourself on paper, go ahead and do it!
At the moment, I'm not writing for money. But it's a start and the most important part is getting started!
In fact, I was inspired by Eden from Mint Notion to start my blog. Her blogging tutorials are SUPER easy to understand that I couldn't hold back from starting my own.
Here are links to some of Eden's posts that would be great for starters or anyone who wants to start making money from their blogs:
How to Make Money Blogging for Beginners
How to Easily Start A Self-Hosted WordPress Blog
What Not To Do When Starting A Blog: 10 Rookie Mistakes
5 Brilliant Ways to Make Money With Pinterest
And while you're at it, you can also read one of her inspiring blog posts, How I Pursued My Dream To Be My Own Boss And Become A Full-Time Blogger.
You can also read my post, 5 Reasons Why Starting a Blog Will Change Your Life Financially, and learn what inspired me to start one. Go ahead and check it out because I'm sure that you and I will have something in common. 🙂
4) Declutter and become stress-free!
I came to realize that a minimalistic lifestyle will not only save you money, it will also save you time from making too many decisions!
Why do you think Mark Zuckerberg, Barak Obama, and Ray Dalio all wear the same "uniform" every day?
The answer is simple: They don't want to choose. Too many choices lead to decision fatigue.
In the article link above, Obama said:
"I'm trying to pare down decisions. I don't want to make decisions about what I'm eating or wearing. Because I have too many other decisions to make."
And here's what Zuckerberg said:
"I really want to clear my life to make it so that I have to make as few decisions as possible about anything except how to best serve this community."
What they say makes sense. When you're bombarded with too many decisions such as what to wear, what to eat, where to put your stuff, etc., you're using too much brain power and wasting time that could've been better spent elsewhere. For example, that time could be better spent on a side hustle to help you earn extra money or beefing up your financial knowledge to improve your financial situation.
With that said, choosing to live a more minimal lifestyle will improve your wealth and health by reducing chaos. Think about all the money you wasted on things that you don't even use. Not to mention, I bet that clutter at home is driving you nuts!
The great news is that you can get rid of it by using Decluttr. Sell your stuff on this platform to eliminate chaos and earn extra money. What a great way to relieve your stress, huh? Click here to sign up for Decluttr.
Sell your old electronics for cash through Gazelle
Do you have old Apple and Android devices lying around? Not using that iPod or iPhone 5 anymore?
You can sell your old electronics through Gazelle and get cash back. Based on consumer reviews, they are easy, hassle-free, and quick! To date, Gazelle has paid out over $200 million to their customers and they have a 9.5/10 score on ResellerRatings! Click here to make extra money with your electronics through Gazelle. Oh yeah, did I forget to mention that you receive a special bonus of $10 for each friend you refer? 🙂
Do you enjoy driving?
I have friends who enjoy cruising around the city when they have nothing else better to do. If you're already doing this, or you don't mind driving people, consider this side gig.
With you deciding your own hours, it's a great option for driving people on weeknights and/or weekends. And if you enjoy talking to people, this may be a great fit for you!
Just make sure you research the costs of gas and mileage of your vehicle.
On top of that, one of our tenants (who's a Lyft driver) mentioned one thing he loves about this side job (and it's not the extra cash). To our surprise, he said he uses this as a networking opportunity. For example, he would pick up random people from downtown who happen to be hiring managers of the roles he's interested in. Because of this, he's gotten many interviews and connected with different types of professionals who are on the lookout for him. Pretty funny, huh?
According to Lyft's website, drivers have been paid out $200+ million in tips and $68+ million in Power Driver Bonuses so far.
What are you waiting for? Start driving with Lyft so that you can earn an extra $18 to $25 per hour!
6) Leverage off your skills
It could be math, economics, writing, or even a language that you're naturally skilled at.
If you enjoy tutoring or teaching people, this can be a great way for you to quickly save for that emergency fund.
For example, my family friend's daughter used to tutor English for $30 to $35 per hour (I was one person she tutored when I was 15, haha). She attended to five students every week, for 2 hours each. As a result, she made ($30 x 2 hours) x 5 students = $300/week. Not too shabby for a side gig, huh?
Aside from money, the best part is, she absolutely loved it! This was actually something she was doing for free until her parents talked her into monetizing her skill.
She got most of her clients through family friends and word of mouth. Aside from that, you can advertise yourself on Kijiji as well.
As a matter of fact, you don't even have to be skilled in a course or language to make extra. Instead, maybe you're skilled with handyman jobs, or perhaps you're good with writing resumes and providing mock interviews. Whatever it is, others are willing to pay for your help.
7) Benefit from a part-time job you'll enjoy ♡
If you're really in need of cash and don't mind working for a company, then consider applying for a part-time role. But make sure that you can see yourself working here for fun. I say this because you don't want a job that makes you unhappy, so treat it as leisure and relax a bit.
For example, I had a colleague who worked on the side as a bartender and he loved it! To my surprise, he actually said he looked forward going to work because of the atmosphere and interaction with customers.
Likewise, if you selectively apply to the places you love to shop or dine at, you'll also be able to receive discounts. BTW, I'm not encouraging you to spend here…
I'm…………
Anyway, here are several of suggestions for you:
– cashier or barista at a coffee shop (e.g. Starbucks)
– bartender or food server at a restaurant you love (as a bonus you'll also earn lots of tips, like my co-worker)
– home improvement store (great for those who want to learn about home improvement)
– your favorite clothing store
– high-end department stores such as Nordstrom or Saks. Not to mention, you get good commissions. (my cousin works there and she tells me crazy stories of how much her associates make)
– an electronics store (if you love that stuff)
These may take away your freedom on top of your 9-5, but it will certainly get you an additional stream of income. So again, that's why I say stick to something you will enjoy.
8) Got space for more money?
If you have unoccupied space at home, you can always consider renting out those rooms through Airbnb for some cash.
For example, I have a co-worker who had an extra bedroom at his condo. He rented it to business travelers and tourists who needed it for a few days to a week. By doing that, he made $65-$100 per night, depending on the season and demand. As a result, he was able to make a few to several hundred dollars within a week.
Aside from my co-worker, my fiance and I are also renting out our separate unit of where we live.
In total, we are getting $1,600 per month, which is helping us with the mortgage. The great thing about renting out our space is it gives us the flexibility to put our paychecks into other areas such as savings and investments. It also gives us the option to spend a little more freely as we wish without feeling strapped for money. As a result, renting out your space can help you build equity in the long run.
Alternatively, if you have unused storage space or a garage you can also rent this out for extra cash. I have co-workers and family friends who rent out their unused parking space for $50-$200 per month depending on their location. Think about what an extra $50-$200 per month can do for you? 🙂
9) Take advantage of your depreciating asset
Yes, your car!
We always hear that cars are one of our most killer expenses, and it's SO TRUE!
But it's great that we can still get the most out of this sucker.
In addition to being an Uber or Lyft driver, you can also turn your car into a money-making asset by renting it out.
Get started by listing your car at Turo.
Before you start, make sure you to go through their policy and understand the coverage.
Another cool thing you could do is get paid for having decal advertisement wrapped around your car. Companies such as carvertise offer drivers $100 per month with campaigns lasting about three to six months.
If you drive a lot, this may be something you want to consider (as long as you don't mind having ads on your car).
10) Start your Etsy shop
This is similar to what I mentioned above about my furniture gig. But instead of selling furniture, you can also sell other handcrafted items online. For example, you can sell your paintings, hand-crafted jewelry, or even unique bathroom storage solutions.
My BF and I are planning to do the latter. Currently, we are in the progress of making an industrial style toilet-paper holder out of wood and galvanized pipes. It would be pretty cool to see how our project turns out!
When it's done, I'll be sure to share our results on this blog!
It's all up to you now.
After reading through this list, I hope your mindset about money changes.
After all, these side hustles should help you get started with earning more. Once you've earned more, you'll be able to save for your emergencies, treat it as guilt-free spending, or better yet, invest it.
Remember what the main takeaway from this post is.
Money is abundant, and your ability to earn it is unlimited.
At the end of the day, how much money you make depends on you.
So, what are you waiting for?
Change your mindset and start taking action!
Over to you.
Have you tried, or are you considering to try some of these ideas?
Do you have any side hustles you'd like to mention?
Did you enjoy this post? If so, don't forget to share the love on Pinterest! 🙂