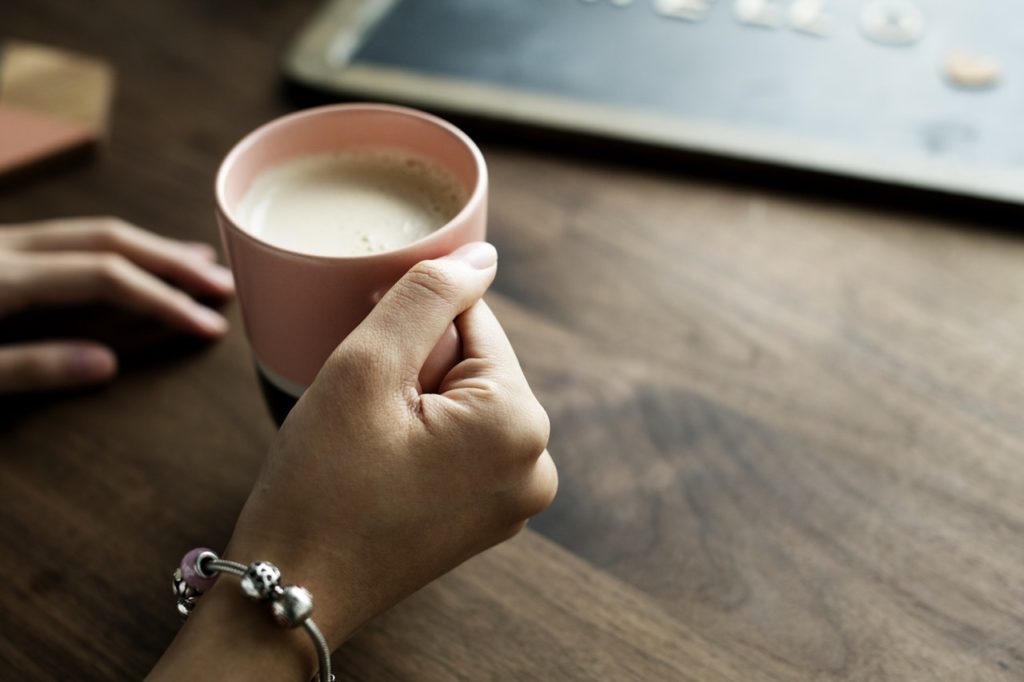 We will receive a commission if you make a purchase through our affiliate link at no extra cost to you. Please read our disclosure policy for more information.
Are you looking for the best ways to make extra money from home today?
Whether you're looking to make $500 a month fast, a heavenly amount of $500 a day, or even a stellar number like $1,000 in a single day, I've got you covered with a list of ideas on how to make a few extra hundred a month.
Like you, I remember searching for the best ways to make money online and stumbled upon the idea of making money by using Pinterest.
And today, I am earning a full-time annual income of over $120,000 with my small blog by using these Pinterest monetization tips for total beginners.
UPDATE: I can't believe I actually earned more than $200,000 a year with my blog since the last time I came back to update this article! This small blog of mine started off by making its first $100, $500 a month, $10,000 a month, and eventually hitting as high as over $25,000 a month!
How to make an extra $500 a month
I agree that times are tough and we all need extra money to get by each month.
While researching online, I found that more than 72% and 67% of U.S. Gen Z and millennials are more likely than Gen X and Boomers to be running side hustles, picking up extra cash outside of their regular day jobs.
According to that same article, 38% of people with side gigs said they have at least one side gig and almost the same amount of people said they have more than one. This is because of the record-high inflation everyone's experiencing.
This is why it's so important to find ways to make extra money on the side and improve our living standards.
Imagine what you could do with the cash if you can earn an extra $500 a month online. You could pay off your debt, save for a nice vacation, or even get a new car!
For me, I reached those milestones, including building my first $1,000,000 in net worth by the age of 33. That's why I'm eager to share these ideas with you, so you can build a good relationship with your money.
Before you read on, click here to save this to your favorite Pinterest board so you can come back for more updated side hustles and money-making ideas.
Side Hustles to Make $500 a Month
Well, in any case, you're here because you were searching "how to make an extra $500 a month" or "how to make an extra $200 a week".
With that said, I'm here to show you the best ways that will help you earn some extra cash on the side.
In fact, you can potentially make anywhere from $500 a month to $100 a day (AKA $3,000 per month) in extra money with these creative ideas depending on how much time and effort you put into them.
Because I enjoy researching the best side hustles and business ideas, I put together these other posts that will help you level up from $500 per month to as high as $15,000 per month:
You may also like to check out my other post about the best ways to make extra money today. This list includes more personal stories of my favorite side hustles that helped me earn over $1,000,000 over the years, outside of my regular 9-5 job.
But before jumping to that separate article, I encourage you to go through this list to see which ideas suit your personal interests.
I hope this post helps you find something that you'll enjoy doing while making extra money on the side! 😊
1. Start a blog and make an extra $500 online
I never thought I'd ever say this, but…
Blogging is one of my favorite ways to make extra money today!
If you're wondering how to make an extra 500 dollars a month online, then one of my top recommendations is to start a profitable blog and use Pinterest to your advantage with my easy step-by-step tutorial.
I always mention this but I'll mention it again: If you asked me over a year ago, I had no idea that blogs could make money! I didn't really know what a blog was!
When I first started blogging, I was making $0 and had no clue what I was doing. It was really sad! 😢
But within a year of blogging, my blog grew from earning an extra $500 to my first $1,000! Now, it's making over $20,000 per month! Seriously, how cool is that? 😲
FYI: When I started this blog while working a full-time job, I shared in details how I made my first $500+ per month in my blog income report here and how I grew it to over six-figures per year within my second year of blogging!

You too can start a blog for cheap and learn how to make money with my easy step-by-step tutorial for beginners here.

You can start a blog at a discounted price for as low as $2.95 a month (that's over 60% off). Plus, get a FREE domain name when you sign up through my tutorial.

This low price is exclusive to Finsavvy Panda readers!
So, if you're looking into how to make a few extra hundred a month, then starting a blog just might be your calling today!
This may not be a free way to make an extra $500 online, but it is extremely cheap to get started!
Looking back, I'm very glad that I took the leap of faith and started a blog as a side hustle. Otherwise, I would still be commuting to my 9-5 job… thanks, but no thanks!
I told myself that if I could afford a cup of latte a month, then it wouldn't hurt to try starting a blog to make extra money from home. If it doesn't work out, oh well, at least I've tried it and won't regret thinking about the "what-ifs."
This definitely beats other traditional business ideas — I don't know where else you can start a business with such a low investment. I can confidentially say starting this blog was one of the best investments I've made this year!
Enroll in my free blog course!
Do you want to make extra money online from home each month?
Are you a beginner and don't know where to start? Join my FREE 7-day course where I will teach you how to start your blog and earn your first income! 😊
You DON'T need to be the best writer or an expert in what you blog about!
2. Earn extra cash and free gift cards with online surveys
For starters, I recommend giving some of these best online survey sites for money a try – it's exactly what I did for quick and easy wins at the beginning when I was just getting started in my side hustle journey. You won't get rich from them, but they are a fun and easy way to earn PayPal cash and rewards during your spare time.
These top survey companies will pay you just for giving your opinion about a product or service.
They are considered quick wins where you can make extra money or earn free gift cards (your choice) just by taking surveys and sharing your opinion. I personally use these resources to earn extra money because they are easy to do in my spare time.
Why take surveys? How can you make extra cash today?
All top companies want to understand their consumers so that they can create the perfect products and services for you. For them to do that, they need to understand YOU and what YOU want. That's why they are willing to pay you in cash or free gift cards in exchange for your input.
It's one of the easiest and quickest ways to make extra money online with no experience required.
I'll be honest though. Taking paid online surveys won't make you rich, but it feels nice to have an extra $50 to $500 to help with spending each month! 😊
I'm personally a member of a lot of survey sites, but I have two favorites that I always recommend to my readers, so you can rest assured that these two sites are 100% legitimate and non-spammy.
And yes, they are absolutely free to join, and you can start making extra money immediately today!
3. Make Extra Money with Survey Junkie
I mentioned earlier that this is one of my favorite paid online survey sites.
Survey Junkie is rated 4.5/5, one of the highest on TrustPilot reviews. Their platform is user-friendly and it's extremely easy to navigate. Easily earning a spot in my top 5 survey sites that I recommend to my friends.
Over 5,000,000 users (including myself) have good things to say about them.
I personally use Survey Junkie and I was able to make an extra $58 in a month during my downtime.
Again, you won't become the next Warren Buffett or Bill Gates by doing paid surveys, but earning some extra money here and there adds up quickly.
It can help make your spending more affordable. That includes filling up your gas for your car, buying Birthday and Holiday gifts, or even splurging on your favorite drinks from Starbucks without having to cut back so often.
4. Earn extra cash and points with Swagbucks
Swagbucks is another one of my favorite free resources to use. It's literally one of the most popular online survey sites in the world today!
I've been using them for over a decade and that's how I make extra cash and earn FREE Starbucks gift cards online. This helps me earn free money so that I can splurge on my favorite lattes from Starbucks.
Starbucks may not be your thing and that's okay!
You can still make money online and earn PayPal cash or other FREE gift cards to your favorite shops like Amazon and Walmart.
Aside from taking surveys, you can also make extra money by searching the web and playing video games, watching videos, shopping online, and more!
Swagbucks is completely legit! Since we started using it way back when it first came out, my husband and I have earned a total of $9,000 together! I still remember when our friend introduced us to Swagbucks. He was practically glowing as he bragged about the impressive stack of $10 to $50 free gift cards he was amassing!
👉💵 You can grab your FREE $5 bonus here from Swagbucks before the promotion is over!


⭐️ Important: To claim your FREE $5 bonus, don't forget to verify the email from Swagbucks in your inbox!
You can check out my Swagbucks review to learn how to make money with Swagbucks.
Make an extra $500 online with these other survey sites:
Other paid survey companies I recommend as a way to make extra money from home include:
American Consumer Opinion (another survey site I use to earn extra cash)
MyPoints (Get $5 bonus when you sign up and verify your e-mail from MyPoints)
InboxDollars (Get $5 bonus when you sign up and verify your e-mail from InboxDollars)
Again, membership is 100% free. By signing up for many survey sites, you'll get to take more surveys for extra money during your spare time.
More related articles about taking online surveys for extra money:
5. Food Delivery Apps
If you're growing tired of binge-watching Netflix in the evenings, why not consider an easy online food delivery side hustle? It could help you earn an extra $500 per month.
I personally recommend DoorDash, a platform that I've been using outside of my full-time job, not just for income but also for fun.
There's no interview or hiring process to worry about. In fact, you can apply today and start earning money immediately – they even offer the option to cash out on the same day! The only thing they'll ask is whether you are using a car, bike, or scooter. After that, they simply perform a quick background check.
You can see how much I made in extra income within a mere two-week period – decent earnings of $1,018.04 as fun money!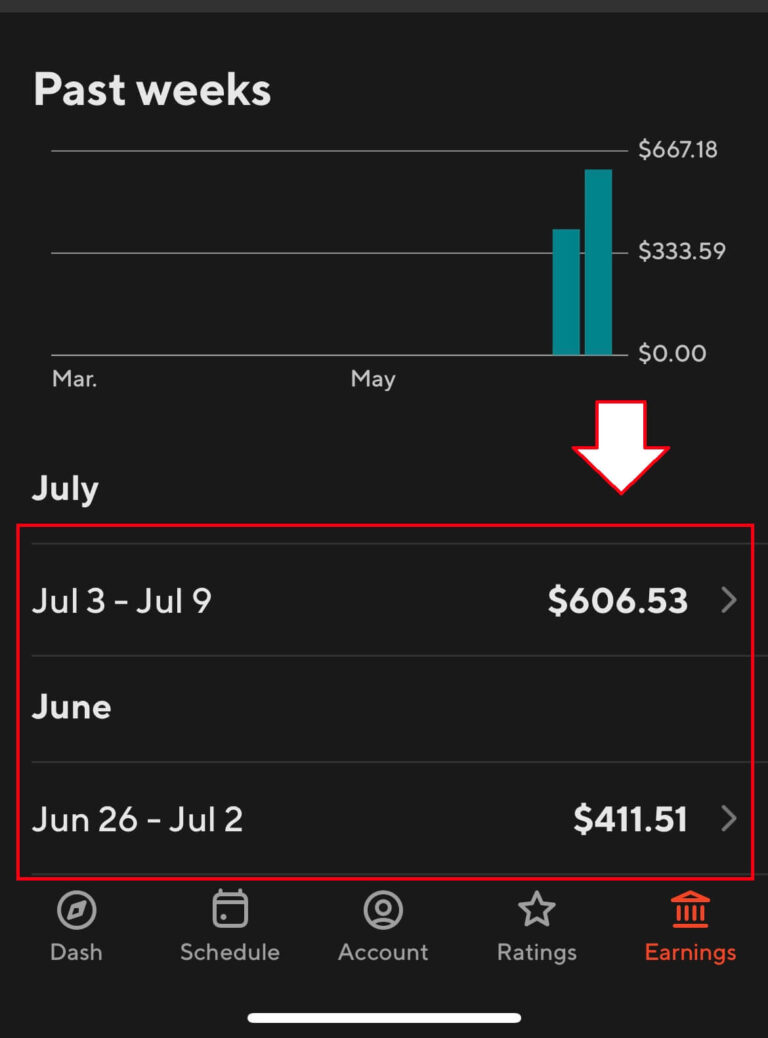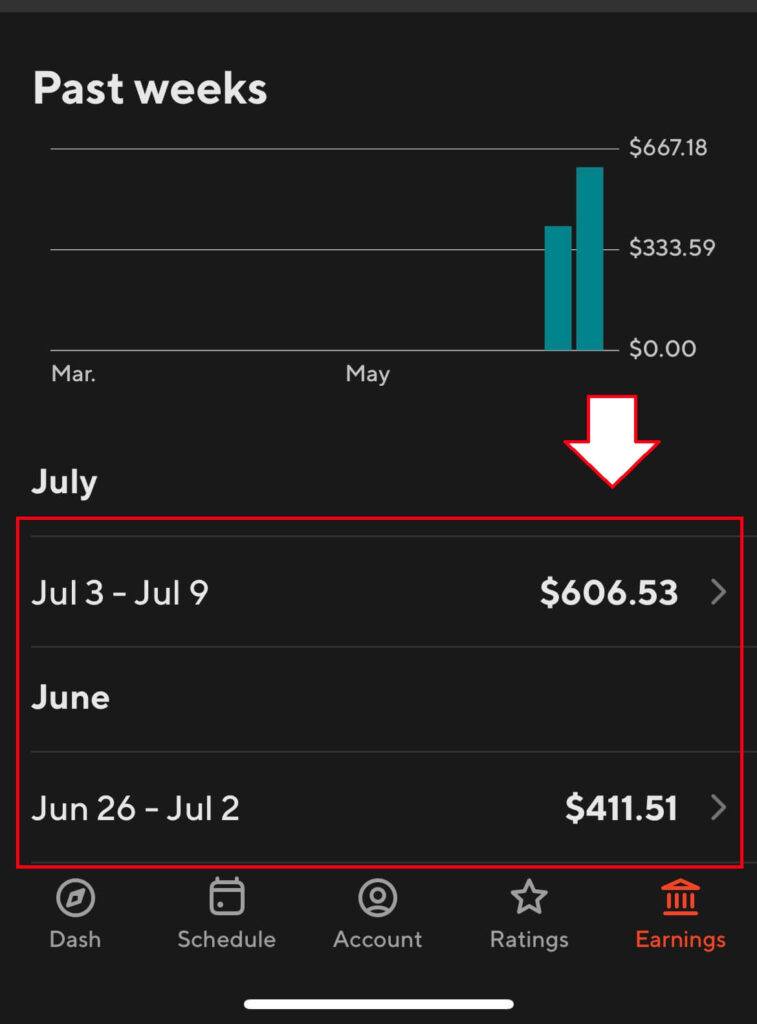 I had no prior experience with food delivery whatsoever, but because it's managed through an app and involves dropping off orders at the door with minimal customer interaction, it was incredibly easy to handle!
This demonstrates that you could definitely earn an extra $500 a month!
You can deep dive into more information about how much you can make with DoorDash in a day in my separate post. Additionally, I will share some useful tips and tricks for beginners to boost their income using my own personal experience.
6. Make money online with Pinterest
This sounds silly, doesn't it?
Nope, I'm not kidding!
You can really make an extra $500 to $5,000 per month with Pinterest (or even more)!
I started with absolutely no experience and wanted to learn how to make an extra $500 a month online. I didn't even have a Pinterest account just over a year ago. But after putting in the time and effort to learn about Pinterest, I'm now making over $10,000 per month online with Pinterest!
Update: Now, I earn between $16,000 to $20,000 every month using the platform, all because I started a blog and Pinterest account!
It wasn't easy and it didn't happen overnight because I had to learn from scratch, but this proves that it's still possible to make extra money online!
If you're excited to learn more, check out my full detailed post for beginners who want to monetize and learn how to make money from Pinterest.
7. Make money playing video games
Have you ever been so obsessed with a game that you couldn't stop playing it? Instead of feeling guilty spending hours just playing the game, you can make cash out of it. In this digital age, earning an additional $500 a month by playing video games is possible!
When it comes to making money from playing video games, most people know that you can stream your gameplay on platforms like Twitch or YouTube. So that's a good starting point. Contrary to what people believe, though, there are more ways to monetize your gaming skills.
Aside from streaming your gameplay, you can also collect and sell valuable in-game items or level up an account until you can sell it for a high value. Others even become gaming influencers by reviewing and promoting games. If you really love playing games, there are endless opportunities for you.
However, it's important to remember that earning money from video games isn't as easy as 1, 2, 3. You have to put in a lot of time and effort before you can earn a few dollars from it, but when you keep at it, you can definitely get $500 a month. Maybe even more!
8. Make $500 per month watching Netflix
How many hours do you spend bingeing Netflix movies and shows? An embarrassing amount? Well, I relate to that. But instead of just wasting away, why not get paid money to watch Netflix? Yes, it's possible!
Although you might not get paid directly by Netflix, you can make the most out of the movies and shows you watch. I'm sure you always have an opinion or unique perspective about the movie or show you're watching, so why not turn those thoughts into a profitable hobby blog? It's especially more likely to be profitable if you talk about a show everyone's talking about.
If you don't know where to start, don't worry. It's simple if you follow my guide on how to start a blog and make money from it. It will take some effort, but once you get the hang of it, you'll be surprised at how much money you could potentially make out of this.
Simply share your wit and insights with other movie and TV show lovers on your blog, and watch it – along with your bank account – grow. As you make engaging content and build a community, you can open the door to many monetization opportunities that could help you achieve $500 a month!
9. Get paid to read books
Bookworms are in for a treat. As surprising as it may sound, you can actually get paid to read books. So it's time to turn those pages and fill your wallets!
If you enjoy reading books and sharing them with other bookworms (and casual readers), then maybe BookTok is the key. On BookTok, you simply create videos to talk about the books you love or what your thoughts are on certain books, regardless of what genre you love to read.
Many booktokers earn money through monetization, but most earn through sponsorships. Did you know that some booktokers earn $2,000 per video? Yes! So that means it's really possible, although it will be a long way before you can make that much from a single video.
On the other hand, if reading books out loud is more up your alley, then maybe you can narrate books instead. This job, though, requires a lot of skills and passion, so you really have to be dedicated to it. Companies pay anywhere from $10 to $100 per finished hour, so earning $500 a month is not far from reality.
10. Make extra money as a freelance writer
Do you have a way with words and a flair for storytelling? Don't waste that talent – turn it into a profitable side hustle.
In fact, freelance writing is the most in-demand freelance job out there, and you don't even need a degree to earn an extra $500 (and even more) from it each month. According to the same article, some freelance writers charge up to $250 an hour! Imagine that.
With the growing demand for digital content, your writing talents could become a lucrative side hustle. And trust me, it's not only writing blogs, either.
Companies and content creators are willing to pay you just to write their e-mails, social media copies, and even product listings. Choose that specific platform and hone in on your talent because there are many ways and possibilities to make money as a freelance writer.
You might think writing isn't for you, but just remember: it's a skill that can be learned and improved on!
11. Make extra money with your smartphone
Everyone uses their smartphones today!
We use it to message our friends, shop online, scroll through our social media feeds, keep up with the latest trends, and put in quick orders for our delivery.
For crying out loud, we even use it to check our work e-mails (yuck)!
But did you know that you can use your smartphone to make extra money?
Yes, there are many free and awesome money making apps that pay you cash or free gift cards just for using them.
It's another free way to make money during your spare time.
You're already using your phone for so many things, so why not take advantage of free money when you need cash? 😉
12. Sell your clothes online using an app
Minimalism is trending these days, which means people are more interested in buying quality over quantity.
If you have any unique clothes or pieces that you don't wear often, go ahead and sell those old and unworn clothes online using an app like these ones here. You can make a good profit and clean out your closet at the same time!
I did this many years ago when I was trying to get rid of a pile of junk in my bedroom, and let me tell you, it works like a charm! I made thousands of dollars just by selling my own clothes, and at the same time, flipping a few from the purchases I made using those apps and online websites!
13. Make money and get paid for handwriting
Yes, you can get paid to write by hand! How cool and creative is that? Many big and small companies are always looking for new ways to promote their products, and one way they do this is by hiring people to handwrite letters and advertisements. You can make up to $500 a month (honestly it's even more) using your creative skills for companies. There are many ways to earn extra cash with this funky idea and you can learn how to get paid for handwriting here.
14. Make extra money with Uber Eats
If you have a bike, scooter, or car, you can take a stroll for a few hours in the morning, at night, or just on weekends — it's up to you.
Be your own boss and earn quick cash during your spare time by delivering food with Uber Eats. This makes the perfect side hustle for any season if you're looking to make 500 dollars a month!
As long as you're consistent with this side hustle, you can earn extra cash to help with your living expenses.
You can learn more about UberEats here and start making money this weekend!
15. Get paid to post ads
Posting ads is another fantastic and exciting way to pocket some extra cash during your free time! All you have to do is post ads online on classified websites or social media platforms, and you'll be on your way to banking in $500 and over a month!
An alternative way to make money by posting ads is to start a blog and include paid advertisements as part of your blog content. This is a great way to make some extra cash if you're enthusiastic about sharing your experience and knowledge online.
For example, I share my financial journey along with the things I've done to make and save extra money on this small blog to help my readers. While sharing my personal experience, I am able to earn a great income by inserting display ads on my site! Aside from money topics, you can blog about whatever you want and make money with ads! This is one of my favorite ways to make money online, and you can learn how I personally make money blogging here.
16. Make extra money with affiliate marketing
What is affiliate marketing?
First of all, think of a product that you love and would recommend to your friends.
For example, one of my favorite personal finance books is I Will Teach You To Be Rich
by Ramit because it has changed my life. It's a book that I ALWAYS recommend to everyone who needs help with their personal finances. If you click on that link to make a purchase, I will earn a small commission at no additional cost to you.
There, what I just did is an example of affiliate marketing.
In a short and simple sentence, you earn an income by recommending or promoting a product or service.
BUT, of course, you should only recommend products or services that you believe will add value to your friends, family, and audience regardless of whether or not you earn a commission.
Start a blog and make an extra $500 per month
Though not required, I always recommend starting a blog for cheap if you want to start making money online with affiliate marketing.
By starting this blog, I learned how to make an extra $500 a month as a beginner.
You can learn more about how to make money with affiliate marketing for beginners here.
UPDATE: With hard work and effort, I'm now able to make over $10,000 per month alone from affiliate marketing. You can check out my past blog income reports for proof. I literally started from scratch with no experience and you could too.
17. Become a virtual assistant (VA)
Become a virtual assistant (VA) by helping a company or blogger remotely from home (or any location)!
You can definitely make an extra $500 a month by becoming a VA! In fact, I hired a VA for my online business and paid them anywhere from $500 to $1,000 per month!
Earning extra money as a VA allows you to work at home and set your own working schedule to fit your crazy-busy life.
18. Become a Pinterest Virtual Assistant
Aside from becoming a general virtual assistant, you can earn extra money by becoming a part-time or full-time Pinterest virtual assistant – this is more specific!
Now, how does that sound? Make money pinning on Pinterest! 🙂
A lot of professional bloggers and online influencers are busy and may not have the time to set up and manage their Pinterest accounts. This is where you come in to add value to their business!
Pinterest is an extremely powerful tool that can drive traffic and generate revenue for bloggers and companies. If you're willing to put in the effort to learn the ins and outs of the platform (or perhaps you're already a Pinterest expert), then becoming a VA is a great option to make extra money and work from home.
Pinterest VAs can make up to $50 per hour depending on their experience. Even with NO EXPERIENCE, it's never too late to learn how to master those skills!
As you become more familiar with Pinterest and its features, you can simply charge higher hourly rates to make an extra 500 dollars a month!
19. Rent out your extra space with Airbnb
Renting out extra space is one of my favorite ways to make extra money fast and passively. For example, my fiance and I are renting out our separate unit to a single-family, and it's a great way to make money and build wealth while living in an expensive city.
If you live in the city's core or a touristy area, you can become an Airbnb host and make $100 per day. That can really add up to an extra $500 a month to $3,000 every month! We know so many people who do this and are making over $100 a day from this side hustle.
YES, the idea sounds amazing…
But, set realistic expectations because you still need to put in some work. For example, my friends and coworkers who do this still need to attend to their guests while working their full-time jobs. It's not 100% passive if you don't hire a manager. But my friends are loving the extra money they're earning from this side hustle because it's helping them fund their next vacation!
As I said, if you're willing to put in the effort, there are many opportunities for you to make money on Airbnb.
You can get started by learning how to make money with Airbnb here.
20. Rent out a room in your house
You don't necessarily have to be an Airbnb host to earn additional income on the side. If you already have an extra room in your house that you don't use, then use it to your advantage for extra cash!
This is exactly what I do too!
You can easily make $500 or more a month by renting out a room or two in your house. If your home is built with a separate unit, then you can live in one of them and rent out the second. This is a great way to earn some extra money without having to do a lot of work other than managing your own property and collecting those checks.
21. Become a personal shopper
Do you have an eye for finding good deals?
Well, shopaholics, this one's for you! You can actually get paid to do what you love, and that's shopping!
Many people are too busy to go shopping or don't have the time to find good deals. That's where you can add value and come in!
How fun does that sound? Being a personal shopper and getting paid to do other people's shopping for them. I know I'd love to try that myself, too! 🙂
Personal shoppers can shop for everything from clothes to groceries, and according to Indeed, the average salary for a Personal Shopper is $42,872 per year in the United States.
22. Do odd jobs for people in your neighborhood
Who doesn't like to be helpful? We feel great about ourselves when we know we can be of help and service to others.
And if you like to do odd jobs around the house, then this side hustle is definitely for you! You can easily make $500 to $3,000 per month by doing random jobs for people in your neighborhood. All you need to do is list your services on a site like TaskRabbit and start taking in job requests!
23. Participate in online focus groups
If you enjoy giving your opinion on various topics, then you'll be happy to know that you can get paid for it! Companies are always looking for people to participate in online focus groups so they can gather data and feedback about their products or services.
You can easily make $50-$100 per focus group, and sometimes, even more, depending on the topic and length of the focus group. To find high-quality focus groups that pay well, you can go to websites like FocusGroup.com or FindFocusGroups.com.
24. Walk dogs in your neighborhood
We all know that walking dogs or dogsitting is a good side hustle, especially if you have a lot of neighbors with dogs. What many people don't know is that it's possible to earn $500 a month walking dogs! Yes, you can earn that much just by doing something you love.
If you're a certified dog-lover, aside from offering your services to your neighbors, you can look through many apps that pay you to walk. Apps like Rover and Wag are great ways to offer your dogwalking services to nearby people. You will be surprised at just how in demand this service is.
Depending on how much time you're willing to put into doing the work with cute dogs, you could make $500 a month, and even more. In fact, this 28-year-old made $26,000 in a year walking dogs on Rover. If you put in that much effort and time you can achieve that much, too.
This side hustle is amazing because not only are you earning income on the side, but you're also able to get in some exercise, fresh air, and quality time with man's best friends.
25. Take up a tutoring side hustle
You could earn $500 or even more in extra money each month when you take on a tutoring side hustle.
My husband was offered a teaching assistant role back in the days when we were at University. They offered him a pay rate of $30 per hour, which was great money for a student! Because many of his students liked his teaching style, they asked him if he would be willing to tutor them outside of the classroom, offering him a pay rate of more than what the University pays him!
As you can see, tutoring can be a lucrative side gig, especially if you have a knack for breaking down complex concepts and making them easily understandable for students. The demand for tutors has always been high, particularly in subjects that students traditionally find challenging like math, science, and foreign languages.
With the increasing shift towards online education and e-learning platforms, the demand for tutoring has expanded beyond geographical boundaries. This means you could be in New York and tutoring a student from Tokyo or London, all from the comfort of your own home. Online platforms such as Chegg, Wyzant, and VIPKid have made it even easier for tutors to connect with students globally.
26. Make an extra $500 by getting FREE cash!
Yes, you can get FREE cash just by doing the things you normally do such as shopping, surfing the web, playing games, and more!
These are some of my favorite resources to get free money online. They don't cost you anything to use, so if you're not taking advantage of them, then you're essentially leaving FREE money on the table! Don't do that!
Use them to your advantage to save or earn extra money every month.
MyPoints: You can earn FREE gift cards to your favorite stores or CASH (your choice) just by watching videos, taking surveys, reading e-mails and more. MyPoints has paid out their members $236,000,000!
👉 Sign up for MyPoints here for FREEand get a $5 bonus immediately after completing your first 5 surveys! 💵
Rakuten: You get FREE cash just for shopping at over 2,000 of your favorite stores. This includes Walmart, Macy's, Apple, Kohl's, Target, eBay, and so many more! I use Rakuten to save over a few hundred dollars just for shopping for the things I normally buy.
👉 You can learn more about this free money resource by reading my honest Rakuten review here. You won't be disappointed with them!
27. Use Drop to passively earn money with no effort!
My fiancé and I use the FREE Drop app to rack up cash rewards on our everyday purchases. I love how this app allows us to combine their offers with other cashback rewards and store promos. That's how we get the most cash back! 😉
🌟 For a limited time, get your FREE $5 bonus immediately after linking your first card and using my special referral code, FINSAVVY! No purchase necessary! 😊

This code is applicable to both the U.S. and Canada!
👉 To learn more, read about my honest review on the Drop app. If you like the idea of passive money, then I'm sure you're going to enjoy this app as much as I do!
28. Rent out your stuff to earn extra money
What if I told you that you could earn $500 a month and even up to $1,000 every month by renting out your stuff? Fully insured as well!
Yes, such a thing exists and Fat Lama can help you with that (available in both the US and UK)!
This is what they call the "Airbnb for stuff".
There are many people looking for things to use without having to pay full price for the item. That makes sense because, why would anyone want to pay for things that they use occasionally?
This is where you can add value by turning the stuff you own into an income-producing asset!
For example, you can rent out the following items and make $500 a month from home:
DIY equipment
Household tools
Luxury outfits and handbags
Drones
Camera
Video games
FAQs about earning an extra $500 in side hustle cash each month
Over the years of building this blog, I've gotten a lot of emails from readers asking me questions about how to earn extra money each month to help pay their bills, reduce their debt, and save for their dream homes.
Based on most FinSavvy Panda readers, they were actually very interested in starting a blog as a hobby to earn $500 per month! Some are even ambitious and motivated to turn that into a full-time income!
Without further ado, here are the additional questions regarding how to make $500 a month online, from home, or even anywhere on the globe!
1. How to make $400 a month?
Whether you want to make $100 or $400 a month, making a little extra money is an achievable goal if you're open to finding ways to save money.
First, make it a habit to do a monthly budget that details all of your expenses, including rent, utilities, food, and other necessary items.
Then, look for ways to save money and cut back on unnecessary things you can live without – you can actually take a peak at the 10 dumb things I stopped buying to save over $10,000!
Next, start a side hustle such as:
Blogging for money (This has been and will always be my top recommendation because it has changed my life).
Selling items online
Finally, look for additional sources of income such as a part-time job or taking online surveys.
These are many of the things I've personally done to get started on my financial journey, so yes, I am telling you that it is possible to make $400 a month and improve your financial situation no matter how hard things seem to be.
Related reading: How To Make 400 Dollars Fast
2. How to make a few extra hundred a month?
You can make a couple to a few extra hundred dollars a month by exploring different avenues.
One way to do this is by taking on extra work in your current job, such as picking up extra assignments or taking on extra responsibilities.
Before earning a full-time income with this blog, I was working at the bank. During that time, I used to ask my manager if I could take on extra projects and even work additional hours for extra pay. I didn't mind it at all (and it didn't feel like work to me) because I actually enjoyed the projects and initiatives that the company was taking on during that time.
To have that discussion with your boss, I highly recommend booking a meeting with him or her and making the conversation about your interest in wanting to help the company and your team grow instead of saying that you need the money.
If you say the latter, you most likely won't be given additional projects, tasks, or extra hours of work.
Just remember, it's always about what's in it for your boss or the company; not what's in it for you.
If you can offer to help them, your boss will be more than happy to give you additional hours of work. Depending on your company and policy, they may offer you time-and-a-half pay or even double the amount.
Another way is to look for side hustles that you can do during your spare time. For more details, I have a post about the best side hustles to make money from home in addition to the best side hustles for men particularly.
Finally, you can invest some of your money in stocks, mutual funds, or other investments that have the potential to generate income over time. Although I don't cover this topic much on my blog, investing is also another passion of mine! At the age of 24, I started investing my money in stocks, funds, and other asset classes to save for retirement and to create a stream of passive income.
As you can see, with a bit of effort and some creativity, you can make a few extra hundred dollars a month in no time!
3. How do you earn an extra $500 without getting a second job?
Earning an extra $500 without getting a second job is possible, though it may take some effort.
One way to do this is to create a side hustle.
As mentioned, starting a money-making blog, freelancing, selling items online, or providing services such as pet-sitting or tutoring are great options to start off with.
You can also look for companies that offer cash rewards for taking surveys or participating in focus groups.
This is what I did in the past and it's what helped me redeem PayPal cash and free gift cards to places like Amazon and Starbucks, which helped reduce my spending.
Although taking surveys isn't life-changing, they could add a couple to several hundred dollars into your bank account (if you are willing to spend a bit of time to complete those surveys and questionnaires).
My all-time favorite is Swagbucks Surveys since I've been using them for over a decade now – yes, they're a legitimate and established company!
Additionally, you may be able to monetize a hobby, such as creating jewelry or art and selling it online.
Finally, you can look for ways to cut back on spending and use the extra money to add to your income. With some creativity and dedication, it is possible to earn an extra $500 without getting a second job.
I write a lot about the best ways to make money, whether it's online or from here, so you can browse through my blog and check out all the possibilities on how you can earn extra money here.
Again, I log my personal life and how I earn extra money with my blog here to help you make money online.
4. How can I make an extra $500 today?
If you urgently need to make money today, the quickest way to earn $500 is by selling your belongings.
From old electronics to clothes and shoes, there's potential cash in nearly every item you have at home, even that old vintage cup collecting dust!
For more ideas on how to make $500 quickly, check out my separate article on what items to sell for extra money.
You can even check out the 15 best things to sell on Facebook Marketplace for inspiration and ideas.
More posts on how to make an extra $500 from home:
Over to you — did this article help you? What's your favorite side hustle to make extra money?
Enjoyed this post? Share it here and follow me on Pinterest! 🙂