This post may contain affiliate links. Please read our disclosure policy for more information.
Yay, free stuff! Who doesn't like free?
So, that's why I decided to put together this freebies resource to help you save thousands of dollars all in one place!
I figured that I may as well summarize most of the tools and resources that I've used to help me earn and save a lot of money. That includes FREE money-saving apps, my budget binder printables, and other saving hacks that will cost you absolutely nothing. With that said, you have nothing to lose but everything to gain! So, it would be crazy if you don't take advantage of all these freebies!
I will be adding more to this section every couple of months, so be sure to bookmark or pin this to Pinterest for your reference.
Well, what are you waiting for? Here are 15+ FREE resources that could potentially help you save thousands of dollars!
Related content:
– 30+ Best Places To Get FREE STUFF on Your Birthday (Over $150 Value)
– How To Save Money on a Low Income (or One Income) and Live Well
– How We Increased Our Net Worth by Over $800,000 in 7 Years
– 50+ Insanely Clever Ways To Save Money Every Day
– 8 Real Ways That I've Made Money Online With No Experience!
Don't forget to pin this pretty image for later!
This post may contain affiliate links. Please read our disclosure for more information.
GET FREE AMAZON AND STARBUCKS GIFT CARDS
Swagbucks:
Swagbucks is one of my favorite online rewards programs because it allows you to earn FREE gift cards just by surfing the web, doing surveys, shopping online, watching funny videos, playing games, and more.
My boyfriend and I love redeeming those Starbucks gift cards because it's our to way to get FREE coffee and lattes! On top of Amazon and Starbucks gift cards, they also offer many other gift cards. You've gotta check them out here!
Swagbucks is 100% legitimate and has paid out their members $288,312,447 to date! We have been loyal Swagbucks users since 2009!
👉 Right now, you can get a FREE $5 bonus from Swagbucks here just by signing up through my link.

⭐️ Important: To claim your FREE $5 bonus and to start earning FREE gift cards, don't forget to verify the email from Swagbucks in your inbox! All it takes is a one simple click on that verify button!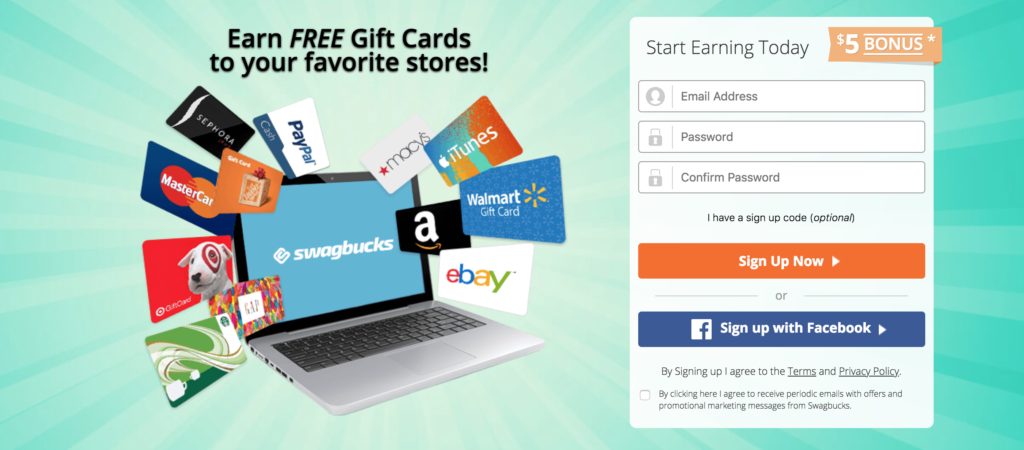 If you are interested in learning more about this free resource, you can read my full Swagbucks review here.
CASH BACK FROM ANY ONLINE SHOPPING
Ebates:
Ebates works with over 2,000 retailers including Indigo, Amazon, eBay, Nike, Foot Locker, Michael Kors, Groupon, and so many more! You can earn up to 40% cash back with Ebates when you shop online. No, this is not too good to be true! I personally use Ebates to easily save over a few hundred dollars per year with no effort, so I can tell you that there are no gimmicks here!
If you're new to Ebates, sign up here and you'll receive a special welcome bonus of $10 (the U.S.) after you make your first $25 purchase online through Ebates.
For my Canadian readers, you can sign up here through ebates.ca to get your $5 bonus.
You can click here for my full review and tutorial on how to use Ebates. I promise that it's really easy and literally takes less than 5 seconds to sign up since it only requires your e-mail and a password. You won't be disappointed with Ebates!
Dollar Dig:

Dollar Dig is a relatively newer cashback website that is available in the U.S. and Canada. They are very similar to Ebates where they offer cash back rebates at over 3,250 stores, along with coupons and deals.
For a limited time, sign up with Dollar Dig here and get your FREE $2.50 bonus! Yes, signing up is absolutely FREE!
Tip: When you're about to shop online, log onto both Ebates and Dollar Dig to see which program is offering the better cash back deal on that day. It's always smart to do a comparison prior to shopping. 😉
Paribus:
If you're not using Paribus, then you're seriously missing out!
This app connects to your email inbox to scan for receipts. When you make purchases online, you would usually receive a confirmation of your orders. When Paribus finds a price drop on any of the items you purchased, and you're eligible for a price adjustment, it will notify you and the retailer. The best part is that you don't have to go through the hassle of getting your money back because Paribus will do that for you!
Sign up for Paribus for FREE so that you can start putting that cash back into your wallet!
Amazon Prime FREE Trial:
When you sign up for an Amazon Prime membership, you could potentially save A LOT of money in the long run. First of all, if you buy regularly from Amazon, you will get unlimited FREE 2-day shipping on most Amazon purchases.
Secondly, you can cut a lot of your unnecessary spending because you will literally get UNLIMITED access to over thousands of books, magazines, audio, video streaming, and more! It's a great alternative to the other monthly subscriptions you're paying for such as cable, Netflix, music, magazines, etc. The price is really cheap and worth it!
⭐️ In fact, you can get a FREE 30-day trial here. If you don't think it's right for you, cancel it anytime with no questions asked. Also, there are NO penalties nor fees — it's absolutely risk-free to test it out! Who doesn't like FREE trials? 🙂
SAVE MONEY ON YOUR MONTHLY BILLS
OhmConnect:
What if I told you that you can earn money by conserving energy at home? Yes, that's right! OhmConnect will PAY you to save energy. That means you'll have more incentive to lower your electricity bills and save even more money! All you have to do is sign up with OhmConnect and get a FREE $20 bonus here. They will also send notifications about your home usage for you to keep track.
How OhmConnect works is they will reward you with points; 1,000 points is equivalent to $10. You can cash out your points through PayPal or use them to buy gift cards used for the OhmConnect store. Again, there's nothing for you to lose but everything to gain!
You can sign-up with OhmConnect and get a FREE $10 bonus through my link. On top of that, get an additional FREE $10 when you connect to any smart device. That's a total of FREE $20 just by signing up. And YES, this is 100% FREE to use!
Trim:
Trim is an awesome FREE personal finance assistant bot.  He will keep track of your finances and help you save money. For example, Trim will negotiate your cell phone, Internet, and cable bills. It will even cancel the ones that you don't need! Pretty cool, huh??
Trim has saved their users over $1,000,000 in the last month. Sign up for Trim for FREE here!
CASH BACK FROM GROCERIES & MANY MORE!
Checkout 51:
Checkout 51 is an app that gives you cash back for your grocery shopping! You can use it on your mobile phone or computer desktop. I personally prefer my phone because it's just easier.
Every Thursday, Checkout 51 will renew their list of cash-back items. You get cash back by purchasing items on their list and uploading your receipt through the app. Don't worry, it's very easy to snap the picture and send. Once you submit your receipt, they will approve it within a few days and credit the cash into your Checkout 51 account.
When your Checkout 51 account reaches a minimum of $20, you can request them to mail you a check. Woo-hoo! You've just earned yourself some extra money after cashing the check into your bank account!
Yes, it's really that simple. Sign up to Checkout 51 here and get a FREE $5 bonus after uploading a few receipts. Start earning cash back on your purchases!
Caddle:
Caddle is a rewards and surveys program that is relatively newer and only available in Canada. It's similar to Checkout 51 that you get cash back on groceries and household supplies. Unlike Checkout 51, Caddle gives you cash back for shopping and eating at restaurants. On top of that, you make money by answering very short surveys, watching videos, writing reviews, and engaging with brands on social media. Sign up for Caddle here and start saving and earning extra money!
For more information about this app, read my post, The Cash Back App You Need Today: Caddle Review.
Flipp:
Do you feel overwhelmed with all the flyers that flood into your physical mailbox? Want to know what's on sale so that you can price match your purchases without physically bringing in a flyer to the store? If so, then Flipp is the perfect app for you!
Not only does Flipp have all your flyers located in one place — your mobile — it also offers coupons that you can print off and use. In some cases, you can also upload your receipt for certain items and get cash back (similar feature to Checkout 51 and Caddle). Another great thing about this app is that you can combine the coupon and offers with other cash back apps such as Checkout 51 and Caddle.
In summary, Flipp is perfect for price matching, coupons, and getting some cash back! It's also free to download and use! Save time and money by signing up for Flipp here!
$5 Meal Plan:
Are you tired of spending your time on meal planning? Maybe you don't plan out your meals, but you're looking for ways to save money without having to eat out every day. If that sounds like you, I highly recommend this $5 Meal Plan. It's a weekly meal plan service that aims to make your life easy by saving you time and money. For only $5 a month, you will receive a delicious meal plan that costs less than $2 per meal. They also offer a free 14-day trial absolutely risk-free. If you decide that this isn't for you, simply cancel it with no questions asked.
Start your 14-day FREE trial here.
FREE KINDLE READING APP
You can download and use the Kindle reading app for FREE here!
Now, you can store all of your books in one single place — your very own Amazon Kindle library!
I personally use this app and I like how convenient it is. With this app, you can take all your books with you and read wherever you want. You don't need the Kindle device to take advantage of this FREE app because it allows you to read from your PC, mobile, or tablet on the go.
You can also get great prices and selections from Amazon when you download this FREE Kindle app. Not to mention, Amazon makes this easy by allowing you to read the first chapter of the eBook for free before you decide to make a purchase.
🌟 Oh yeah, did I mention that there are thousands of FREE books that you can grab here from Amazon when you download the free Kindle reading app? You don't need the Kindle device — it will work on your PC, smartphone and tablet! 😉
BIRTHDAY FREEBIES!
Did you know you can get all the awesome FREE STUFF here on your birthday?
What a great way to save money on your special day! Be sure to prepare early to avoid missing out on those freebies valued at over $150! 🙂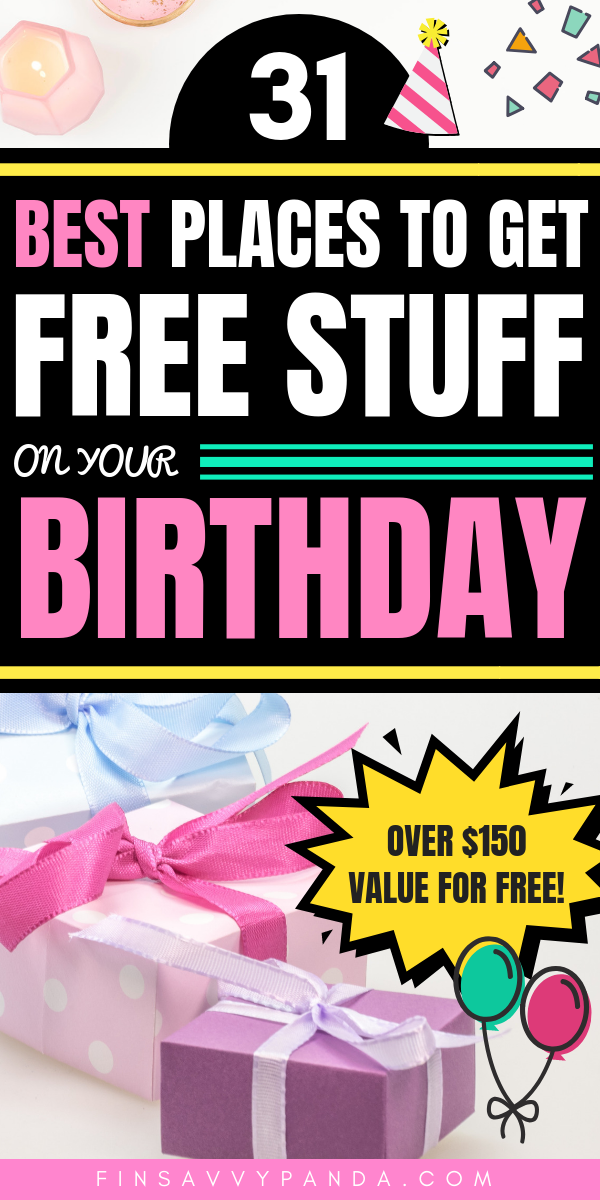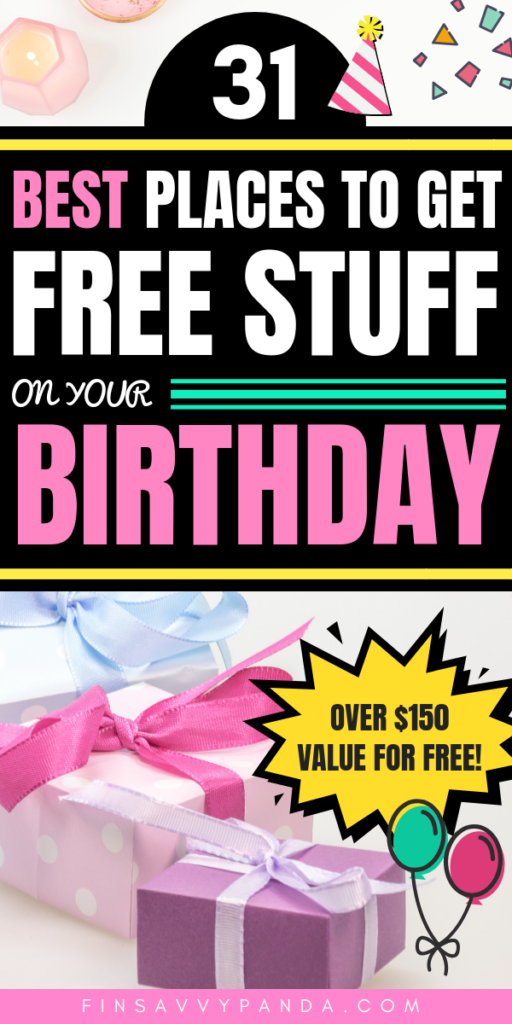 FREE AND EASY WAYS TO MAKE MONEY
Survey Sites That Actually Pay You:
Surveys won't make you rich overnight, but it's an easy way to earn some extra cash on the side. I recommend doing them when you're bored, waiting for the bus, or watching your favorite TV shows. You have nothing to lose because they are all free to join!
American Consumer Opinion – This online survey site pays you to do simple surveys. According to ACOP, they have over 6 million members worldwide who get paid to participate in surveys and research projects.
Survey Junkie (for US) – One of my favorite survey sites is Survey Junkie because their interface is so user-friendly! You can redeem cash or earn free gift cards for completing their simple surveys. Not to mention, they also reward you with some points even if you don't qualify for a survey.
Survey Junkie (for CA) – This is the Survey Junkie link for Canadians.
⭐️ If you're interested, you can learn 9+ easy ways to get FREE gift cards that can help make your spending a little more affordable. I personally love redeeming FREE gift cards for my holiday shopping!
Related post: The Best Paid Survey Sites To Join For FREE (Earn Up To $500 in FREE Gift Cards and Cash)
ShopTracker: Get FREE $36/year just for installing this app!
You can passively earn FREE money when you install the FREE ShopTracker app onto your phone or desktop. They will pay you because you're helping them understand the behavior of buyers which allows them to create products that you actually want.
Also, do you buy stuff online from Amazon? I'm sure most of you do!
All you have to do is download it onto your PC or mobile device and link it to your online shopping account like Amazon. To put your heart at ease, you don't have to worry because your name, address and credit card info will NOT be collected. They are only interested in the non-personal info about your purchases!
They will also instantly give you a FREE $3 Visa gift card here. Plus, passively earn $3 every month just for having the app installed on your phone. That's a total of $39 with no effort!
🌟 Download the FREE ShopTracker app here and start earning some FREE cash!
Related post: 13 Low-Stress Side Hustles That Make Money Now — #8 is FREE to join and they're hiring now!
FREE PRINTABLES
The Fail-Proof Budget Toolkit (Inspired by Gail Vaz-Oxlade):
Inspired by Gail Vaz-Oxlade's fail-proof ways, I created this epic Budget Kit (tool + printables combo) just for you! It's what helped us amass our savings and equity to almost $800,000 today and now it's your turn!
Click on the image below to subscribe and get your FREE copy today (only exclusive to my subscribers)! 🙂
FREE CREDIT ANALYSIS
Credit Sesame:
Did you know that you can save thousands of dollars by having an excellent credit score? The higher your score, the less interest you pay.
To get a good understanding of how important your credit score is to your financial health, read this article, How a Good Credit Score Can Save You $83,770.
As a start, check your credit score for FREE at Credit Sesame. This won't impact your credit score at all and plus, it's crucial to know where you stand! The sooner you start, the sooner you can improve your score and save thousands of dollars!
If you're Canadian and want to improve your financial well-being, be sure to check your credit score for FREE with Borrowell here.
TREASURE HUNT
Freecycle + Trash Nothing App:
Trash Nothing is an online app where you can donate your stuff as well as pick up stuff for free — all within your local community!
This program is similar to buying and selling on platforms such as Craigslist or Letgo, except that everything is for free here. The whole idea is to promote the three R's (Recycle, Reduce, and Reuse).
This app makes it simple for people to give away their stuff to others who can use them. I use this resource to find furniture that people want to trash or give away for free. At the same time, I also post my unwanted stuff to give. In the end, it's your choice to give or not. But, I personally would feel horrible for only taking and not giving back to the community. And that's why I post my stuff for donations with this app as well. Become a member of Freecycle's community by signing up here!
Related post: How To Save Thousands of Dollars By Flipping Furniture
Other Free Stuff:
In case you didn't know, there are also FREE sections within the following online platforms you use to buy and sell stuff.
– Kijiji
– Letgo
– Craigslist
– VarageSale
I am only interested in free furniture because I love to refurbish them during my spare time! But aside from furniture, there are other items that people give away for free to their local community. You can also give your unwanted stuff away for free here! 🙂
I'll be adding more to this list from time to time. For now, enjoy all the freebies that will help you save thousands of dollars at no cost to you! 🙂
Have a question or comment? Feel free to reach out to me at [email protected] I'd love to hear from you!
Pin this to Pinterest for your reference! 🙂