This post may contain affiliate links. Please read our disclosure policy for more information.
Best Survey Sites (That Actually Pay Cash and FREE gift cards)
Whoa, take paid surveys for cash?
Really? Can you actually earn money for free online by taking paid surveys?
This idea may be new to some of you, but for those of you who have already heard about online survey sites, you might be asking…
What are the top survey sites that actually pay? What are the highest paying online surveys? What are the best survey sites to join?
I bet you're here today because you're searching for ways to make some extra cash by taking free paid surveys!
Not to mention, you're probably also thinking… OMGOSH, I need some money now!
I know, I know…
There are thousands of survey sites that claim you get money for taking their online surveys but end up paying you nothing. There are also survey sites that don't have many opportunities for you to earn extra cash. That's why at the end of this post, I list my very best tips to help you avoid scams and false promises made by those online survey sites.
For now, throughout this post, I will talk about the best survey sites that you should join to earn extra money. And yes, legit sites like Swagbucks will pay you cash or FREE gift cards (it's really up to you and what you want) for your time.
Before you read on, I want to mention that these are not the "get-rich-quick" schemes that we hear of all the time. I'll be honest to tell you that taking online surveys won't make you wealthy become the next Bill Gates or Jeff Bezos, but completing surveys for money in your spare time is definitely a quick and easy way to make extra money online on the side.
Getting paid to do surveys is a fun side hustle that can definitely help make your spending more affordable. That includes buying some groceries, filling up the gas for your car, buying birthday and holiday gifts for your besties, splurging on your favorite latte from Starbucks without having to cut back, and much much more! 🙂
Which survey sites pay cash?
From one of the most popular survey sites like Survey Junkie to the best-paid survey apps like Swagbucks, there are many survey companies like these that pay cash and are worth your time.
👉 Let's cut the chase so you can go straight to the list and join some of those highest paying online survey sites here.
So, why should you take paid surveys online? What's in it for you?
All of the top market research companies want to understand their consumers so they can create the perfect products and services for you.
For them to do that, they need to understand YOU and what YOU want. That's why they are willing to pay you cash and gift cards in exchange for your opinion. Like I always say, it's one of the easiest and quickest ways to earn money online with no experience required. Have a bit of fun with surveys and get paid to voice your opinion!
Free paid surveys
Here is the best part…
These best survey sites are all 100% FREE to join! 🙂
Yes, fortunately, you can make money online (anywhere from $50 to $500 per month) by combining and taking these surveys for FREE!
👉 By the way, if you're Canadian, you may want to check out these 10 best paid survey sites in Canada.
Related posts on how to make extra money online aside from taking paid surveys
If you're looking for other ways to make money online, be sure to bookmark and check out readers' favorite articles below.
– 11 Things I've Done To Make Over $3,000 Every Month (Without a Real Job)
– How To Put An Extra $500 to $1,000 into Your Bank Account This Month (this stuff really works)!
– 8 Real Ways To Make Money Online — You Can Make An Extra $3,000+ Every Month With #4!
Pin or bookmark this best survey sites post for later!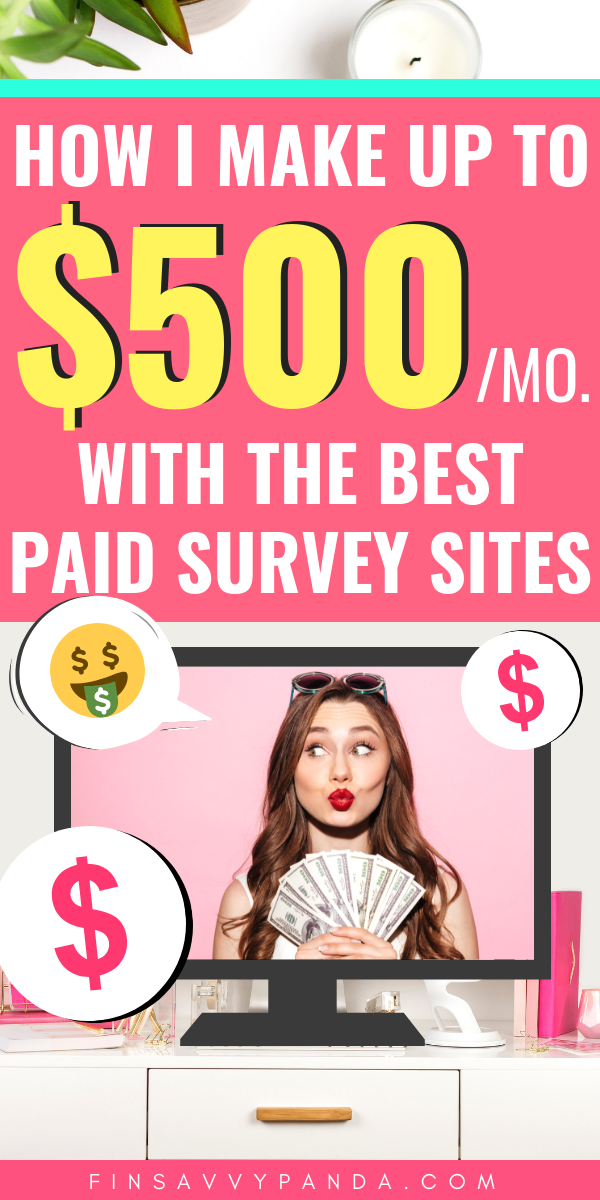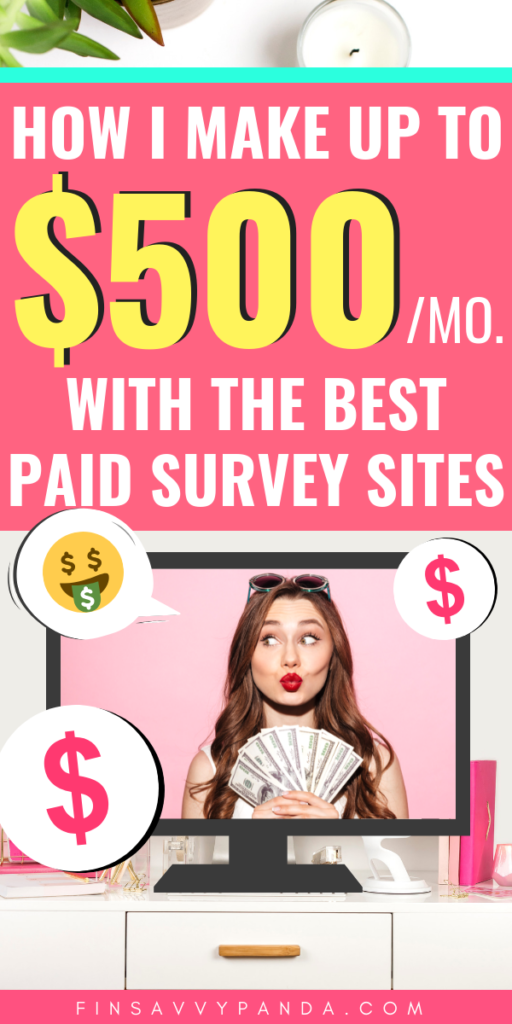 Rest assured that the paid survey sites on this post are all legitimate that pay real cash and are top survey sites. Again, they are absolutely FREE to join and use!
With that said, below is a list of the best paid survey sites that you should join today.
💡PRO TIP: It's clever to sign up for as many survey sites as possible so that you come across more earning opportunities. More earning opportunities equals more money and rewards.

To make life easy and organized, I highly recommend creating a new Google e-mail account that's only for e-mail notifications from the survey sites you signed up for. That way you avoid clutter in your personal e-mail. That's exactly what I've done and it's helped tremendously!
Highest Paying Online Surveys:
I personally like earning free gift cards to redeem free Starbucks drinks.
But aside from earning free gift cards to your favorite shops, here is a list of the best online surveys that pay you cash when you need money…
1. Survey Junkie
Join here: FREE membership at Survey Junkie
Just over a year ago, I learned about Survey Junkie and let me tell you this… they are one of my favorite best paid survey sites today!
I was able to earn over $58 in a month with them doing easy online surveys! I was very shocked because I didn't expect survey companies to provide this kind of high payouts to survey takers!
While I was researching and reading about Survey Junkie on Trustpilot, the reviews really surprised me! Actual real users mentioned that this survey site helped them pay for their monthly utility bills. That's at least a couple of hundred dollars! With that said, they deserve their 4.5/5 rating on Trustpilot Reviews!
One of my favorite features about Survey Junkie is their user-friendly interface (not old school like most other survey sites). This enhances user experience and allows you to navigate around easily.
How does Survey Junkie work?
Simple! 🙂
You get rewarded with points each time you complete a survey.
Since most surveys reward you between 50 to 200 points, you'll be able to cash out and redeem your rewards in no time. The minimum payout threshold is $10, which is equivalent to 1,000 points.
The two payout options are 1) you get paid cash through PayPal or 2) you exchange your points for gift cards at your favorite shops.
👉💵 It literally takes less than 1 minute to sign up for Survey Junkie here. You can start earning some extra money online right now!
2. Swagbucks surveys
This is hands-down, another one of my most favorite online survey sites (I joined Swagbucks in 2009)! It's also one of the most popular and well-known legit survey sites today.
I remember this being the very first survey site that I joined to make money, while I was in University, and I fell in love with them!
Why??
Because Swagbucks gave me the highest payout for my efforts. I was able to get FREE Starbucks coffee and drinks just by using Swagbucks! With the $50-$100 gift cards, I didn't have to pay for some of those expensive $5 lattes as a broke student! Isn't that ah-mazing??
Check out the free $50 gift card I just redeemed online from Swagbucks!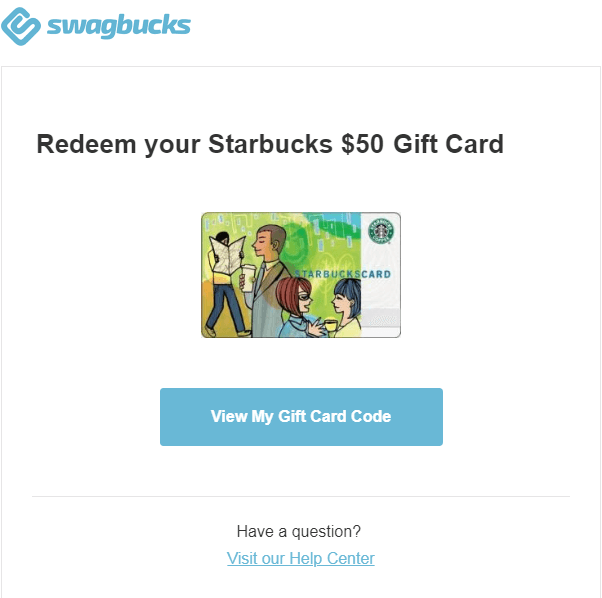 Aside from earning FREE gift cards, you also have the choice to redeem your points in cash.
How does Swagbucks work? It's super simple! You earn "Swagbucks" points (SBs) and it's your choice to redeem them in either FREE gift cards or cash — whatever you like! ❤️
Aside from taking surveys, you can also earn cash by:
– Surfing the web and playing online games (get a $5 bonus)
– Watching entertaining videos (get a $5 bonus)
– Shopping online (get a $10 bonus plus up to 20% cash back on your purchases)
Today, Swagbucks has already paid its members over $398,249,483 to date!
👉💵 You can become a member for FREE and quickly claim your $5 welcome bonus here.
3. American Consumer Opinion

I recommend using American Consumer Opinion (ACOP) to earn some extra cash. I use this survey site because they pay you cash just for completing really simple questionnaires!
They've paid me to answer surveys that asked questions like… Where do you buy pop soda? Which stores do you purchase your soda from?
From my personal experience, each survey takes less than 10 minutes to complete. Not bad when you're lying around your couch or bed with a bit of free time.
May as well earn a little extra spending money while you can! I like the fact that it's FREE!
There are currently over 7,000,000 active members at ACOP today!
👉💵 You can sign up for American Consumer Opinion here and start earning extra cash today. It only requires your e-mail for free membership, so it definitely doesn't hurt to give them a try!
4. MyPoints
Join here: earn FREE $5 bonus immediately after taking 5 easy surveys!
MyPoints is actually owned by Swagbucks so they are definitely trust-worthy and legitimate! You seriously need to try both of them!
How does it work? Given that their name is "MyPoints" it's a no-brainer that they pay you with points (their form of currency). Once you accumulate enough points, you can cash out at their minimum payout of $10 for FREE gift cards, cash, and other rewards (it's all up to you).
In addition to making money with paid surveys at home, MyPoints will also reward you for the things you do online, such as:
– shopping for the things you were going to buy anyway (get a FREE $10 Amazon gift card on your online purchase over $20)
– reading emails (join for FREE)
– engaging in other fun online activities (a FREE way to make money online)
👉💵 You can sign up for MyPoints here and get a $5 bonus after taking 5 easy surveys. As always, it is FREE to sign up for and use.
Are you interested in learning how I make an extra $1,000 just by using my smartphone?
Check out the best money making apps here! Similar to online surveys, it's a free way to make money during your spare time! 💵
5. Vindale Research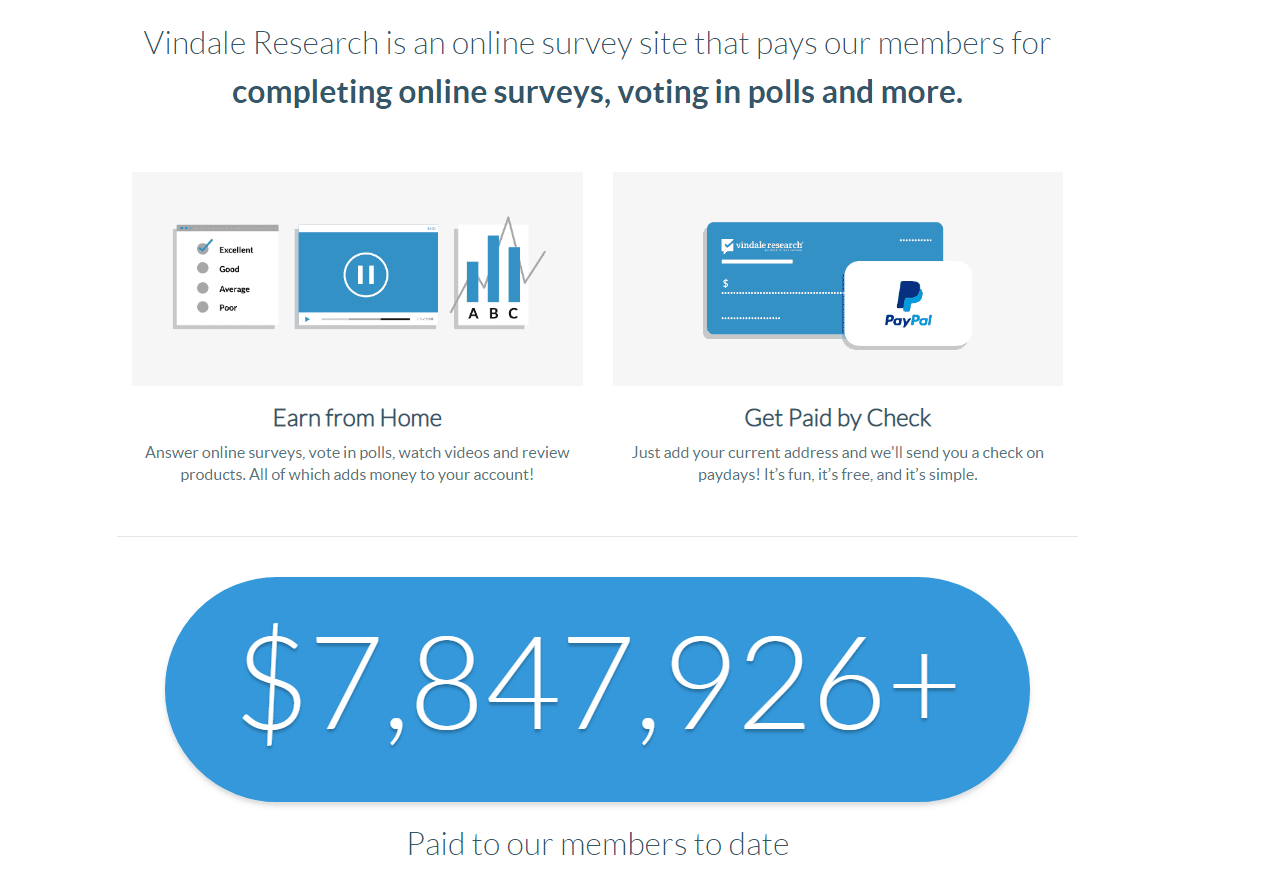 Vindale Research is a relatively newer online market research company and they're paying for people like you for your time. You'll earn anywhere between $0.50 up to $50 per survey and it's absolutely free to join!
To get started, you can sign up here (if you are from Canada, use this link here) and start earning extra cash and free gift cards!
Their surveys are simple to do and again, membership is 100% free.
As you can see, Vindale Research has over $7,847,926 paid to its members, so you can rest assured it's a legitimate survey and market research company!
👉💵 Sign up here (U.S.) for FREE and start earning some cash during your spare time!
6. Pinecone Research
I signed up for Pinecone Research and I found out that they are one of the highest paying survey sites out there. For each completed survey, you'll earn $3!
If you are given the opportunity to complete 17 surveys within the month, that's an easy $51 PayPal money in your pockets right there — that's equivalent to many free Starbucks or McDonald's coffee that you could buy every day just for giving your opinion.
You could even use your PayPal money to get a $50 Amazon gift card for free! Everyone LOVES Amazon, so why not??
Aside from taking paid surveys, you also get opportunities to test new products before they hit the stores. What a cool way of trying new products for FREE! Plus, you can influence the companies' decision of whether or not they should release those products.
You can only join Pinecone Research through invitation so feel free to use my links below.
👉💵 Sign up for Pinecone Research (U.S.) here.

If you live in Canada, you need to sign up by using this link here.
7. Caddle Surveys
Caddle Surveys is only exclusive to Canadians and I think it deserves a mention in this post.
Aside from saving money on groceries and takeouts with the app just by simply uploading your receipts, Caddle also pays you extra money to take paid surveys.
In addition to getting FREE cash back for your Costco receipts and the home goods you normally shop for, they also give users a few extremely quick and easy surveys!
By that, I mean it literally takes less than 30 seconds to answer their survey questions. In my very honest opinion, it is by far one of my favorite cash back and surveys apps for Canadians!
I absolutely love Caddle because their surveys are the easiest and quickest to complete. Every Thursday they will refresh their list of surveys and as I said, each survey takes less than 30 seconds to complete.
If you're Canadian, you definitely don't want to miss out on this FREE app. It's one of the highest payout for your time.
On top of getting paid to do a few surveys, you get rewarded for watching videos and engaging with brands. You also earn cash back from your groceries and other miscellaneous purchases.
👉🇨🇦 Canadians, what are you waiting for? Sign up for Caddle for FREE here and get a $1 welcome BONUS!
Other online surveys that pay cash
I am going to give you a quick list of other best paid online survey companies that deserve to be mentioned. I made this easy for you by separating them into regions — the U.S. and Canada.
Also, you can take advantage and grab your FREE cash bonuses just for signing up with your e-mail. 🙂
🇺🇸 For U.S. residents:
8. Inbox Dollars (get a FREE $5 bonus)
9. Vindale Research for the U.S. (get $1 bonus just for signing up with your e-mail, plus earn up to $50 per survey here)
10. Shopper's Voice (get coupons, free products, samples, and a ton of other free stuff here)
🇨🇦 For Canadian residents:
11. Vindale Research for Canada (get $1 bonus just for signing up with your e-mail, plus earn up to $50 per survey here)
12. iSurvey World for Canada (get a $5 bonus)
13. Inbox Dollars (a.k.a. Daily Rewards) for Canada (get a FREE $5 bonus)
Which survey sites are legit?
⛔️ Now, here are some red flags and warning signs you should watch out for!
You may be eager to earn money doing surveys with other companies that aren't mentioned in this post, but be careful! Here are three warning signs you need to watch out for before signing up for other paid survey sites. You want to make sure that those are online surveys that pay cash (or at least compensate you in some way).
1. Is the survey site making big promises? Are they telling you that you can quit your current job to pursue a full-time job doing online surveys?
Yes, you can earn money doing surveys but don't expect to make millions (or even thousands) because you won't. Taking surveys for cash is just enough to earn you some side income for additional spending or paying off a small amount of your debt. Again, it makes an easy and quick side hustle.
💰💰 If you're really looking for a side hustle that could potentially replace your income, consider starting your very own blog that makes money here.
Aside from taking paid surveys, check out how I earn over $4,000 per month online with my blog!
2. Are they asking you to pay a fee to join?
You should get money for taking surveys, not the other way around! Even if they ask for a small fee in exchange for unlimited earning opportunities, stay away from it because it's likely a scam! No matter how small the fee, you should never have to fork out a penny to do online surveys. Based on the survey sites that I know, they are all FREE to join!
All the surveys on this post are the best free survey sites available to us.
3. Beware of some companies sending you e-mails about survey opportunities.
If you don't remember signing up for the survey site, don't click on it. Simply ignore the e-mail and unsubscribe from it!
Over to you — do you make money off surveys? Are you a member of these best survey sites? Do you recommend any other online surveys that pay cash?
Don't forget to bookmark this and share it! 🙂