This post may contain affiliate links. Please read our disclosure policy for more information.
My post, "8 Clever Things You Need To Do When You Hate Your Job (But Can't Quit)," from last week encouraged me to think further about my future. This means getting out of my comfort zone and pursuing my passions.
I'm sure many of you can relate, right?
Today, I compiled a series of quotes that will inspire you to become the better version of you. I've been personally using them as my weapon to defend myself from the negative Nellies. You know… friends who laugh at you and think your dreams are impossible. Or, coworkers and family members who tell you that you should be happy with your current salary and "white-collar" office job (or any job for that matter).
Anyway, I sincerely hope this will open up your mind to reach your fullest potential.
I also made a set of free printables just for you right here. Don't forget to save them on your phone to remind yourself on a daily basis that "you've got this!"
Here are the quotes that I want to share with you today:
1) Formal education will make you a living. Self-education will make you a fortune. — Jim Rohn
If you've been following me, you will know that I always talk about how general society engraves this false concept into our heads: to live a happy and "successful" life, you must pursue a "formal" education and get hired by a "big company" who "pays you well."
I'm not against this idea, but most people think that a formal (or "higher") education is the road to riches. Most of the time, this formal education is "forced" upon us due to society's set standards.
Your University degree, masters, and Ph.D [or whatever designation that completes the alphabet behind your name] is what pays the bills. Not to mention, it also entitles you to buy an inflated lifestyle that's hard to keep up with. Keeping up with the Joneses, anyone? It's no wonder why most of us end up at the jobs we don't love.
With all that said, formal education may be a requirement to make a living. But don't forget about self-learning. More often than not, self-learning is driven by initiative and the feeling of "because you just want to." This "because you just want to" feeling is your passion. It's something that piques your interest. As Warren Buffett would say, "The more you learn, the more you earn." 
So, go self-educate yourself on something you have a passion for. And don't be surprised if you eventually earn more.
Related: This Investment is Guaranteed to Give You 100% Returns
2) Chase your passion, not your pension — Denis Waitley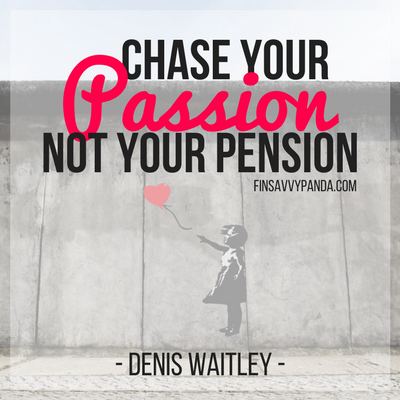 Last week, I wrote a post for those of you who hate your jobs but can't quit. In that post, I talked about eight things you need to do in order to cope with your current situation. If you haven't read the post, I really encourage you to head on over and read it.
A lot of the times, we work at the jobs we hate, or don't love, for the sake of getting paid and having access to our company's benefits.
Using my fiance as an example, he's too caught up with his company's retirement calculator. He tells me that if he stays with his company, we would be set for life (even if I quit my job now) because he'll receive an awesome pension that would feed the both of us. We would be able to travel a few times a year, go out for dinners, and you know… basically living a pretty comfortable lifestyle.
My response?
I said to him, "unless you can switch to another job that you LOVE, within the same company (AND be able to tolerate it for the next 35 years), I'm not buying into any of that pension crap!" By the way, I know he won't love any job there, nor will he be able to tolerate it. So, no, he shouldn't be chained for the next 35 years just because of some stupid pension.
The same applies to you — free yourself by chasing your passion and not your pension. This path will pay off in the long run.
"Choose a job you love, and you will never have to work a day in your life."  — Confucius
Related: This Epic Quote By Warren Buffett Will Inspire You To Become Rich!
3) Persist – don't take no for an answer. If you're happy to sit at your desk and not take any risk, you'll be sitting at your desk for the next 20 years. — David Rubenstein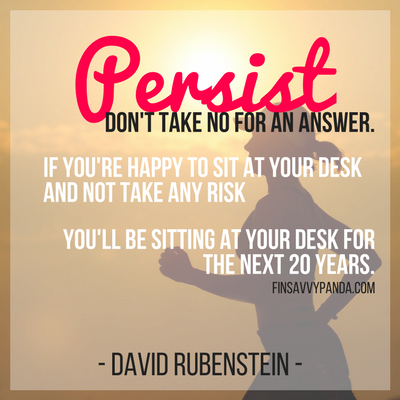 Most people will tell you that it's impossible to make a living from your passions. But I'm here to tell you otherwise.
Yes, it's possible; you just gotta believe in it. Once you believe in yourself, you've already won half the battle.
I know there will be times when it feels like the world has come to an end, but you gotta battle your way through until you get it. More often than not, your patience and perseverance will pay off.
Do you want to sit in that depressing cube for the next 20 years wondering how things would've turned out?? 20 years from now, you don't want to catch yourself saying: "I could've, should've, would've, but didn't."
4) Don't let the fear of losing be greater than the excitement of winning. –Robert Kiyosaki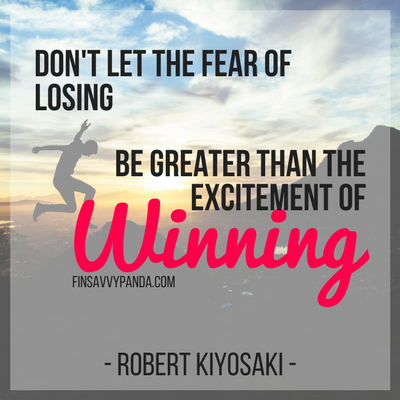 Most of us get too comfortable with our current jobs and we become resistant to change. We fear the unknown and that's why we chase our pensions [the boring but "comfortable"], and not our passion [the exciting but "not-so-comfortable"].
I know this is easier said than done, but we need to stop it with the self-limiting thoughts.
Using money as an example, most people fear losing what they already have. This is why humans have the tendency to save, hoard, and protect as much as they can. By the way, there's absolutely nothing wrong with saving. I am all for it as long as there's a purpose.
I think about this "hoarding" behavior a lot, and the more I think about it, the more I ask myself: "Why do we choose to live in the world of scarcity and fear?" With that said, I've been opening up my mind towards the world of abundance, love, and "unlimited earnings." The latter sounds more exciting than the former, doesn't it?
The same applies to your passions: be more excited about the potential of winning than the fear of failing or losing. It's the lack of an open mindset and the fear of failing that limits you from chasing your dreams. You know that your only limit is you, right?
Long story short, look forward to your passion and start owning it!
5) I have not failed. I've just found 10,000 ways that won't work. –Thomas A. Edison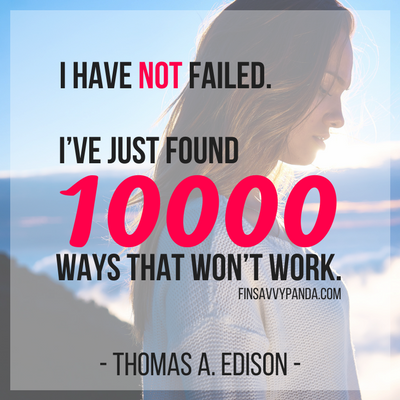 Even if you haven't succeeded yet, that's okay. The more you fail (or should we call them experiments?), the closer you are to succeed because you've learned all the ways that don't work. You may not realize, but that's already 10,000 steps ahead of the person who hasn't started at all.
The more you experiment, the more you'll know what works. So, keep persisting until you find your "ah-ha" moment!
6) Success is walking from failure to failure with no loss of enthusiasm. –Winston Churchill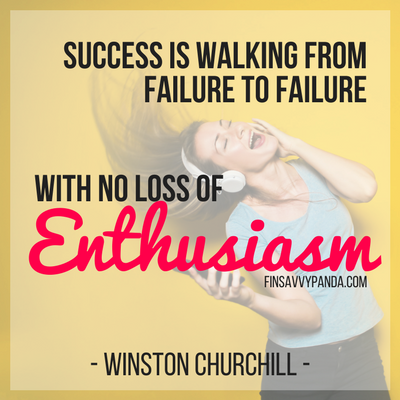 Yes, you've failed many times. Again, should we just call them experiments? If you truly enjoy learning, you'll keep persisting and experimenting.
The saying goes: your chances of "becoming lucky" is higher when you keep learning and experimenting [without losing joy or interest]. However, your chances of "becoming lucky" is guaranteed to be zero when you sit and do nothing [i.e. no enthusiasm].
7) If plan A fails, remember there are 25 more letters. –Chris Guillebeau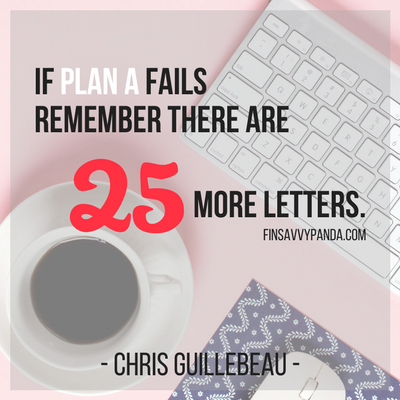 Just remember, as long as you're still alive, it's not the end of the world. There are many other opportunities (A to Z) out there for you. On second thought, there's actually more than that if you ask me. The number of opportunities is unlimited!
"🎵 If at first you don't succeed, dust yourself off and try again… Dust yourself off and try again… You can dust it off and try again, try again… 🎶" Remember our Angel, Aaliyah?
8) You can only become truly accomplished at something you love. Don't make money your goal. Instead, pursue the things you love doing, and then do them so well that people can't take their eyes off you. –Maya Angelou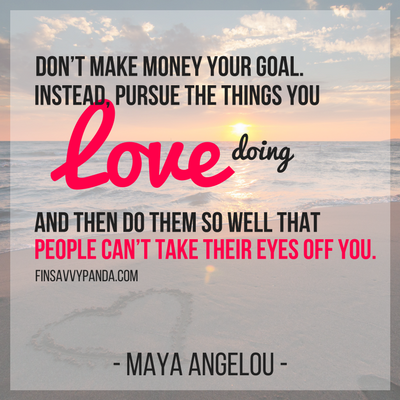 Again, we are usually drawn to self-education when we are learning and pursuing the things we find joy in. It is natural that we become addicted to our passions (that's when you know you love what you do) and eventually become an expert at it. Once you're an expert on whatever topic it is that you love, a mountain of people will come after you. This ties in with the next quote…
9) Do what you love and the money will follow — Marsha Sinetar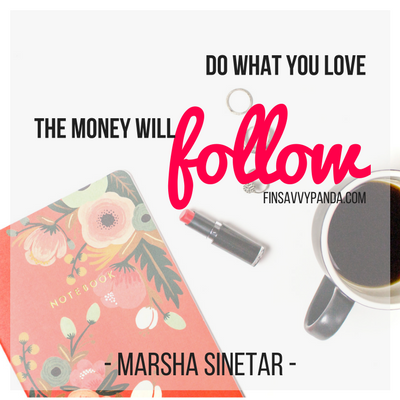 And when you do get that mountain of people coming after you, that's when you know you've made it. The money follows you without having you chase after it. If you're able to connect the dots, this goes back to "chase your passion and not your pension."
Over To You
It's all up to you now. Your behavior and actions stem from your mindset and how you think. With that said, I hope these motivational quotes will give you that drive to take your first step.
Well, what are you waiting for? Tell me, is your mind thinking about your passion or your pension?
I want to hear your thoughts, so please share your comments below. Or, if you like, e-mail me at [email protected] I will respond to all e-mails. Talk to you soon!
Did you enjoy this post? If so, don't forget to share it on Pinterest! 🙂
More $avvy Reads for You!
Want more $avvy tips for help?
Here are more money tips and motivational reads for you:
– 5 Reasons Why Starting a Blog Will Change Your Life Financially
– The Epic Tool You Need To Retire Early Like a King!
– Wanna Become a Millionaire? This Awesome Tool Will Guide You To Becoming One!
– How To Make Mr. Compound Interest Your BFF and Take Advantage of His Sexiness
– How To Achieve Your Goals the Warren Buffett Way
– 5 Amazing Money Tips From a Billionaire That Will Change Your Life
– This Investment Beats Bitcoin
– This Quote From a Billionaire Will Inspire You To Become Rich!
– You Can Live Like This Billionaire: Here's How!
– 10 Ways To Develop a Rich Mindset: #10 is Seriously Mind-Blowing!
– 15 Financial Goals That You MUST Achieve: What's YOUR Score?
Again, if you like what you read, don't forget to share this on Pinterest! Thank you in advance!! 🙂
Don't forget to subscribe (at the yellow bar on top) for more weekly money tips and inspiration! I promise that I do not spam. I also do not share anyone's information.