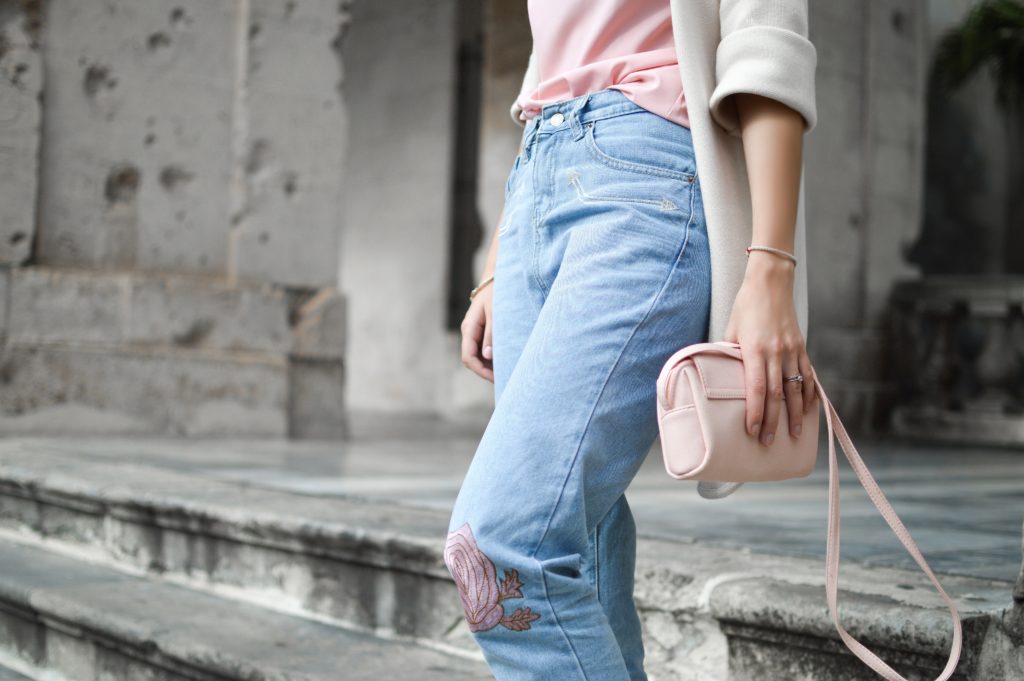 We will receive a commission if you make a purchase through our affiliate link at no extra cost to you. Please read our disclosure policy for more information.
How To Save Money
Today, I'm going to talk about the best ways to save money fast.
I know that saving money can be tough because it's so easy to spend without realizing where your money is going. Trust me, I know exactly how you feel because I was that person who used to mindlessly spend on things that I thought made me happy but really didn't.
Seriously, where did all that money go??
In the end, I realized that my money was wasted because those things didn't add any value to my life — other than the few minutes of instant gratification of owning them. Within a few weeks, I forgot that I even purchased that thing-a-ma-jig!
In the past, I've made SO many mistakes with my money that I wanted to share these creative ways to save money each month. I want to tell you that saving money isn't for boring people. You can still enjoy life while saving a lot of money — you just need to be smart and resourceful!
Without further ado, here is a roundup of 50+ saving tips that will help you keep more of your money without sacrificing your quality of life!
Understand what drives impulse buying.
If you're spending too much and/or getting yourself into credit card debt, the first thing you need to ask yourself is why are you buying things on impulse.
According to this article by Psychology Today, What Motivates Impulse Buying, knowing and understanding what drives your impulse buying will help you spend less and save more. I highly recommend reading this article because it will help you understand the psychology behind your spending habits.
I was able to relate and wrote about how I stopped spending money on unnecessary things which helped me save over $10,000!
To fight the urge, I wait at least a week to see if I'm still thinking about the item. If I don't, then that means I don't love it enough to buy it.
Walking away gives you the time to assess whether you really need that $40 outfit or $200 Bose speaker that was on sale. If you don't love it enough, it will be "out of sight, out of mind!"
I promise that this trick will help you save WAY more money than you think.
You can also check out this article on how to trick yourself to save more money.
Start saving $5 to $10 a day.
You can always start small and save as little as $5 to $10 a day.
There is no amount of money that is too small to be saved. Whether you saved a total of $25 or $100, starting with a small number can help boost your confidence and build good habits with saving over time.
Having that said, slow and steady is better than making no progress at all. And the earlier you start saving, the more money you'll have later – this is especially true when you take advantage of the compounding effect of interest on money.
To get started, I recommend investing in one of these cool piggy banks for adults.
You can choose from a variety of different piggy banks including an electronic piggy bank, unicorn piggy bank, or cute Hello Kitty ceramic coin bank. Whichever piggy bank or money jar you invest in, you can count on them to make saving money feel less intimidating and a little more fun for the kids and family. 🙂
Save money by earning free gift cards.
There are many ways to earn free gift cards online today – this is an interesting way to save money on your everyday purchases.
My fiance and I have been using Swagbucks since 2009 to earn various free gift cards. We are able to save money and reduce our spending at one of our favorite coffee shops (ahem… Starbucks) because collecting Swagbucks points will reward you by watching videos, surfing the web, shopping for things you normally buy, playing games, and completing surveys!
In addition to getting free Starbucks and Amazon gift cards, they offer many other retailers and store selections!
This is one of the most well-known and popular surveys and cash rewards programs in North America. Swagbucks is 100% legitimate and has paid out its members $281,868,410 to date.
👉 You can get your $5 bonus here by creating a free account today.

⭐️ Important: To claim your FREE $5 bonus, don't forget to verify the email from Swagbucks in your inbox!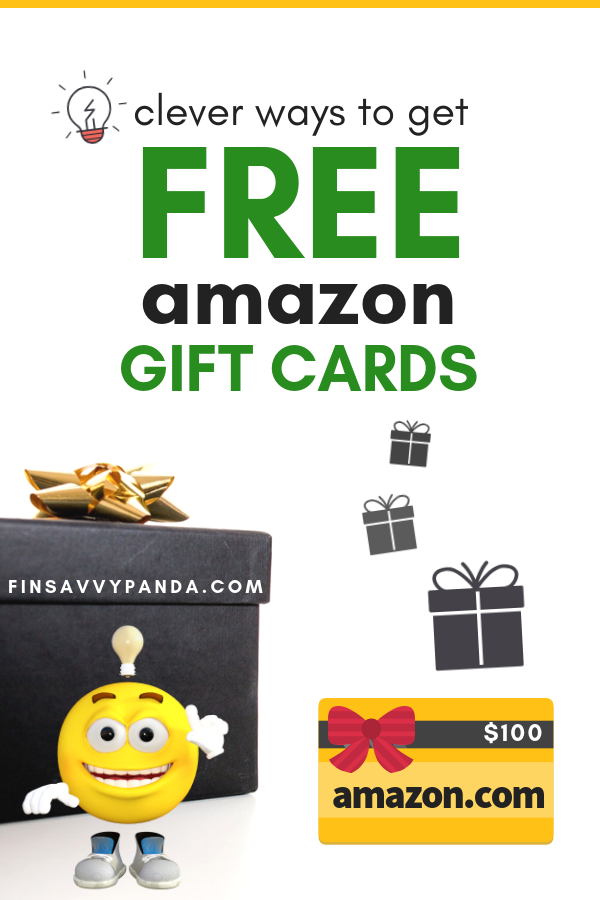 Budget and save your money.
As y'all know, my fiance and I were inspired by Gail Vaz-Oxlade's money makeover shows and that's how we learned about her clever budget strategy. You learn about the different budgeting methods and how to budget your money for beginners here.
I'll admit that our incomes grew over the years, but we still followed Gail's money management tips when we first started off with nothing and living paycheck to paycheck.
You'll also want to learn more about budgeting from these other blog posts:
How to create a budget with our free budget binder
To help you master your savings, we created our version of her fail-proof budget plan just for you! Yes, it's 100% FREE!
In this budget kit, we included a monthly budget tool that keeps track of all your income sources plus expenses. With income in the picture, it's easy to see how much you can allocate to both your fixed and variable expenses. To make your life easier, I also included a section where you can record your monthly investment contributions. This separate "investments" section will come in handy when you read about my third step below.
Aside from the budget tool, we also made these pretty weekly printables that will keep your budget and savings on track. These free printables were made to give you instant results to boost your confidence in your financial journey.
This budget kit is only exclusive to my subscribers, so grab your FREE copy here!
Beef up your credit score.
Did you know that you can save thousands of dollars by having an excellent credit score? The higher your score, the less interest you pay.
To get a good understanding of how important your credit score is to your financial health, read this article, How a Good Credit Score Can Save You $83,770.
As a start, you can check your credit score for free at Credit Sesame. This won't impact your credit score at all and it's crucial to know where you stand. The sooner you start, the sooner you can improve your score and save thousands of dollars!
If you live in Canada, you can check your credit score for free at Borrowell.
Get paid to save energy.
Yes, you read that right!
My family and I get paid by OhmConnect to save energy at home. Because you're getting paid to reduce energy, you'll have more incentive to lower your electricity bills — saving even more money! After you sign up, they will send notifications about your home usage.
OhmConnect works by rewarding you with points; 1,000 points is equivalent to $10. You can cash out your points through PayPal or use them to buy gift cards from the OhmConnect store. As a bonus, you also get $20 for every friend you refer!
On top of that, you will also get an additional $10 bonus just for connecting to one of your smart devices from home. That's a total of $20 FREE cash just for signing up! After that, you can get paid $100-$300 per year just by saving energy.
Other ways to save on energy.
Install a smart thermostat.
We use this thermostat
to save money on energy. I really like this product because it saves energy by learning the temperature you like at home. So when I'm away from home, it will know how to turn down itself and that's how we save money on energy without putting in much effort. Another neat feature I like about this thermostat is I can wirelessly control my temperature at home. Again, it's super convenient when I'm away from home. When I saw this installed in one of the Airbnb units at the cottage, I was interested to learn more about the product. After reading more about it, I was sold on installing one at home. Not to mention, it looks nice too! 🙂
Use LED lights.
My fiance and I immediately switched all of our lightings to LED when we first moved into our new home!
Not only are these LED lights energy-efficient and easy on the eyes
, but they are also safer compared to traditional lighting. They are also low in maintenance because of their longer life cycles! The upfront cost may be more but you're saving a ton of money in the long run! So, there's no reason to wait any longer to reap those saving benefits.
Replace your toilets with dual flush.
When we bought our home, we immediately swapped all three toilets (including the one in our tenants' unit) to dual flush. I highly recommend switching yours too!
With a dual flush toilet, you use less water for liquid wastes and more water for solid wastes. As a result, reducing the cost of your water bill!
According to the Canada Mortgage and Housing Corporation:
Flushing toilets typically represents 40% of household water use, and changing out an older 13L (3 gal) toilet with a dual-flush unit that averages 4.8L (1.3 gal) per flush, can save up to 10% of a household's overall water consumption.

Here is an example of the possible savings a family of four could see by replacing their 13L toilets with dual flush units. The example family flushes 4 times each per day. Over the course of a year, the 13L flushes send 75,900 litres down the drain. The savings associated with the dual flush toilet is roughly 47,890L (12,650 US gal) per year or 63% less than the 13L per flush toilet.
How to save money with birthday freebies!
Did you know you can get awesome FREE STUFF on your birthday? YES, that includes FREE food, meals, desserts, gifts, vouchers, and more!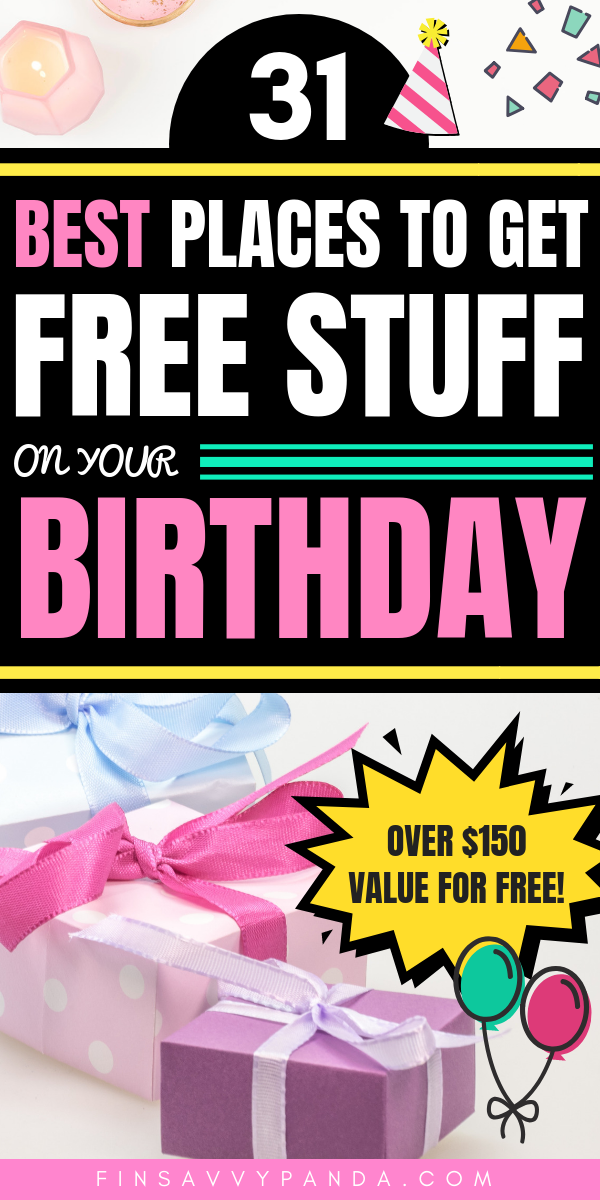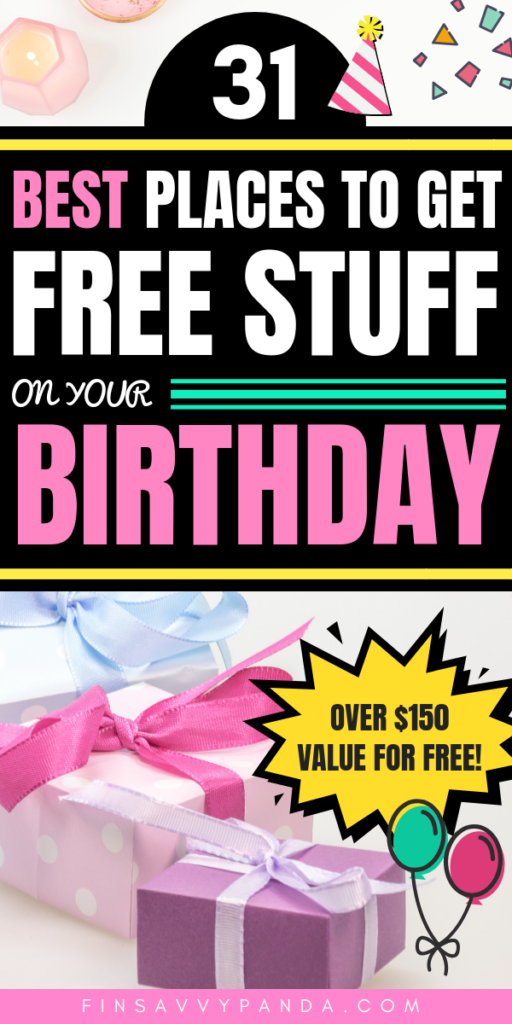 Unsubscribe from most of your e-mails.
During the time when I went through a decluttering phase, I cleared most of my stuff including the e-mails in my inbox. I woke up one morning and spent over one hour unsubscribing from e-mails that didn't add any value to my life. In the past, I'd be lured into all the sales and promos that stores were having and this created an urgency for me to buy. As a result, I wasted a lot of money on things that I didn't need. I was fooled into thinking that I was going to miss out on a really good deal.
After unsubscribing, it cleared out a lot of clutter and noise in my inbox. I also noticed that I wasn't buying stuff as often and it made a huge difference to my savings account! And no, this didn't affect the quality of my life because I was too focused on refurbishing furniture, making extra money, learning more about myself and what I want to do, and now building this blog — all of which I enjoy more than shopping!
So, you know what you need to do now…
Spend some time unsubscribing from e-mails so that you can start saving money and building wealth! By the way, it's okay to stay subscribed to the stores that you absolutely love and shop at. Just be extra cautious when you see deals coming into your inbox!
Put yourself on this $1,000 monthly savings challenge.
One way to speed up your savings is to trick yourself into saving $1,000 this month. Believe me, it's actually fun when you challenge yourself once in a while. Do it for a couple of months and you'll see instant results!
Download my free $1,000 Monthly Savings Challenge here that will convert you from spender to saver in the next 31 days!
Save money by making more money.
One way to speed up your savings is to make some quick extra cash on the side. One of my favorite ways to increase income is to start a profitable blog. You can learn how I went from earning an extra $3,000 on top of my full-time job to over six figures in annual income as a hobby blogger by diving through my blog income reports here.
Don't forget to visit my most popular money-making posts to help boost your income today. Again, by earning more, you can save more money!
Sell your unwanted electronics.
Do you have old Apple and Android devices lying around? Not using that old MacBook anymore?
You can sell your old electronics through Gazelle and get cashback. Based on consumer reviews, they are easy, hassle-free, and quick! To date, Gazelle has paid out over $200,000,000 to their customers and they have a 9.5/10 score on ResellerRatings.
Balance eating at home and going out.
I seriously LOVE going out to eat, but doing that too often puts a huge dent in my wallet.
It's fine to dine out. I've done it often in the past because I couldn't commit to eating at home all the time. I would just get sick of eating home food. But at the same time, I also got sick from eating out every other day. Like I always say, balance is key.
To save some serious money, start cooking your own meals on weekdays and save your special night out on the weekends. You'll be SO surprised at how much you'll save in a year! When my fiance and I started prepping meals at home and eating at my parent's, we saved at least $15,000 a year! That's seriously the cost of eating out often (for others, it's even more). And I'm actually embarrassed to say how much we spent!
The $5 Meal Plan:
If you don't like thinking about what to cook (let's face it, you're super busy), but still want to stay within budget, I highly recommend signing up for this $5 meal plan. It's a weekly meal plan service that aims to make your life easy by saving you time and money. For only $5 a month, you will receive a delicious meal plan that costs less than $2 per meal. They also offer a free 14-day trial absolutely risk-free. If you decide that this isn't for you, simply cancel it with no questions asked.
Learn more about this $5 meal plan and try your first 14-days for free!
In addition to that, I use a few money saving apps to further my savings when I go grocery shopping. I currently use Checkout 51 and Caddle to save money on groceries and home supplies. I also use Flipp to save time by price matching my purchases at one store.
Use Flipp to save time and price match.
If you like flipping through flyers to look for deals but feel overwhelmed by the amount that comes into your mailbox, then Flipp is the perfect app for you!
Not only does Flipp have all your flyers located in one place — your mobile — it also offers coupons that you can print off and use. In some cases, you can also upload your receipts for certain items and get cashback to save money.
Have a potluck with your friends.
Again, it's okay to dine out occasionally with friends. But when we feel that we've gone out too often for the month, we would arrange a potluck together.
Surprisingly, it saves a helluva lot of money and it's actually really fun too! To be honest, I think it's more fun than going out to dine and pay for drinks. Also, the food is relatively healthier and tastes better than the stuff we order from the restaurant!
Here's an example of what my friends and I buy bulk at Costco for our potlucks (especially when we don't want to spend too much time cooking):
Ribs that you can quickly pop into the oven
Costco's rotisserie chicken for salads and sandwiches
The Costco lasagna
Perogies that you can boil and pan fry
Frozen dumplings (these are seriously so good!)
A big box of chicken strips
A big box of Häagen-Dazs ice cream or apple pie with ice cream
Make your own smoothies with Costco's big frozen fruit packages
FREE Costco membership!
Speaking of Costco, did you know that Caddle app gives you cashback on up to five Costco receipts (excluding gas) every week? This is a new feature that they just included.
They will give you back $0.50 for every receipt, so that means up to $2.50 cash back per week if you have five separate receipts. Yes, they also accept receipts when you buy hot dogs, fries, frozen yogurt, etc. from their fast food stand.
That works out to be $130 per year which is equivalent to TWO years of free Costco membership plus an extra $10 in pocket change! For those who don't know, the standard Costco membership costs $60 per year. So, even if you only upload one receipt every week, that still offsets your membership cost by almost half!
On top of getting cash back from your Costco receipts, you can get cash back on other groceries, earn extra money by doing surveys, watching videos, writing reviews, and engaging with brands.
Note that Caddle is only available in Canada
Try Amazon Prime for FREE!
If you're a frequent buyer on Amazon, then the Amazon Prime membership can save you a ton of money! For those who don't know, here's how Amazon Prime may benefit you. You will get:
unlimited streaming of movies, TV episodes, and music (this is an excellent alternative to cable).
borrow Kindle books, magazines, and more from the Prime Reading catalog.
unlimited FREE two-day shipping.
other exclusive and special offers for Prime-only members.
Take advantage of free resources.
As I always mention, living below your means is key to saving money and building wealth. One way to live below your means is to take advantage of free resources. That includes finding legit ways to earn money for free.
Refurbish and/or paint old furniture.
If you follow me, you will know by now that I'm in love with home decor and furniture items. In my spare time, I enjoy refurbishing and painting furniture.
The cost of furnishing your place into something beautiful doesn't have to be costly if you use the brilliant saving tips I wrote here. I honestly wish someone told me about this hack before I made multiple trips to Ikea. Believe me, you can save SO much money by picking up old furniture (or buying it at a very low price) and painting it yourself.
Exercise at home or outdoors to save money.
First of all, I want to make it clear that I'm not telling you to cancel your gym membership. Some people are actually getting value out of their memberships. But, for those who rarely use it, is it worth keeping?
I used to sign up for the gym but never ended up going. Not because I didn't like to workout. But because:
1) I was lazy and didn't want to get changed and pack my stuff (notice that I was lazy to get out of the house and not lazy to exercise).
2) It wasted a lot of precious time driving back and forth (I'm all about efficiency because I value my time a lot).
3) I'm really introverted so I never liked working out in front of a lot of people.
To save time and money over the long term, I purchased equipment such as this Treadmill
so that I could use in the comfort of my own home. I really love this treadmill because it's sturdy and not wobbly like others.
I know that the upfront cost may be a lot (especially when you invest in a treadmill) but it saves me so much time and money in the long run.
After a long day of work, you just don't feel like making your way to the gym (especially when it's late and you haven't had dinner yet). I couldn't stress how much time and money I saved by exercising at home!
Go biking or rollerblading instead of the malls.
In addition to your workout, you can save money by exercising outdoor with your bike or roller-blades. During the wintertime, you can go ice skating with your friends.
On top of saving money, you'll shed off a lot of calories while having loads of fun! The reason why I go inline skating during the weekends is that it prevents me from going to the malls. These days, I find myself enjoying outdoor activities more than spending money at shopping malls.
These are the inline skates I use
during the summertime. I've had them for over 5 years and they still work extremely well for me!
Reduce your soda and juice intake.
Speaking of exercising, you need to keep yourself hydrated at all times. Drinking too much pop or juice that's packed with sugar isn't going to help you with your health nor your wealth (i.e. savings)!
In the past, my fiance used to ask for unlimited refills of pop whenever we dined out. Being the good girlfriend I was, I got him into the habit of replacing pop and juice with water. Not only has this saved us a lot of money, it also improved his health. He can attest that he feels more refreshed and less sluggish over the years. And nope, he doesn't miss the Coke or juice at all!
Drink more water.
Drinking water has many benefits. For one, it saves money (that's why you're reading this post). Another benefit is that it can help shed off pounds according to this CNN article.
This is the water bottle I use
and I bring this to work all the time. I also use it for my workouts at home. My fiance copied me and bought the same one because he likes how sleek it looks. He finally ditched the bottled water and uses a stainless steel water bottle to keep himself hydrated at the gym. You can save a lot of money and reduce the costs of buying bottled water by using a reusable water bottle. You're going to use your bottle for a really long time so you may as well invest in one that you love!
On top of that, you can look into a water filter pitcher like this one
to save money in the long run.
Carpool.
In the past, my friends and I would drive separately. Despite living very close by, they would take their cars and I would take mine. In the end, we realized that this was a waste of gas and money. If you want to save money, consider carpooling with friends and/or family.
Don't speed.
Seriously, speeding isn't going to make a huge difference to the time you save. But, it will make a huge difference to your bank account. For one, you're charged with a speeding ticket. Secondly, is it really worth the higher insurance premium? Always think twice before speeding!
Do your own nails.
In the past, I would spend about $40 to $50 on my nails. And about $16 to $20 to remove them. Yeah, no kidding, I paid to get them removed!
It's perfectly fine to treat yourself to a manicure and/or pedicure once in a while. But, going to the nail salon too often will seriously hurt your wallet if you can't afford it every three to four weeks! So, if you want to get them done at the salon without setting back your savings, you'll need to find ways to increase your income or earn extra money with some of the best profitable hobbies.
You can also look for deals here on Groupon to see what specials they have from time to time.
Or alternatively, you can save hundreds and thousands of dollars by doing your own nails. And YES, you can still make them look fabulous with this professional electric nail drill.
I have the same one at home and I totally love the color of the kit!
I personally have no problem doing my own because I actually enjoy pampering myself.
Automate everything: your bills, savings, and investments.
Did you know that automating your bills will save time and money?
Save time: You are a busy bee and have no time for boring tasks such as manually paying your bills and contributing to your investment accounts. Your time is precious and it's better spent on activities that give you higher returns. That includes investing in yourself and acquiring financial literacy that will help you save even more money! Also, don't forget that you'll never be able to buy back time!
Save money: From my experience, it's easier to save money when you automate to pay yourself first. That's because you'll be spending only what's left after your savings!
"Do not save what is left after spending. Spend what is left after saving." — Warren Buffett
With that said, you need to automate your savings, bills, and investments!
Ramit's book, I Will Teach You To Be Rich, does a fantastic job explaining this. This book will give you the baby steps to set up your finances without depriving yourself. This is another one of my favorite books and I know you will love it because he holds your hand throughout the entire book!
Let your finances run on autopilot so that you can focus on saving and building wealth. 😉
Click on the book to learn how to save and manage your finances!
Quick ways to make money.
One of the best ways to save money is to make money!
I always believe in earning more money so that it gives you more breathing room to save and spend. I don't believe in pinching pennies and never spending on the stuff you enjoy.
You can save more money (and spend more) by increasing your income. Here are some ways to earn extra money so that you can save and still enjoy life:
Earn cash or FREE gift cards by doing surveys online.
Surveys won't make you rich overnight, but it's an easy way to earn some extra cash on the side. I recommend doing them when you're bored, waiting for the bus, or watching your favorite TV shows. You have nothing to lose because they are all free to join!
Here are some survey sites I personally use and recommend.
Survey Junkie – This is a free resource to earn extra cash by answering simple survey questions. It may help you save money or pay for some of your monthly bills because you can redeem cash or FREE gift cards (your choice). They are rated 8.7/10 which is one of the highest on TrustPilot reviews. You can sign up for Survey Junkie for free here.
American Consumer Opinion – This online survey site has over 6,000,000 members worldwide and it pays you to do simple surveys. The average survey takes about 10 minutes to complete and it's free to join.
Get paid to shop and save money with Rakuten.
Rakuten works with over 2,000 of your favorite stores including Apple, Walmart, Target, eBay, Nike, Foot Locker, Michael Kors, Groupon, and so many more!
You can earn up to 40% cash back with Rakuten rewards when you shop online. No, this is not too good to be true! I use Rakuten to easily save over a few hundred dollars per year with NO effort, so I can personally tell you that there are no gimmicks here!
If you're new and don't have an account yet, you can sign up here. You'll also get a free $10 credit in your account after you make your first $25 purchase online through Rakuten.
Here is my full review and tutorial on how to use Rakuten to help you save money on your online purchases. I promise that it's really easy! It literally takes less than 5 seconds to sign up since it only requires your e-mail and a password. You won't be disappointed!
Sell your clothes.
Do you have a wardrobe filled with clothes that still have tags attached to them? Maybe you also have a pile that's gently or never worn!
In the past, I bought so many clothes that I never wore. I honestly regret my purchases because it was such a waste of money.
But luckily, you can still recoup some money back by selling on swap.com, Kijiji, Letgo, and VarageSale.
Sell your clutter.
While you're selling your clothes, you can sell your unwanted stuff from home as well. In addition to the platforms I mentioned above, you can also use Decluttr to sell your stuff and earn some extra money.
Flip and sell furniture.
I mentioned earlier that you can save a ton of money by painting your old furniture.
On the flip side, you can also earn money by selling them (no pun intended)! Buy low (or pick them up for free), add value, and sell high!
In the past, I used the extra money to purchase investments and stocks. I also used it to spend on things that I enjoy. For example, I've used the extra money to dine out at nice restaurants or to buy myself a new iPhone!
Either way, you have a lot of flexibility when you increase your earnings. Read more about how you can earn extra money by adding value to your old furniture.
Get paid by HealthyWage to lose weight.
I know… this sounds too good to be true, but it's not! You can seriously get paid to lose weight!! How HealthyWage works is you place a bet on how much weight you're going to lose? As long as you set realistic goals and lose the amount of weight that you say you would, you will win and make money! More money equals more savings in your bank account!
According to HealthyWage, studies found that financial incentives enhance your weight loss success, making dieters more likely to lose weight. You can learn more about HealthyWage and read users' success stories.
Refinance your student loans and save money.
Ah, the student loans! Nobody likes those hefty student loans!
You can save thousands of dollars if you pay them off quicker AND refinance at a lower rate. You can also check out how to pay off your debt fast and ways to save money in college as a student.
This helpful article will also answer the question is it better to pay off debt or save money first?
Buy timeless items.
I have clothes that are in-season and a bit funky because it's fun to have a few of those. But for the most part, I usually go for the timeless look. They're easy to match and it reduces the need to make decisions on what to wear every single day.
I still have quality clothes and handbags from eight years ago in excellent condition! I'm actually surprised that I still get compliments wearing them! This is where you know you got the most bang for your buck!
Buy quality over quantity.
This is advice that I ALWAYS follow and I couldn't stress it any further!
In general, I always prefer quality over quantity regardles ofs what product or service I buy. I'd rather pay a bit more (or just more) as long as I'm receiving value. I don't appreciate "cheap" things that will eventually break because that's just a waste of money.
The amazing real estate investor, Scott Mcgillivray, once said: Only rich people can afford to buy cheap things because they have the money to keep buying it over and over again.
To get the best value or best bang for my buck, I would wait for the item to go on sale. Sometimes they never go on sale and I'm fine with paying the full price. Again, as long as I am getting value!
"Price is what you pay. Value is what you get." — Warren Buffett
Shop from online consignment stores.
Speaking of buying quality, are you a fan of luxury goods?
I know I am!
Yes, it's expensive. But, if you enjoy luxury items such as Chanel, Louis Vuitton, or Prada, you have the option to buy pre-loved for a fraction of the retail price. Still pricey, but you'll save quite a bit of money while being able to enjoy your love for luxuries!
I used to buy luxury handbags brand spanking new from the actual stores, but I stopped because the price hikes are WAY higher than inflation! Holy, I couldn't see myself spend that much on a brand new handbag with today's prices (especially with my income). And that's why I recommend online consignment stores such as The Real Real to save money on your luxury items!
If you live in Canada, you can definitely give this online consignment store a shot: Love That Bag. They are based in Montreal and I personally had a great experience with them!
Buy gift cards at discount.
As mentioned earlier, you can sell your unused gift cards for some extra cash. On the flip side, you can also purchase discounted gift cards for up to 20% off (or even more). Retail stores include Target, Victoria Secret, Applebee's, Best Buy, Apple Store, Starbucks, Nordstrom, and SO many more!
According to Cardpool, their customers have saved over $32 million to date! There's no reason to pay full price when you can save money. To top your savings, you can combine it with Rakuten or Ebates when you shop online!
Use credit cards to your advantage.
I know that this isn't for everyone. But if you can control your spending, you'll be able to reap the benefits with your credit cards. I personally use credit cards for all of my purchases because it gives me rewards. If you can pay back in full amount each month, you may as well earn cashback and/or travel rewards. But of course, only buy the things you need.
Track Your Net Worth
We started tracking our net worth to keep track of our financial journey here.
If you haven't started tracking your net worth, I highly recommend you do it.
This may sound crazy, but you will become addicted once you start tracking it. That's a good addiction (better than a shopping addiction) because the numbers will motivate you to take action. Whether it's saving more money or finding other ways to earn more, you will do whatever it takes to increase your net worth.
Even if you're in debt, I still encourage you to start because it is so rewarding seeing your negative balance move towards zero. From there, you can start saving and investing to increase your number.
At the moment, I'm using a basic spreadsheet to track our net worth. But when I have time, I would like to revamp it and share it with you. For now, you can calculate your net worth by following this guide at Schwab MoneyWise.
Over to you
Is saving money difficult for you? What money-saving strategies do you use?
Did you enjoy this post? If so, don't forget to spread the love and follow me on Pinterest! 🙂